10 Things To Do Before You Move In
Posted by Matiah Fischer on Sunday, April 10, 2022 at 12:00 PM
By Matiah Fischer / April 10, 2022
Comment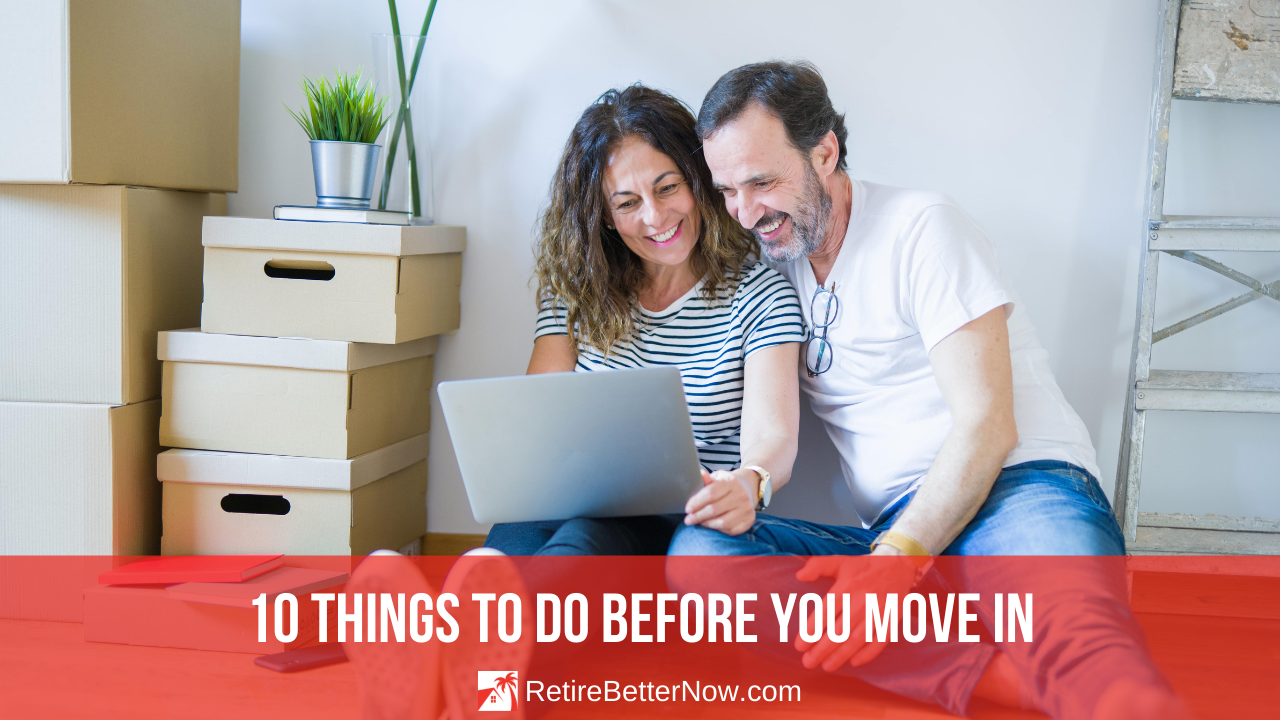 Moving into a new home is an exciting time, but if you don't make a list of important things to do before you move in, you may forget or miss things that can be done easier before you've got everything in place, like your furniture and your family.

In this article are 10 things to do before you move in so that you can get on top of all the tasks and make your transition to the new house smoother. This will be helpful whether you're moving to Las Vegas or simply across town to your new home!
Do These 10 Things Before Moving In
1. Perform A Complete Walkthrough Of The House
Before you move into your new house, you should consider performing a complete and thorough walkthrough while it's empty and you have access to everything and can see everything easily.
Walk through the house and property to find any damage, outlets that don't work, and other problems that need to be fixed. It allows you to build a list of items that should be resolved without the issue of furniture and your stuff getting in the way.
Another helpful point would be to photograph or video record a walkthrough of your house before movers bring everything in. That way, if anything gets damaged or ruined they can pay for any damage they cause, which should be covered under their insurance.
2. Child-Proof And Pet-Proof Your House
If you have or will soon have children and pets, then before you move into your new Summerlin house is a great opportunity to child-proof and pet-proof your house and property. This can include special locks and latches on cabinets; it can also include a barrier for any stairs, which can be helpful for kids and pets.
You could also check the outside of the property for things like pool fences or other areas that your child or pet could get into. Making sure that fences are up is important, and it's also a good idea to check that the latches or locks on pool gates and other areas work correctly.
3. Configure Rooms And Determine What's Going Where
Start picking out rooms, what they will be used for, what items will go into each room, and label the doors based on the label on your boxes to help movers put everything into the right places.
If everything has a home prior to move-in day, then when the movers come, the process will be faster, and your items will have a better chance of being put in the right place the first time.
4. Setup All House Utilities
Determine what utilities are required at your new house in Red Rock Country Club before you move in, and then get everything set up so that you're not missing out on essentials for the first day or week at your new home. It's typical that power, water, and similar services can be moved easily, and it's just paperwork.
One of the biggest issues you may face is getting your Internet service setup, especially in a newer house that hasn't previously had Internet from the provider you want to use. It can sometimes take a week or so to get a service tech out to get the installation done.
You should also check for utility providers required that you're not aware of as yet or weren't something you used previously. This could be a gas provider for your stove and fireplace or something unique in your area that needs to be accounted for and set up.
If you're moving from an apartment into a house, you may not have thought about garbage pickup and how you need to pay, or even what days it will happen.
5. Find The Fuse Box And Water Shutoff Valves For Your House
When there's an issue with your power or if you have a water leak, then knowing where the fuse box and water shutoff valve is can be essential to minimize the time in fixing the problem or limiting damage. Locating these before move in will be beneficial, especially if there are any issues early on.
6. Deep Clean The Entire House
Before moving in is a perfect time to perform a deep clean to remove any construction or renovation grim and any dirt left by the previous owners if there were any. It will also be easier to clean prior to moving furniture into place.
You can either do this yourself, which will help you determine what cleaning supplies you may need in the future. Otherwise, you could hire a service to do a movie-in clean that may cost you $400-$600 depending on the size of your house.
7. Repair Everything And Install All Modifications For Your House
Before you move in, you should have already performed a walkthrough of the new house, and now can be the perfect time to repair anything that has broken, install any new modifications such as floors, and even add a coat of paint to revitalize your house before you move in.
What is essential is to document the process, including photos, so that any moving damage can be accounted for and the mover's insurance can pay for
8. Change The Locks To Your House
Something that is often missed when moving into a new house is changing the locks on your property, and this should be done for security reasons. You have no idea who has previously lived in your house or who currently has keys to access your house.
For peace of mind, you should consider changing all locks on your property. This should include any external locks on the front door, back door, and even any structures on your property. Something you may not consider is the garage door opener that should also be changed; in most cases, you can reprogram your garage door opener.
9. Review HVAC And Alarm Systems
Before you move into a home in Summerlin (or elsewhere), run through your HVAC system to ensure it's working optimally. At a minimum, you should check to see whether filters need to be replaced or cleaned as the previous owners may not have done in some time.
You should also check your alarm systems, including your fire alarms, to ensure they're installed and working properly.
10. Replace Or Buy New House Items
As part of your walkthrough and room planning, you should understand what each room will be used for and whether or not you have the appropriate furniture or appliances for everything you need.
As part of the things to do before you move in, this is a perfect time to shop for and purchase new or replace furniture for your new home. You can also check to see whether any appliances should be replaced, as it's better to get that done sooner rather than wait for older appliances to fail.
What To Do Before You Move Into Your New Home
Hopefully this article has provided you with a good overview of things to do before you move in. While all of the items may not be appropriate for your situation, the general idea is to do a full check on the home, fix anything that needs repair, clean everything so you start fresh, and ensure that you think about and create a customized list of items to do before you move in.
Related Articles