2022 Housing Market Predictions
Posted by Matiah Fischer on Thursday, January 13, 2022 at 2:50 PM
By Matiah Fischer / January 13, 2022
Comment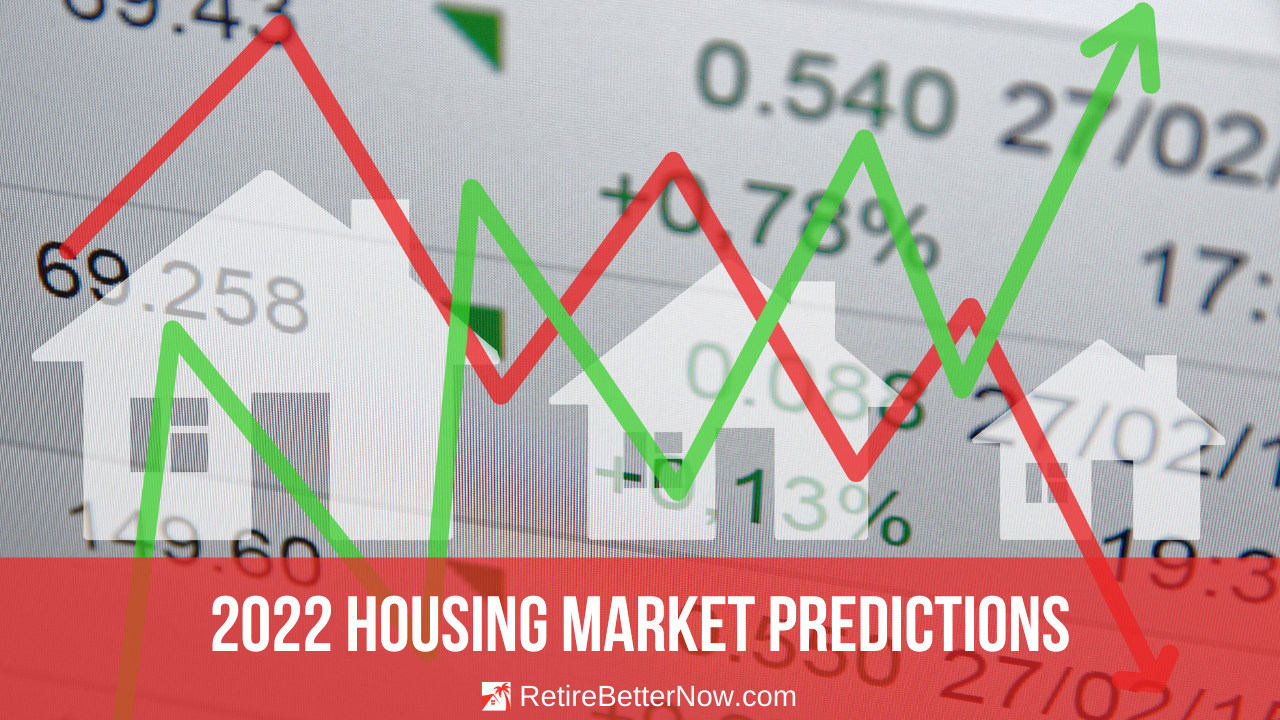 Curious where the real estate market could be headed in 2022? In this article, eight real estate professionals share their thoughts, predictions and forecasts on where home prices are headed in 2022.
Housing Market Forecast in 2022
Will There Be a Housing Crash in 2022?
The housing market is not expected to crash in 2022. However, prices are expected to stabilize due to rising mortgage interest rates and an increase of inventory available.
Will 2022 Be a Good Year to Buy a House?
Real estate professionals have told us that 2022 should still be a good time to buy a house. If the housing supply increases, it's expected there will be less multi-offer situations as witnessed in 2021.
Will Housing Prices Continue to Rise in 2022?
Home prices will likely continue to increase throughout 2022, but at a slower rate than the previous year.
Will Housing Prices Go Down in 2022?
Some real estate experts predict that housing prices will start to decline toward the end of 2022 because of increased mortgage interest rates.
8 Real Estate Professionals Share Housing Market Trends for 2022
Matiah Fischer, Las Vegas Realtor®, Founder of RetireBetterNow.com
Leveling of Real Estate Prices
It's true that median home prices have surpassed previous records and continue to climb in major and mid-sized markets. However, I foresee a tapering of real estate price increases across the country by the middle of 2022.
The Fed has indicated they may begin interest rate hikes sooner than expected because of inflation. I think buyers who have been priced out or out-bid in 2021 will benefit from a slow-down and help to stabilize the market.
Last Chance for Sellers?
In many areas, home sellers can realize record sale prices. People selling homes in Las Vegas have benefitted from rising property values for the last few years. But it won't last forever.
There has been chatter about a market crash. While I don't anticipate a real estate crash happening in 2022, I do think we're going to see the market cool down.
Future Impact of Automation on Housing
My biggest concern for the future of the real estate market beyond 2022 is the impact automation will have on the workforce. I believe that many jobs in the coming years will be replaced with AI, robotics and machine learning.
It's my opinion that we could have a major unemployment crisis in the coming years. This would potentially have a major impact on the housing market as we've seen in the past. At some point in the near future, the Government and regulators will need to step in and address this issue.
Laura Ellis, President of Residential Sales & Executive Vice President, Baird & Warner
Housing Market Stabilizes
Coming off the frantic pandemic-fueled pace of 2021, we expect the housing market to settle down and stabilize in 2022. Modest growth in interest rates, the resolution of supply chain issues that hampered new construction, and a market in which both buyers and sellers have a little more time to think should all help to create a calmer environment.
Higher Interest Rates May Increase Time on Market
Slightly higher rates will reduce the purchasing power of buyers and result in homes staying on the market a bit longer. We're not expecting home prices to fall, but we do anticipate slower price growth. Instead of the 10-12 percent gains seen over the past few years, price increases may cool off into the three to five percent range. New construction has lagged in the Chicago area, but supply issues should be resolved next year, leading to a greater supply of new homes and less pressure on the existing housing stock.
Buyer Pool
There is still a large pool of potential buyers – including millennials – looking for opportunities, and 2022 may be the year they finally make their move. However, low inventories and the return of highly competitive multi-offer situations could be market spoilers. Sellers will be reluctant to list their residences if they aren't confident about finding – and closing on – their next home.
Brian Burke, Owner/Managing Broker, Kenna Real Estate
Housing Crash Unlikely
It is unlikely to see a housing market crash in 2022, but the home price will keep increasing. The inventory is rising and the competition around the real estate market is depleting. So ultimately these are causing the skyrocketing home price to stop.
The home price rise in a sustainable way will continue, but it's nearly impossible to see a decrease in home prices in the conventional market. Neither the home price is predicted to increase drastically unless the market gets hit by another pandemic.
Interest Rate Increase
It has been a historical year with a low-interest rate of 2.74%. But by the end of the year, this low-interest rate trend is going down. And it's likely to see a market with a higher interest rate.
Already many lending organizations and bankers have begun the process of increasing. The rate has gone as high as around 3.7%-3.8%. And by the end of the year, many lenders target to have a rate of around 4%. This trend of the increasing rate will continue in the next summer of 2022 also.
Balanced Market Expected
2021 has been a sellers' market where they had a huge profit around 20%-30% more than the usual price on an average house. But the next year would be a balanced market where buyers will not struggle with their house-hunting like the previous year.
The home price will still provide a good profit for the sellers, but the buyers will face less competition. Already the market is having less real estate activity which has made house-hunting easier for potential homebuyers.
Ben Fisher, Luxury Real Estate Specialist, The Fisher Group
The Price Will Keep Rising
It would be too much to expect that the issues with lack of inventory will get solved within 2022. Eventually, the home prices will continue to rise during 2022 as well. There is a high possibility of mortgage rates getting up in 2022, which will just rub salt to the wound. As a result, it will get tough for first time homebuyers to go for their dream house.
A Shift Towards the Suburbs
The flexibility of remote working is allowing a lot of people to get outside the city and breathe some fresh suburban air. This will take the pressure off from the urban inventories while increasing demand for suburban properties. As the inventory will get scattered, the paucity in the inventory will get mitigated to an extent.
Kip Lohr, Principal Broker/Owner, LOHR Real Estate
Low Inventory Remains
At least in terms of our local markets in Bend and Eugene, Oregon, the rumors of a market downturn have been greatly exaggerated. The buying frenzy that we saw through most of 2021 may have been an anomaly, but like many markets across the country, inventory in both Bend and Eugene dropped to historically low levels and hasn't recovered since.
We did see a slight influx of inventory heading into the fall, but listings are typically very scarce during the cold season, and there are plenty of buyers left on the sidelines who couldn't compete during the summer's bidding wars.
Stable Price Increases
In 2021, property values appreciated 21% in Bend and 19% in Eugene. With interest rates rising and a strong likelihood of economic headwinds on the macro level, I'm not expecting to see those kinds of price increases in 2022. Interest rates are no longer at historic lows and hikes are likely to continue into 2022. But I'm still expecting Eugene and Bend's markets to appreciate closer to 10% through next year.
Strong Markets Continue to Thrive
Simply put, people want to live here, and they will continue to relocate from more expensive markets such as California. I'm getting an increasing number of out-of-town clients who regard themselves as "climate refugees" or who have the opportunity to work remotely and want to live in Oregon for cultural reasons or for its abundance of natural beauty.
Especially with the Omnicron variant hitting the headlines, I'm expecting many of the same patterns that defined migration here to continue in 2022. Nationwide, I'm expecting the same markets that did well in 2021 will continue to thrive.
Home Prices More Controlled
In 2021, the housing market was hotter than ever. But in the last quarter of the year, the fluctuations have been less. While the market faced a 19.8% increase in home price during the month of August 2021, in the previous three months it has been only 7.9%.
It is just a visualization that the home price will be more controllable than this year but still will increase. The prediction is within the summer 2022 the market will see an increase of nearly around 4%-5%. And it will keep rising until the third quarter of 2022.
Growth of Rents
The below-average growth rate, higher remote job opportunities, and crowd in the metropolitan areas have caused the rents to increase for the last few months. This trend will continue to grow in 2022 also.
The vacant rate during the pandemic was around 5.7% to 6.9% around the region. Now it has gone lower than that, around 3.6%. Overall, the prediction is the market will see a rent growth of 7.1% nationwide in 2022.
Inventory Begins to Turn Around
In the first quarter of the year 2022, it is expected the housing inventory will increase by at least 0.3% nationwide. This seller's market had a very low inventory; it has seen consecutive 9 months of decrease in inventory.
But the scenario is coming to an end. The construction firms are also looking to increase their manufacture of homes. As the supply shortage of materials is almost coming to an end and others have found alternatives for certain materials, this will cause a good increase in the number of homes in 2022.
Home Prices Level Off
I expect home prices to level off in 2022. We've seen almost a decade of dramatic price increases in the Boston area and with interest rates set to increase in 2022, price increases will certainly slow. I do not expect prices to fall though.
Less Offers
Where once we saw 5, 10, 15+ offers on most new listings now we're seeing 1 or 2. This further indicates that the dramatic price increases of the last decade will temper.
Opportunity for Buyers
2022 will be a much better year for buyers that were pushed out of the market by competition in previous years. It'll be a year for the stragglers, who missed buying homes in previous years, to finally buy. It will be a good year for Real Estate but not a great year for Real Estate.
Home Prices Decrease to End 2022
I think that the earliest that prices will start to decrease will be the very end of 2022. The market is still hot right now, and the uncertainties caused by the Omicron variant of Covid is keeping it hot.
City Exodus
People are continuing to look for either larger homes in rural areas to cope with the pandemic or city properties since remote work allows people to move wherever they want, so the demand for properties will stay high throughout the year. And when demand is high, prices stay high.
What is Your Prediction for the 2022 Real Estate Market?
Leave a comment below with your prediction or forecast for the housing market in 2022!