2023 Housing Market Predictions
Posted by Matiah Fischer on Friday, October 14, 2022 at 11:00 AM
By Matiah Fischer / October 14, 2022
Comment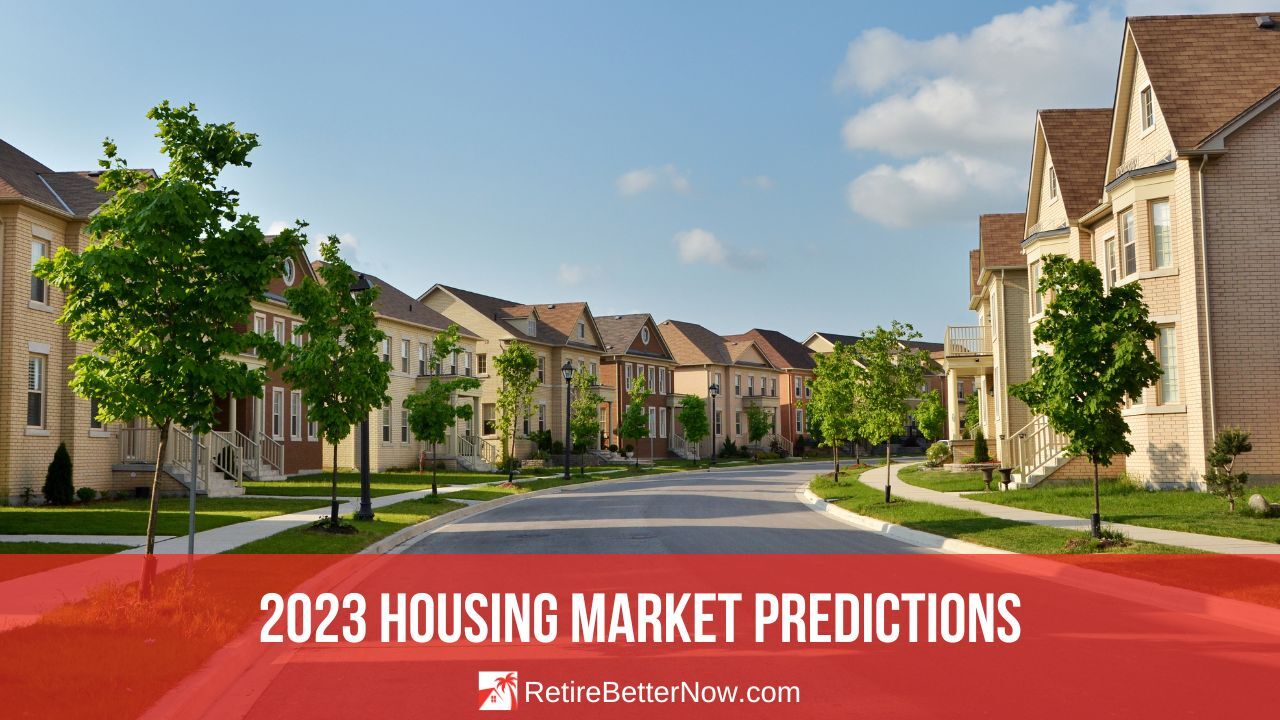 Wondering where the real estate market could be headed in 2023? In this article, 25 real estate and industry professionals share their thoughts, predictions, and forecasts on where home prices may be headed in 2023 and answer the following questions about what next year's housing market may be like.
• What are your predictions for the 2023 housing market?
• Will home prices drop in 2023? Why?
• Will home prices rise in 2023? Why?
• Is 2023 a good or bad time to buy a house?
• Is 2023 a good or bad time to sell a house?
25 Real Estate Professionals Share Housing Market Predictions for 2023
It is important to remember that real estate markets are hyper-local, do not rely on national news. In NYC, the first half of 2023 is likely to see stagnant home pricing. Purchase inventory remains low, and rents are setting record highs creating extra demand, but we have higher interest rates and negative national real estate and economic news keeping prices in check. When the Fed pulls back on quantitative tightening and inflation starts to steadily decline, prices should begin their climb again in the later half of 2023. There is a great opportunity to buy in the next 6 months with some leverage for contingencies and pricing, then see some great equity gains and refinance as interest rates come down and prices go back up over the next couple of years.
---
I believe that as interest rates increase, demand will decrease, and so will prices. The housing market was red hot, and prices reflected that, with higher rates, the demand just dropped. 2023 may be an excellent time to buy a house. At the very least, there will be fewer, if any, bidding wars. You should not expect as high of prices for your house, though.
---
In 2023, home prices will drop. This is because of rising interest rates which are expected to continue and because of this there are less buyers actively looking for homes. In turn, sellers will have to lower their prices. While I don't think this will be an enormous amount, they will come down. 2023 will be a great year to buy a home if you are a cash buyer because prices will be lower and you won't have to worry about rates. I also think it could be good for clients able to get mortgages. I say this because home prices will be down. So, while your rate is higher, your home price is lower and in a year or two you can refinance and thus get a lower rate and also a low home price. When the rates come down, home prices will rise, so it could be a good time to buy in 2023 before they go up again.
---
My prediction is that home prices will decline in 2023 because of higher mortgage interest rates causing less demand. I foresee a steep decrease in median home price in markets that got overheated the last two years. Right now I'm not predicting a crash, but we could see something close to that. Inflation is crippling America and the Fed will continue raising rates until they get it under control. Additionally, it's my belief that we will see a steep rise in unemployment next year that will negatively affect the real estate market. When it comes to the Las Vegas real estate market, I believe the seller's market will end in 2022 and we will see buyer's back in control come 2023.
---
The 2023 housing market is expected to see a modest rebound from the pandemic-induced slump of 2020 and 2021. Sales are forecast to rise by 3.5%, while prices are predicted to grow by 2.0%. The Northeast and Midwest regions are expected to see the strongest recoveries, while the West and South will lag slightly behind.
Investors are expected to remain active in the market, as they seek to take advantage of low interest rates and attractive prices. First-time buyers will also continue to play a key role in supporting the market, as they look to enter the housing market before prices begin to rise more rapidly.
The 2023 housing market is likely to be a good time to buy a home, as prices are expected to remain relatively affordable and mortgage rates are predicted to stay low. Those who are considering selling their home may also find it to be a favorable time to do so, as they could benefit from rising prices and strong demand.
---
It's unlikely that the home values will fall, but there will be a huge pullback in home prices in 2023. Mostly prices drop when the demand in the real estate markets are met with enough inventory. The way the Feds are controlling things like rates, the demand is on its way to meet within the next summer market. Eventually a drop in the prices.
Mortgage interest rates will keep increasing even in the 2023 housing market climate. Already it has reached around 6.83% and is likely to touch the mark of 8% by the end of the year. With the continuation of the trend, the rate may go as high as 9% in 2023.
---
The 2023 housing market looks to be a mixed bag. Home prices are predicted to drop in some areas while rising in others. This makes it a good time to buy a house in some markets and a bad time to buy in others. The same is true for selling a house. In general, 2023 is not expected to be a particularly good or bad year for the housing market. However, there are some factors that could impact home prices. For example, if interest rates rise, that could make buying a house more expensive and lead to fewer sales. On the other hand, if the economy continues to improve, that could lead to more people buying houses and driving up prices. So, 2023 is shaping up to be an unpredictable year for the housing market. Only time will tell how it will ultimately play out.
---
Urban cities are major attractions to new settlers. More people will move into cities, and this will force property values to go up. This does not exclude those seeking to rent. Home prices in cities will continue to increase. Interest rate, inflation rate and tax rate will continue to force prices to go up. Home prices will definitely continue to rise. Job search will definitely force people out of town. So, expect an increase in the number of buyers of available homes. This will force prices to go up. Is 2023 the right time to sell? I will almost tell you yes. But I must tell you this. Know what a good deal is to you and seize it. Do not spend too much time waiting and expecting things to go in your favor.
---
The *spring-summer* period is expected to have some shiny opportunities for price drops in the real estate market by at least *15%-20%*. Given the economic state and national affordability stats in present, the market should be negatively impacted with a collapse because of low inventory. But just as soon as the in-process projects are complete, and new interest raises are announced, it can unfortunately send back the prices up high again. So, if anyone's been saving around to buy a house, he/she should start putting attention into the first few months of the year.
---
Mortgage rates will likely rise as the country fights back against inflation. In the 2023 housing market, an 8% rate is not out of the possibility. However, if you have a plan to buy a home in 2023, you need not panic hearing this interest rate. If the rates keep rising, there will be both low supply and low demand. It will drag down home prices and create a relatively flat market.
Home values are rising the fastest in the family-friendly areas. This trend shows the impact that millennial buyers are having in the market. As the millennials are aging, they are searching for homes that can fit the needs and priorities of their growing families. This millennial demand is pushing home prices in the suburbs and exurbs, as more family-friendly homes are available with increased square footage.
---
Mortgage rates have doubled thus far in 2022. With the Fed likely to continue taming inflation, rates may rise even higher. This has justifiably led to investor caution in the real estate market.
However, contrary to widespread concern, US home prices are likely to continue rising in 2023, albeit at a much slower pace. Here are the four biggest reasons why:
Massive Undersupply: There just aren't enough homes available for sale right now. The housing market is undersupplied by almost one million units, as compared to the historical norm.
Decreasing Supply: Most housing inventory comes from existing home sales, not new construction. However, supply from existing homes will keep decreasing because 90% of mortgage holders are on a mortgage rate below 5%. Most home sellers will wait for mortgage rates to fall before listing their homes for sale.
High Residual Demand: There is lots of room for both home prices and homeownership to grow. Millennials are entering their early thirties — the prime first-time homebuyer age — in large numbers. They'll jump into the market once rates cool down.
Conservative Lending Standards: Delinquency and foreclosure risk is extremely low because of stringent underwriting criteria introduced after the 2008 housing crash.
---
Rates will likely dip back down in the low 5% to high 4% range in Q3 or Q4 of 2023. I am predicting there will be a slight correction with most markets experiencing about a 10% drop. Some areas may see lower correction rates based on hyper-local inventories related to certain cities in subject MSAs. This is because rates have increased by over 3% in 9 months with further increases on the horizon. Quite frankly, it has eroded affordability. Each 0.25% increase in rates reduces the pool of buyers for the same home by about 7%. We have cut pools of buyers for homes significantly, and we know that prices will suffer some.
Will home prices increase in 2023? In most markets, no, home prices will not rise in 2023. Rising rates mean less affordability and higher borrowing costs for companies. That means less hiring or maybe even some reduction in the workforce. That said, people without jobs generally are not buying homes.
---
We will continue to see lower inventory. Homeowners who don't have to sell won't. With continued low inventory we will see housing prices staying more level or increasing slightly. As long as inventory remains below 3 months in any given area and unemployment rates remain at these low levels the housing market will withstand the higher interest rates. For anyone looking to sell, they will want to prepare the property as best they can. Make it very attractive to Buyers. The shiny properties will get the most activity and will sell for good prices. For buyers, the deals are in the fixer uppers. For end users, it's a good time to buy. For new investors or flippers, interest rates and slower market conditions will negatively affect profits.
---
In the coming years, market analysts are predicting a number of key trends in the housing market. One of the most significant shifts is expected to be a rise in eco-friendly construction techniques and materials. This shift will not only promote sustainability, but it will also help home buyers to save on energy costs over time. Another notable trend is the continued growth of urban centers, as more and more people are choosing to live in cities instead of suburbs. By factoring these trends into their real estate decisions, home buyers stand to gain some important advantages in the coming years.
---
The biggest factor that determines home values is buyer demand. When the demand is low, the home values drop too. Mortgage rates are rising at this moment, and there's a possibility that they will reach 8% within 2023. If something like this happens, it will affect the buyers' affordability and lower the demand. It means that if you wait for 2023, there's a possibility that your home will be worth less than what it is worth today. Even the selling process might turn out more challenging, as there will be fewer buyers available.
---
The forecast for 2023 is diverse. The industry is showing signs of lower prices, reductions in buyer demand, and higher borrowing rates. Home prices may fall slightly but not drastically. As such, there is not much clarity.
However, Zillow, Fannie Mae, and Freddie Mac indicate that home prices may grow slightly. If inflation is persistent, the financial markets could consolidate that could result in higher mortgage rates that may impact the entire country's housing market. In over two-thirds of the country's prime housing markets, home values declined in the summer because of high mortgage rates.
The shock of rising mortgage rates still continues to consume the economic market. Despite a slow market and receding buyer enthusiasm, the anticipation is that home demand will continue to overtake the available inventory in 2023. The expected development must also factor in increasing rental costs.
---
Home prices will likely drop in 2023 as the market corrects itself from the previous year's housing bubble. The decrease in prices will be caused by a combination of factors, including a decrease in demand from buyers and an increase in supply from sellers. While it is difficult to predict exactly how much prices will drop, some experts believe that they could fall by as much as 10%. This would be good news for buyers who have been priced out of the market in recent years, but bad news for sellers who were counting on cashing in on the housing boom. Either way, it is important to stay informed and consult with a real estate professional before making any decisions about buying or selling a home in 2023.
There is no simple answer to whether 2023 is a good or bad time to buy or sell a house. It depends on a variety of factors, including the overall health of the housing market, your personal financial situation, and your specific goals. If you're thinking about buying a house in 2023, pay close attention to market conditions and be prepared to act quickly if you find a property you love. If you're thinking about selling, keep an eye on your local market and be aware of when prices are rising or falling. Ultimately, the best time to buy or sell will depend on your individual circumstances.
---
2023 is shaping up to be an interesting year for the real estate market. I am predicting housing prices are to decline by 4% to 8% in the Albuquerque real estate market. There are two main drivers for this: rising interest rates and rising unemployment rates. The Federal Reserve will continue to raise interest rates until they get control of inflation. Rising interest rates put pressure on the overall economy and will cause some workers to lose their jobs. Inflation is not going away anytime soon. Oil prices will be increasing in the near future as OPEC just announced they are cutting output by 2 million barrels per day. Rising oil prices will cause inflation to remain hot throughout most or all of 2023. My advice to buyers is buy a home soon to avoid higher interest rates. My advice to sellers is sell sooner than later to avoid price decreases.
---
The current supply of homes for sale is still very low and roughly 49% less than pre-pandemic levels. Even year over year total inventory is down 24% at the end of August which has helped sellers over the past several months.
On the other hand, higher interest rates have definitely slowed down the buyer demand. Year over year listings under contract are down 32% and it looks like this trend is only getting started. Although we haven't reviewed the data for the month of September it appears buyer demand has decreased significantly over the past 30 days. If this trend continues it may be an early indication that the market is shifting from a seller's market to a buyer's market. Most likely the 2023 housing market is going to feel a lot like the 2019 housing market where inventory was continuing to grow and housing prices were beginning to take a small dip.
My forecast is that housing prices will be down 5-10% year over year from 2022 to 2023 unless the government reverses course on their current monetary policies.
---
The housing market in 2022 has been characterized by the heightening tension between high home prices, high inflation, and high interest rates. These factors have pushed sales way down, but the prices remain stubbornly high as people try to hang on to their equity. I expect this tension to be resolved one way or another in 2023. Either high interest rates will tame inflation without a recession, and we'll see a modest dip in prices followed by more steady growth in the market, or high interest rates will trigger a recession, leading to plummeting housing prices and volume until the market properly recovers.
---
It is unlikely that the housing market will see a large depreciation in home value. It will keep increasing but more steadily than it is right now in the 2023 housing market. Home prices lower when the rates increase and right now, the US real estate market is witnessing a skyrocket in mortgage rates. Last year home prices were up by 17.7% and in 2022 it's now only 4%. So, with the continuation of the trend, there is no doubt the 2023 housing market will see a drop in home prices.
In the first two quarters of 2023, the home prices will keep increasing but at a very low amount. The 2023 housing market would be a pullback year for home prices. But it's not decreasing, rather a very steady increase. Slower than this year. By the end of the year, the market may see a return to the conventional real estate market.
It's a better option to sell right now than to wait for 2023. The housing market of 2023 will be a buyer's market within the end of the first two quarters. The more you wait, the less your property will have a better value. Unless your housing market is still hot like North Carolina, California, Florida, Arizona, and a few others.
---
During the pandemic, the housing market has seen a huge crash. The usual market trend was not applicable during the lockdown situation. So potential buyers had to face difficulties. But the upcoming 2023 is going to be a good year for house buyers.
House inventory is going up - After a huge lockdown period, investors are now investing in building new houses. As real estate is an ever-growing market, people will require new houses every year. So, in 2023 there are going to be new houses on the market for sale. This makes the housing market more flexible for people who want to buy houses and invest in them. So, this is a good year for investing in properties.
Higher Mortgage But Buyer's Market - Due to economic inflation and other issues, mortgages have risen a lot. This has become an issue for home buyers. But it should be kept in mind that there are more houses in the inventory. Meaning there are more houses than buyers. Which creates a seller's market. This is an opportunity for buyers as house prices have the chance to fall a bit. Additionally, the buyer can manage the mortgage with a lower home price.
Rising Rental Rates - Rental rates have been increased in a way that is not financially smart anymore. Instead of paying a huge amount in rental, now buying a house and paying a mortgage has become more efficient. So, in 2023 this is going to play a role in buying new houses instead of renting.
---
I think the housing market is still going to lean towards sellers, though it won't be as hot as what we've experienced over the last two years. With interest rates going up, we have fewer buyers in the market, which will cause the market to cool a bit. That's not to say that it's going to swing to a buyer's market, because we still have an inventory issue - we still have fewer homes than we have buyers who would like to buy them.
I believe we will see more price corrections on homes for sale, but it won't be because the market is taking a tumble. The price corrections will come because homeowners and agents will be a little too ambitious in the prices they set. The market is extremely volatile right now, and while some agents will look six months back to determine an asking price for a property they are listing, the market has become too different between then and now to employ that technique. Looking back a month or two at comparable sales, analyzing list to sale ratio, and seeing how long each home stayed on the market before going under contract will be key to having a successful sale.
There are people out there who absolutely must buy, so we will still have buyers. The challenge for a lot of buyers is that home prices are not going to go through a huge drop. The air might be let out of the market to a certain extent, but I don't see a huge drop in home values.
---
Over the past year, home prices have been rising at a healthy clip. The average price of a home is now at an all-time high. But this pace of growth is not sustainable, and we are already starting to see prices cool off in home markets. In the next few years, we expect price growth to slow down to a more moderate pace. This is good news for buyers who have been priced out of the market in recent years. It will also help to keep the housing market from overheating and prevent another bubble.
---
Home prices won't drop in 2023 because the cost of constructing a house remains high. By comparison existing homes rarely drop below this cost-valuation approach. Home prices are unlikely to rise in 2023 since there is downward pressure on home prices due to high inventory and high interest rates. 2023 is a good time to buy a house if you plan on owning it for at least five years. 2023 is a bad time to sell a house if you want to get top dollar and can afford to wait a few years.