5 Luxury 55+ Communities in Las Vegas
Posted by Matiah Fischer on Thursday, October 7, 2021 at 9:00 AM
By Matiah Fischer / October 7, 2021
Comment
Las Vegas retirement communities are available for people 55 years of age or older. However, these are not your typical 55+ retirement communities, instead, they are luxurious retirement communities with great weather conditions and plenty of recreational activities and amenities.
When you search for the best Las Vegas 55+ communities, you need to consider all the amenities they have to offer. Do you want your community to have swimming pools, hiking trails, golf courses, clubhouses, and numerous recreational activities? If the answer is yes, it will be easy for you to find communities with all of these amenities and many more.
Over the last decade, an increasing number of 55+ retirement communities have been built in Las Vegas. They consist of customized single-family homes, townhomes, and condominiums for sale. Below are the top 5 Las Vegas luxury retirement communities.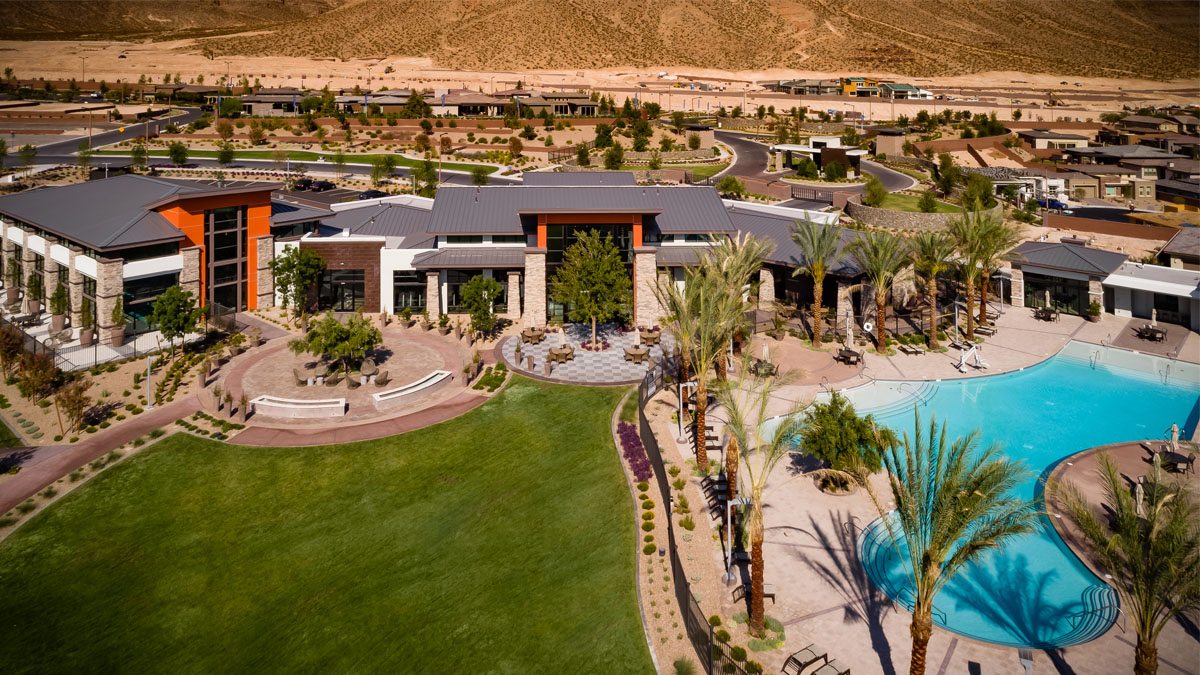 1) Regency at Summerlin
Regency at Summerlin is a luxury community built on an elevated terrain in The Cliffs. It features numerous single-family luxury homes priced from the low-to-mid $700,000s to over $1 million.
The homes have a contemporary architectural design to accommodate the surrounding desert landscape. The square footage range of these homes is between 1,665 and 2,428. They offer all the features and amenities that you would need to be comfortable in your retirement years. These features include two or more bedrooms, gourmet kitchens, 2.5 bathrooms, covered patios, courtyards, and plenty of spacious rooms for the ultimate relaxation experience.
Regency at Summerlin is conveniently positioned on the western edge of Las Vegas in Summerlin and is close to the peaceful Red Rocks, Sierra Mountains and desert. It gives you the best of both worlds because you'll have fast and easy access to the heart of Las Vegas and the natural settings of the mountains.
Learn more about Regency at Summerlin
2) Sun City Anthem
Sun City Anthem offers incredible opportunities for retirees to live a comfortable and happy life in their retirement years. The surrounding panoramic views of the city, desert landscape and mountains are enough of a reason to move into this community. But these views are only the beginning of what this community has to offer retirees.
Sun City Anthem is a 55+ adult community with a 77,000 sq. ft. clubhouse and all the amenities you would ever want. Some of its most popular amenities include an innovative fitness center, craft rooms, numerous hobby studios, an indoor swimming pool, an aerobics studio, a game room, a card room, and a walkable track.
Home prices start around the $300ks - $400ks, and range into the $1 million mark. No matter what size home you purchase, you'll still have access to all the same amenities in the community. The most popular is the Revere Golf Club, which includes the Concord Course and Lexington Course. Additional fees apply to join this club.
Learn more about Sun City Anthem
3) Siena
Siena is a 55+ retirement community with homes starting in the $400k - $500k range, with some priced upwards of $900k. There are plenty of activities for adult retirees to do in this community. The 667-acre landscape consists of houses, villas, golf courses, lakes, desert, and more.
If you'd like to socialize with other community members, you can visit the Village Center. It is a 71,000 square-foot building where you can play cards, billiards, or work on arts and crafts. The community is also home to an 18-hole golf course!
Learn more about Siena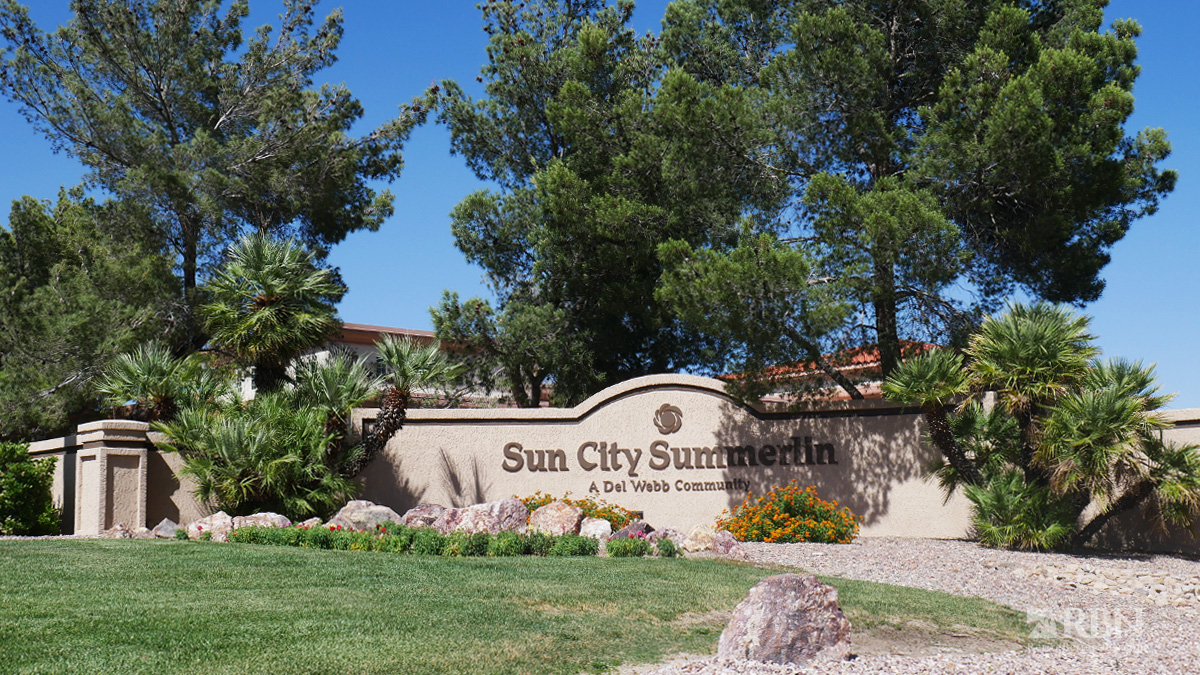 4) Sun City Summerlin
Sun City Summerlin is one of the top 55+ communities to live in Las Vegas. The picturesque views of the trees and nearby red rocks are enough of a reason to move to this community.
Within the community, you may be able to find townhomes priced as low as $200,000 or $300,000. Sun City Summerlin also has a plethora of single-family homes starting around the mid-to-upper $300k mark, ranging into the $900ks and above.
All residents have access to the different dining options, shopping centers, and recreational activities nearby in Summerlin. Within the community there are extensive recreational facilities, with four fitness centers, an Olympic-sized pool, and plenty of walking and biking trails to keep fit. Popular theatrical and musical performances are available plus movies and guest speakers too. It's a place where you have your pick of three 18-hole golf courses to play through.
Learn more about Sun City Summerlin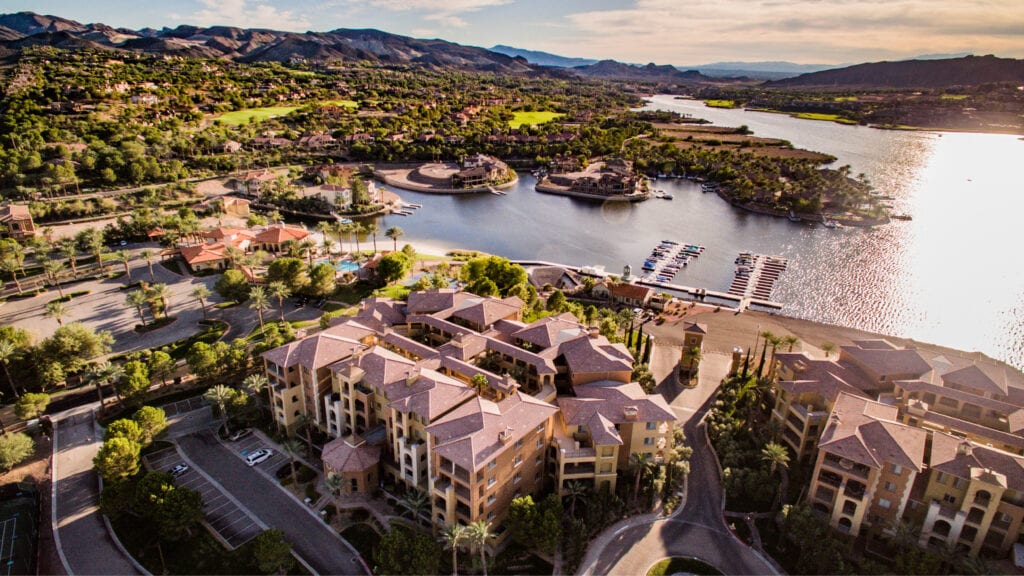 5) Del Webb Lake Las Vegas
Del Webb Lake Las Vegas is one of the newest 55+ retirement resort communities in the Las Vegas area. It is positioned close to one of the bodies of water in Las Vegas, which is called Lake Las Vegas. It is a man-made lake where people can swim and enjoy beach-like activities in the middle of the desert. It can be quite a refreshing experience for combating the hot and dry climate of the Nevada desert.
Del Webb is a famous developer that hasn't been active for at least ten years in the Las Vegas market. Now they are back and better than ever before. Their Del Webb Lake Las Vegas retirement community offers Mediterranean-style houses priced from the mid-to-high $400,000s and up, and is only a 30-minute drive from the exciting Las Vegas Strip. The community and surrounding Lake Las Vegas area also boast amenities of their own including golf, fitness center, pool, tennis and pickleball courts, social clubs and more.
Learn more about Del Webb Lake Las Vegas
Interested in Luxury 55+ Communities in Las Vegas? Fill Out The Form Below to Get Started!