5 Outstanding Places to Retire in Las Vegas
Posted by Matiah Fischer on Tuesday, October 5, 2021 at 3:00 PM
By Matiah Fischer / October 5, 2021
Comment
Retirees are no longer interested in dealing with the hurricanes and stormy weather conditions of Florida. Now, they're picking a more comfortable location with calmer weather conditions, serene environments and plenty of excitement.
Las Vegas has become more than a city of entertainment, gaming and tourism. It has also become one of the most popular retirement destinations in the United States. The growing number of residential communities and single-family homes gives retirees more options for retiring in Las Vegas comfortably and peacefully, and not just within a 55+ community either.
The big question is, "Which community should you choose for your retirement in Las Vegas?" There are several beautiful communities with their own unique amenities and benefits for retirees. The choice depends on your particular preferences for your retirement.
Below are 5 outstanding communities to live in during retirement in Las Vegas, some in 55+ communities and others in non-age restricted communities.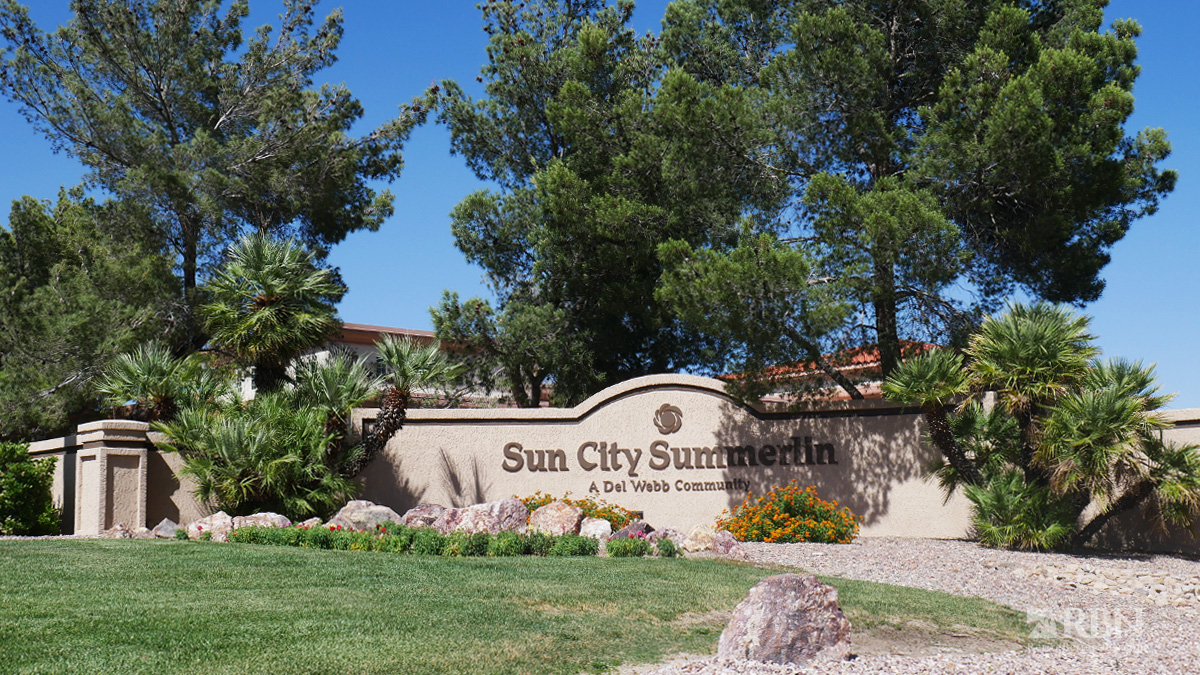 1) Sun City Summerlin
Sun City Summerlin is a master-planned Del Webb community specifically for retirees 55 years of age or older. It is a beautiful place to live in Las Vegas because it offers picturesque views of the mountains, red rocks, and trees aligned on the streets. You'll also find delicious restaurants, shopping centers, casinos, resorts and spas nearby. It is an ideal place to retire in Las Vegas when you're over 55.
Who wouldn't want to live in a village community with 2,530 acres of beautiful homes, gorgeous landscapes, and a variety of recreational activities to keep you busy? Of course, we all know that staying active is an essential part of retirement. Sun City Summerlin gives you access to aerobics, pickleball, bocce, billiards, three 18-hole golf courses, and so many other ways to move around and make friends.
If you love to work out and stay in shape, you can use any of the four on-site fitness centers available. We recommend you visit the advanced fitness center at the 44,000-square foot Desert Vista Community Center. But if you'd rather get exercise outdoors, you can easily access the walking trails and biking trails Summerlin is known for that span more than 150 miles.
There are a total of four clubhouses throughout the community of Sun City Summerlin, and each one serves a different purpose. For instance, if you merely want to socialize, you can visit the Sun Shadows Clubhouse to gather in meeting rooms with other community members. You can also watch movies, stage performances or listen to guest speakers in the theater at the Pinnacle Clubhouse.
Learn more about Sun City Summerlin
2) Spanish Hills
Some Las Vegas communities are more prominent and wealthier than others. Spanish Hills is a perfect example of such a community because most of its residents are comprised of wealthy and distinguished individuals. In fact, the average price range for homes in Spanish Hills is $1 million to $10 million.
If million-dollar homes are within your price range, then you may be interested in checking out Spanish Hills. It features around 1,200 customized homes offering fantastic views of the mountains and the Las Vegas Strip.
Spanish Hills is a gated community in the southwest region of Las Vegas. It is away from the Strip but close enough to where you can see it from some areas within the community. Since it is a gated community, only residents of the community and verified guests can pass through the gates. This adds an extrea layer of security for you and your property.
The houses in the community include estates, mansions, and other types of luxurious homes. You may even be fortunate enough to buy a home next to a celebrity, such as an actor or athlete. The community amenities include two swimming pools, walking trails, tennis courts, and a plethora of land space to move around in.
Learn more about Spanish Hills
3) Los Prados
Do you want to live in a 55+ retirement community with an extra layer of security? If so, then Los Prados might be the place for you to retire in Las Vegas. The community offers two forms of security for its residents: the gate around the neighborhood and an on-site security guard at the entrance.
Los Prados has plenty of amenities within the community. You will find a golf course, swimming pools, tennis courts, hiking trails, biking trails, a library, a clubhouse, and much more. It provides the perfect resort-style experience for residents who love to play golf and socialize with other people in the community around their same age.
Unlike some of the other communities on this list, Los Prados is an affordable place for retirees as you may be able to find homes priced as low as $250,000. And for that, you get to live in a gated community with security guard and all the amenities you would find in more expensive communities.
Learn more about Los Prados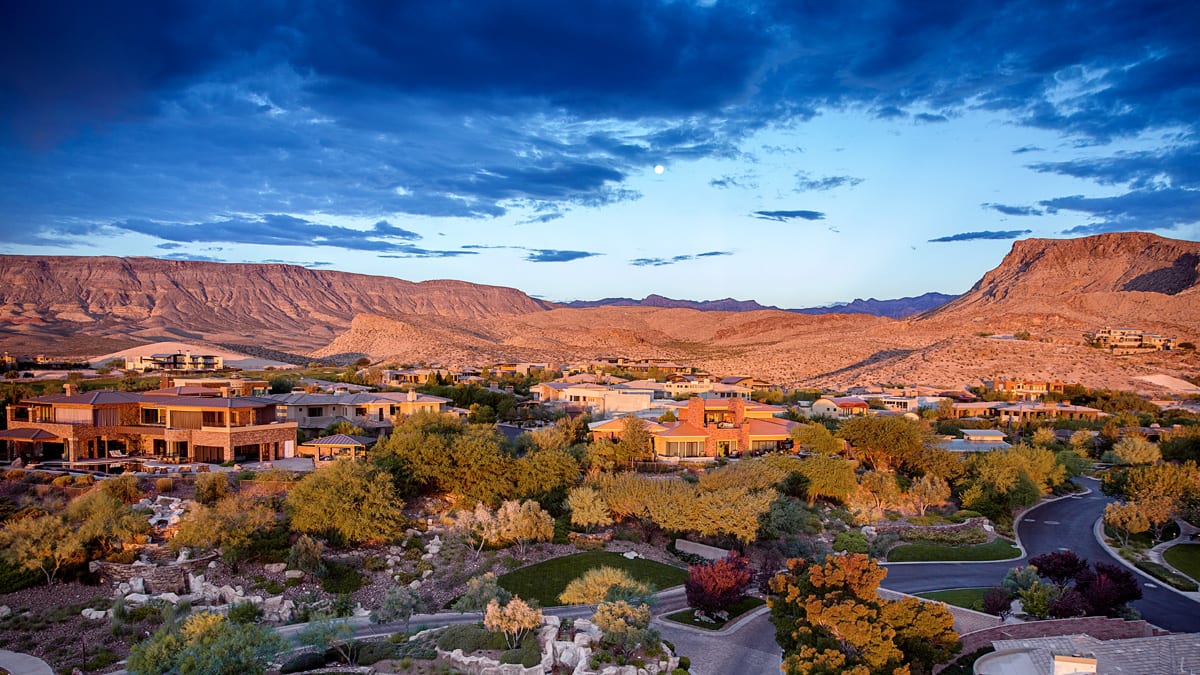 4) The Ridges
The Ridges is a luxurious community with million-dollar mansions and estate homes. The entire community was built on 793 acres of prime Las Vegas real estate with the best views of the Sierra Mountains, Red Rocks and the Las Vegas Strip. When you look out into the distance from your property and see these fantastic views, you will feel like you've retired in heaven.
There is no better way to spend your retirement than in a safe and comfortable community like The Ridges. It is a gated community with 24-hour security guard protection, a fitness center, tennis courts, swimming pools, restaurants, hiking trails, attractive parks and so much more.
Learn more about The Ridges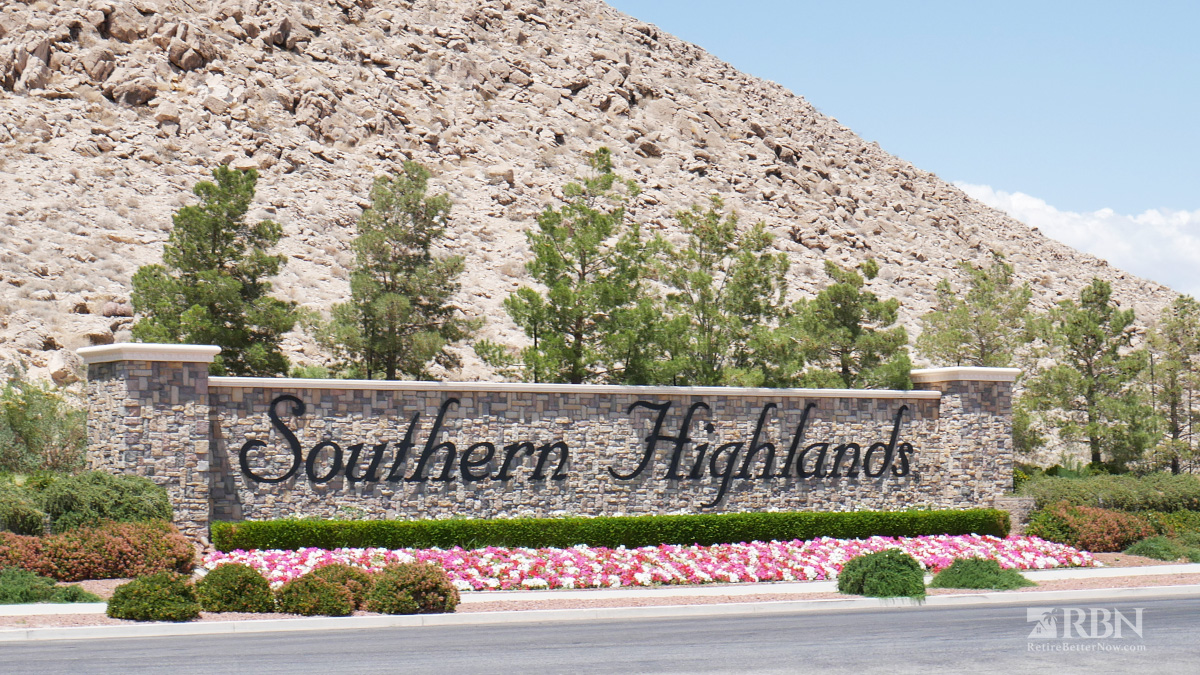 5) Southern Highlands
Southern Highlands is another affordable community to the south of the famous Las Vegas Strip. The cheaper homes may start in the $200,000 range, while the most expensive homes can go for more than $10 million. So, you can find quite a variety of home choices in the Southern Highlands community, with everything from mansions to single-family homes.
All the standard amenities can be found at Southern Highlands, such as swimming pools and hiking trails. But the most prestigious amenity is the Southern Highlands Golf Club, with its emerald green golf course and clear blue ponds. When you're done with your recreational activities, you can visit the Spa and use their private steam rooms and treatment rooms for additional comfort.
Learn more about Southern Highlands
Interested in Retiring to Las Vegas? Fill Out The Form Below to Get Started!