7 Reasons for Retiring in Las Vegas, NV
Posted by Matiah Fischer on Wednesday, September 23, 2020 at 11:00 AM
By Matiah Fischer / September 23, 2020
Comment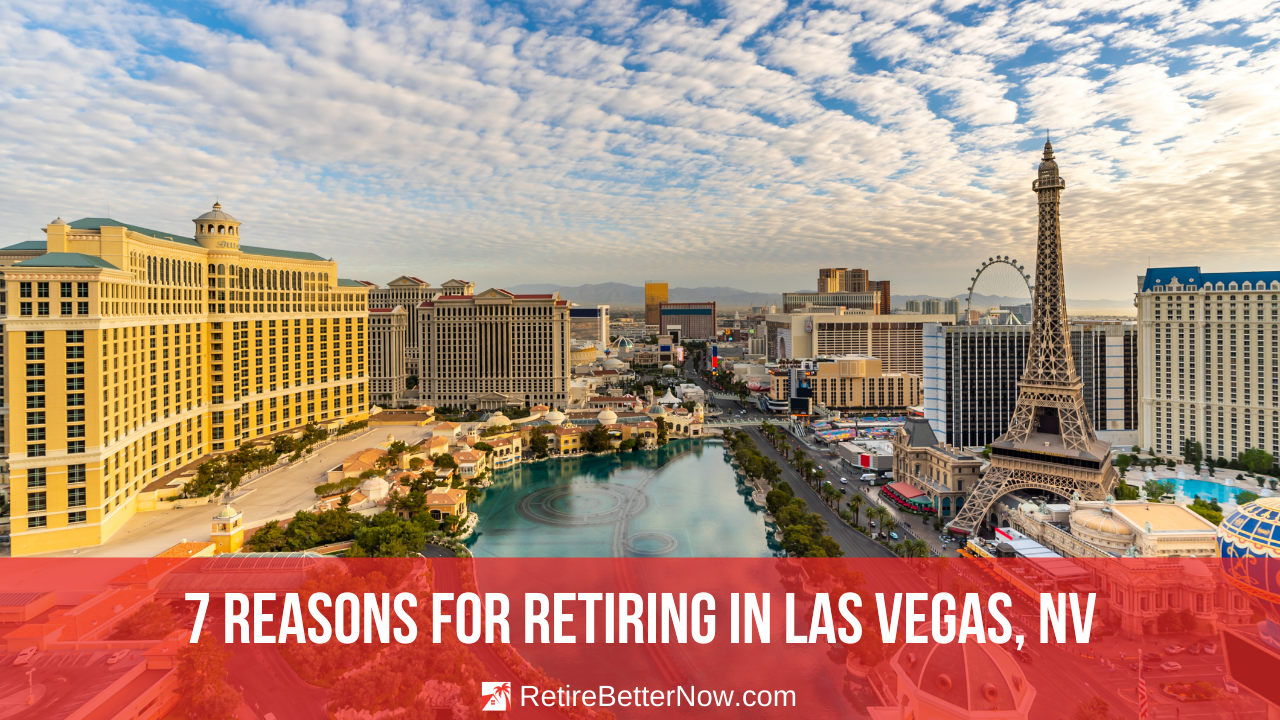 Have you been thinking about retiring in Las Vegas, NV? While some don't seem to think a Las Vegas retirement is for them, for many the thought of it excites and invigorates them. In this article, we're going to tell you the top 7 reasons to retire in Las Vegas!
Why Retire in Las Vegas?
There are many pros and cons to consider before you retire in Las Vegas. One thing to know is that Las Vegas has turned into a top retirement destination for many reasons, a few of which may actually surprise you. Let's take a look at 7 of the best reasons to consider retiring in Las Vegas, Nevada.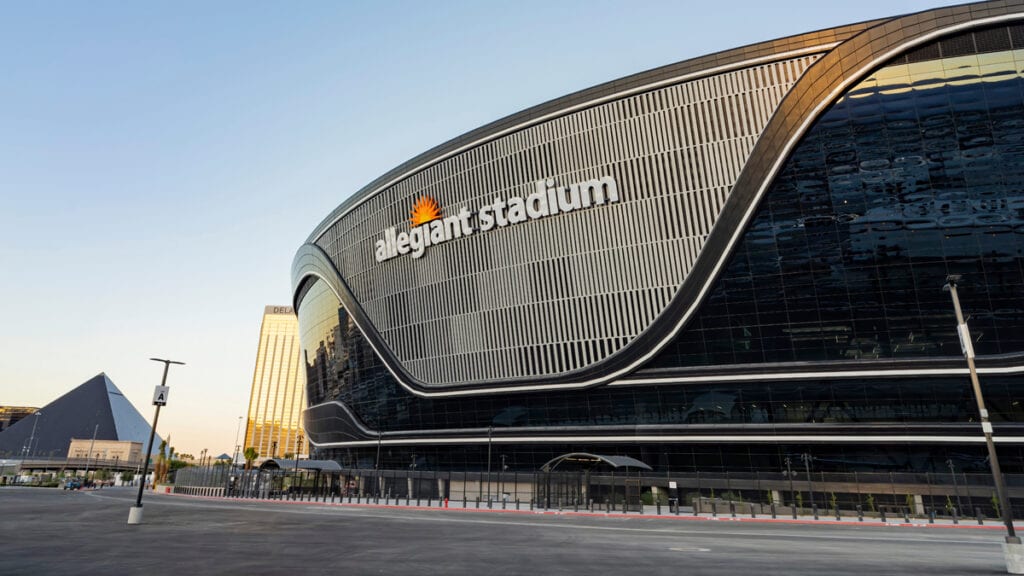 Reasons for Retiring in Las Vegas
#1: World Class Entertainment
One of the perks of retiring in Las Vegas is that you will never run out of things to do. Las Vegas is considered by many to be the entertainment capital of the world, which means you'll certainly never be bored living here.
We're not just talking about gambling, although there's certainly lots of fun to be had there. No, what we're talking about is the upstart pro sports scene and world-famous shows going on every weekend in Vegas. At any given time, you can attend performances from the likes of Penn & Teller, David Copperfield, Cirque Du Soleil, and Absinthe.
In Las Vegas, from world-class arenas to famous shows and local lounges, the entertainment scene is in full-force. Plus, there's now professional sports in Las Vegas, including the NFL Raiders and NHL Vegas Golden Knights.
See the brand-new, state-of-the-art NFL Raider's stadium, just off the Strip. And it's not just for football games; major concerts and shows will be playing here; adding to the list of marquee arenas and venues found in Las Vegas.
If you think about it, with so much fun right at your fingertips who won't want an excuse to come visit you?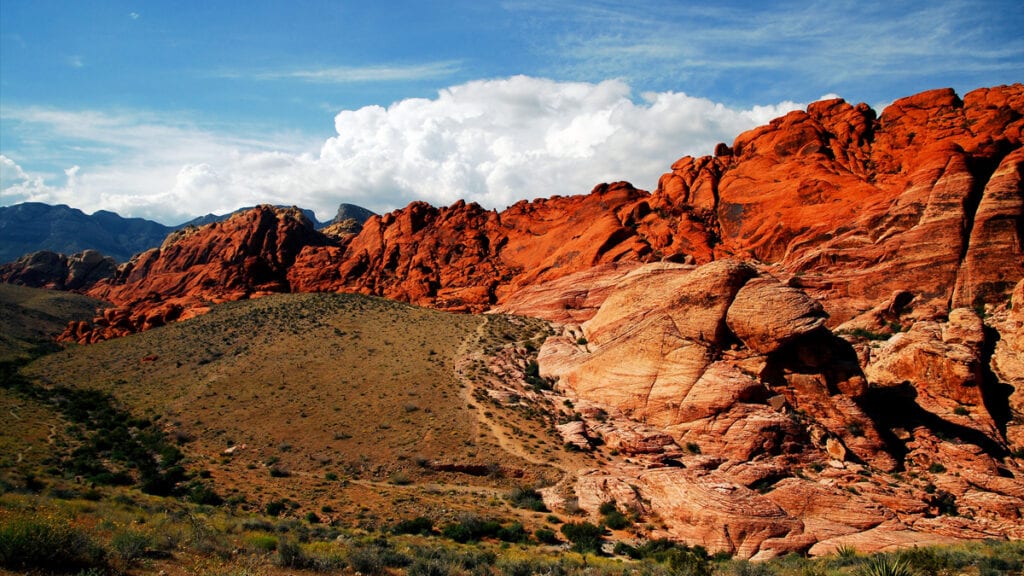 #2: Incredible Outdoor Recreation & Activities
Las Vegas is serious about their outdoors! Las Vegas is not just casinos and clubs – the city has many outdoor destinations that offer perfect activities in retirement.
While it's true that Vegas can bring plenty of excitement with endless entertainment options, the appeal of Las Vegas for retirement goes far beyond gambling and shows.
In fact, the area is an emerging outdoor lover's paradise. There are many outdoor activities and hobbies in the Las Vegas area. Be sure to check out Red Rock Canyon National Conservation Area just outside of Summerlin.
#3: The Dining Scene
It's impossible to talk about Vegas without mentioning it's food scene. After all, we're talking about over 2,000 restaurants! From fine dining and celebrity chefs; to steakhouses and seafood restaurants; all the way to local Mexican and pizza joints, Las Vegas loves its food.
Think beyond some of the overpriced and over-hyped places on the Strip and you'll discover the true Vegas foodie scene. In fact, there's so many great dining options available that when you retire in Las Vegas it'll be hard to try even a fraction of them all!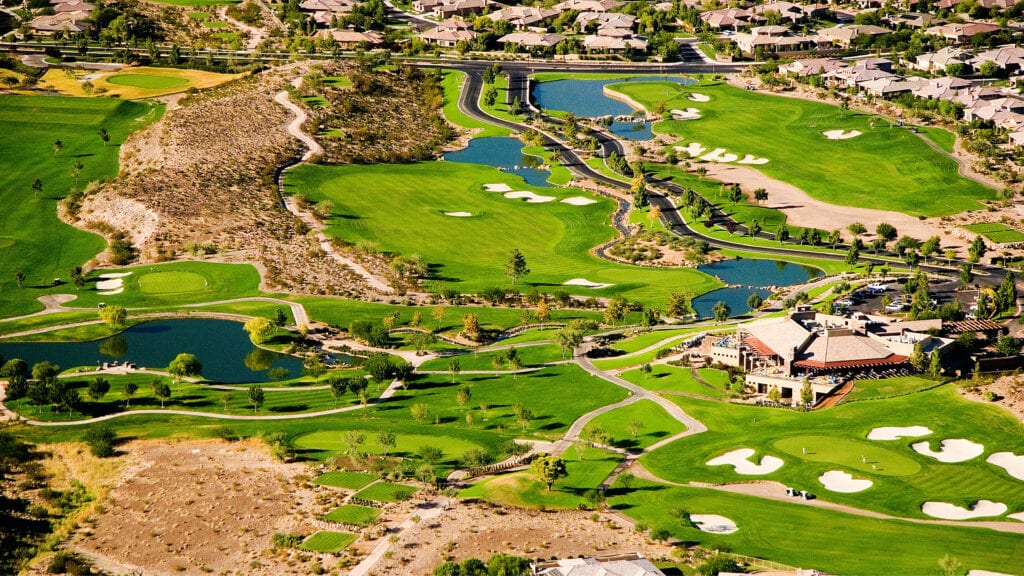 #4: 50+ Golf Courses
Love to golf? Then you'll love retiring in Las Vegas! With plenty of golf course frontage homes and more than 50 golf courses in Las Vegas ranging from beginner level to expert, championship level courses.
Get on the green at the finest golf courses in the Vegas area, including two Tournament Players Club (TPC) courses and Bear's Best, one of the first ever built. Wherever you play through, you'll find a world-class golfing experience for all skill levels.
In nearby Henderson, NV, you'll find plenty of golf courses to play through on and similarly, high-end golf course communities. The comfortable temperatures all year long make it easy to enjoy meeting friends for a few rounds.
Plus, the stunning desert landscapes make the perfect backdrop. There are many championship golf courses here including Black Mountain Golf & Country Club, a 27-hole championship course.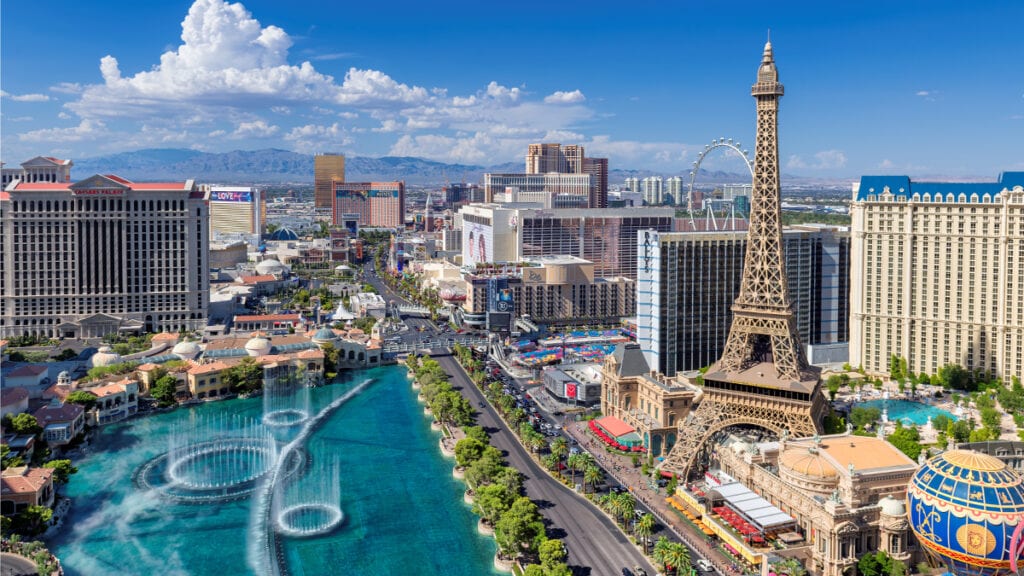 #5: Casinos & Gaming
The Las Vegas area is a gambler's paradise! Seriously, even people who play on occasion or for fun can find their casino vibe in Las Vegas. With so many choices, it's easy to find your favorite places to play; from the glitz of the Strip casinos to local video poker bars, there's something for everyone who likes pulling the slot machine lever or placing their chips on the table.
#6: Warm Weather
While it's true that for several months each year Las Vegas is HOT, it's also important to remember that 8-9 months out of the year it has a climate beloved by nearly everyone.
Las Vegas sees over 300 days of sunshine each year and gets very little precipitation. Spring and Fall are gorgeous times of the year; while winter provides relief to snowbirds coming from cold climates.
#7: Tax Benefits
Nevada is known as a tax haven for those looking to escape high-tax states, such as California, Illinois, New York and others. The main tax benefit of retiring in Las Vegas is that there's no state income tax. Additionally, there's no state tax on estate or inheritance and overall there's low property taxes.
Las Vegas Retirement
Searching for some of the best places to retire in Las Vegas? Choose from an excellent selection of 55+ communities in Las Vegas! Whether you're looking in Las Vegas, Summerlin or Henderson, you can explore nation-leading retirement communities designed for how you want to live.
5 Age-Qualified 55+ Communities to Consider When You Retire in Las Vegas, Nevada
There are more than 20 age-qualified communities to consider when you retire in Las Vegas. Here are 5 popular Las Vegas retirement communities right now.

Summerlin, NV | Starting From $400ks
This luxury 55+ community in Summerlin is set on elevated terrain at the base of a dramatic ridgeline in The Cliffs. Regency by Toll Brothers offers all single-story luxury homes in nine unique floorplans ranging from 1,665 to 2,428 square feet and priced from the high $400,000s.
Regency's resort-style amenities create the lifestyle buyers expect, including a community clubhouse spanning more than 16,000 square feet with an indoor lap pool and outdoor resort-style pools; tennis, pickle ball and bocce ball courts, game rooms and an onsite lifestyle director who will schedule classes and plan social gatherings and outings.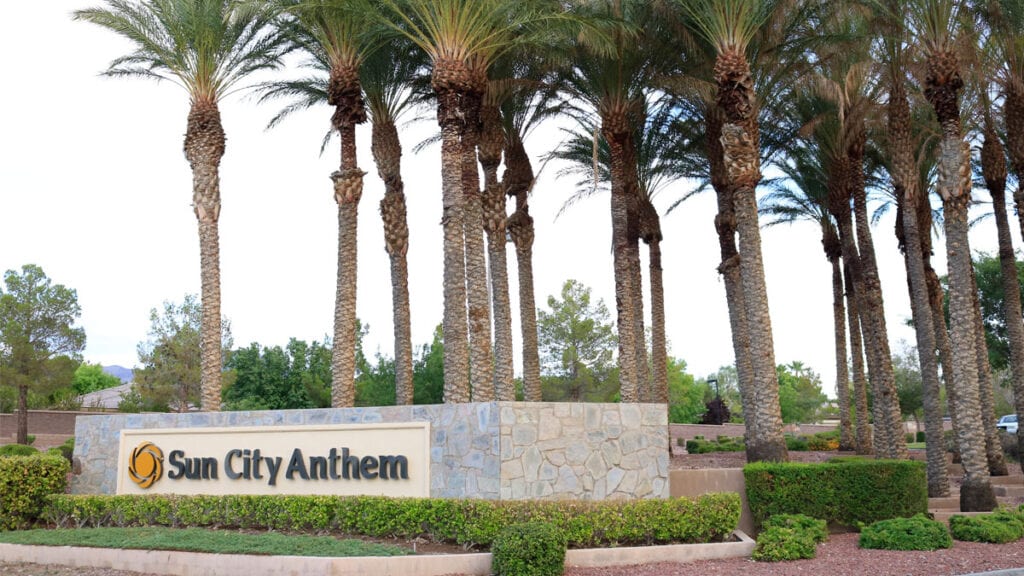 Henderson, NV | Starting From $200ks
Few 55+ communities in Henderson, Nevada can compete with Sun City Anthem. A planned community from world-famous Del Webb construction, Sun City Anthem in Henderson boasts over 7,000 properties, including condos, attached designs, and single-family homes.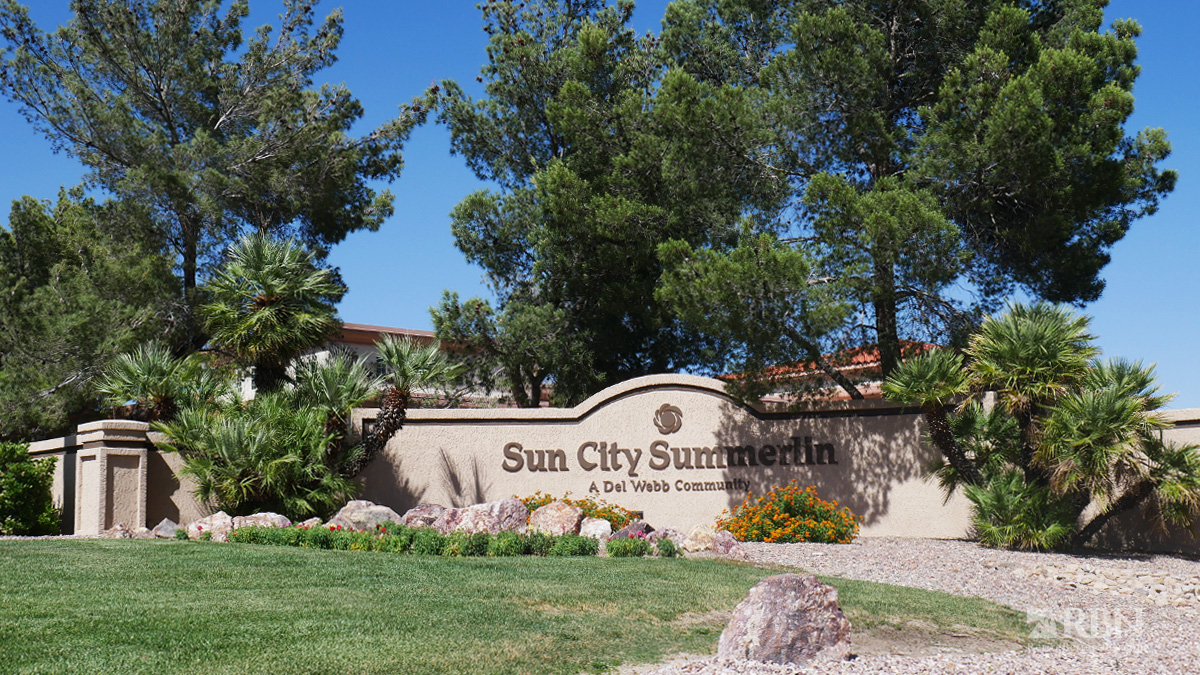 Summerlin, NV | Starting From $200ks
Sun City is an extraordinary place in Summerlin, NV where active adults ages 55 and up call home. This well-established community is a comfortable place with tree-lined streets, fantastic shopping, spectacular restaurants, plus award-winning resorts, spas, and casinos. Four community centers serve as the starting point for any activity or adventure a resident may want to experience.
Henderson, NV | Starting From $400ks
Del Webb at Lake Las Vegas is the renown active adult community developer's triumphant return to the Las Vegas market after a 10-year hiatus on new community development.
The new 125-acre community adjacent to Lake Las Vegas in Henderson, NV features transitional Mediterranean-style homes, award-winning floorplans and places emphasis on maximizing the active adult lifestyle.
Summerlin, NV | Starting From $200ks
The beautiful community of Siena at Summerlin in Las Vegas is among the most majestic places to live for adults over the age of 55. Towering mountains jut up against the horizon as you enjoy a peaceful morning walk in the desert among the communities expertly curated natural scenes. Lake Siena, an 18 hole championship golf course, and numerous scenic hiking options are all at your fingertips.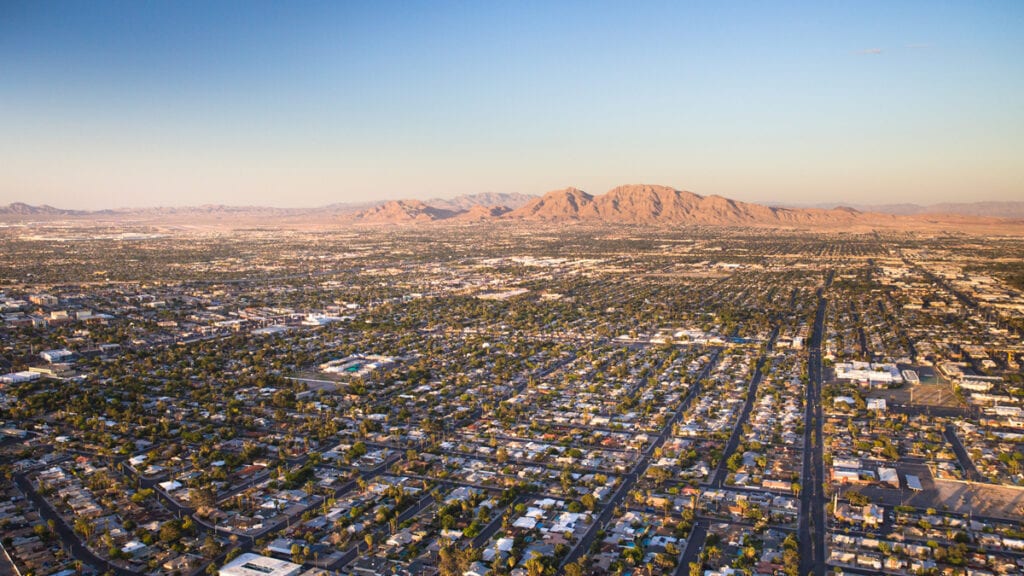 Frequently Asked Questions About Retiring in Las Vegas
Is Las Vegas a good place to retire?
Las Vegas has been labeled one of the best places to retire in the U.S., thanks to many desirable factors. The cost of living is reasonable, there are great options for food, drinks and entertainment, plus Las Vegas has plenty of outdoor recreation options and low taxes.
Where should I retire in Las Vegas?
There are so many great options. When considering where to retire in Las Vegas, besides the city itself don't forget about places like Summerlin, North Las Vegas, Henderson, Lake Las Vegas and the Northwest.
What are the best neighborhoods for retirees in Las Vegas?
Many retirees are interested in living in one of the great neighborhoods in Las Vegas, Henderson, Summerlin or surrounding areas. Here are some of the popular communities:
Popular 55+ Communities:
How much money do you need to retire in Las Vegas?
To retire in Las Vegas, you likely need a budget of at least $2,500 per month. However, it all depends on the type of lifestyle you want to live and what you decide to spend on items like housing, food and entertainment.
Pros and Cons of Retiring in Las Vegas
What are the Reasons to Retire in Las Vegas, NV?
World-Class Entertainment
Awesome Outdoor Activities
Dining Scene
Great Golfing
Las Vegas Casinos
Lots of Sun
Tax Benefits
Is Las Vegas a bad place to retire?
No, Las Vegas is not a bad place to retire for most people. Here are some of the disadvantages to retiring in Las Vegas:
Gambling & Nightlife
There are a lot of Tourists
The Summer Heat
Traffic on Roads
Ready to Retire in Las Vegas, Nevada?
There you have it. The top 7 best reasons to retire in Las Vegas. From sunny weather to low taxes; great entertainment, food and places to live, there may be no better place to retire than Las Vegas, Nevada!
If you're interested in retiring in Las Vegas and want to take a look at any of the great communities and homes in the area, let us know and we can help you discover the right community and find your dream home. ⤵️
Thinking About Retiring in Las Vegas? Get in Touch with a Local Real Estate Agent