7 Affordable Golf Course Communities in Las Vegas
Posted by RetireBetterNow.com (RBN) on Friday, September 1, 2023 at 9:00 AM
By RetireBetterNow.com (RBN) / September 1, 2023
Comment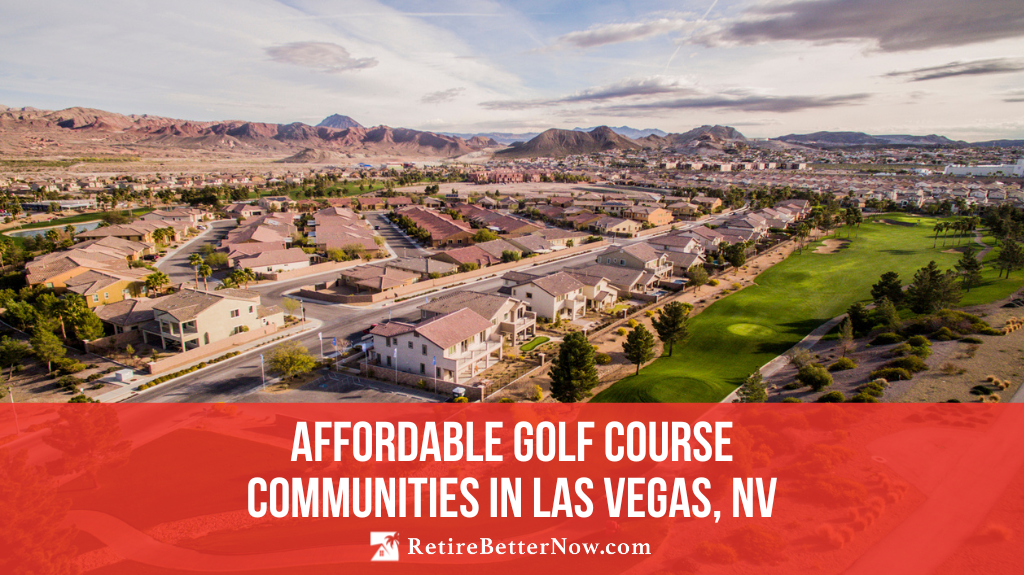 Known for its vibrant nightlife, world-class shows, and entertainment, it's easy to overlook the quieter, more serene side of Las Vegas. But for golf enthusiasts, the city offers a unique opportunity to live where you play. In this article we look at some of the more affordable golf course communities in Las Vegas to call home.
Las Vegas Affordable Golf Course Communities
Nestled in northwest Las Vegas, this guard-gated neighborhood offers a blend of leisure and cost-effectiveness. With its meticulously designed golf course as the centerpiece, residents can relish the joy of golfing amidst stunning landscapes while enjoying substantial savings.
The community features a range of housing options, from townhomes to 55+ living to golf course frontage homes, all designed to cater to various lifestyles. Beyond the greens, many amenities, including clubhouses, pools, and recreational facilities, provide a well-rounded living experience.
Situated in southwest Las Vegas, this community presents a haven for golf enthusiasts and those seeking a balanced lifestyle. The homes within Rhodes Ranch exude elegance and comfort, offering a diverse range of housing options that cater to various preferences and budgets. Residents are treated to a wealth of amenities, including a clubhouse, pools, fitness facilities, and more, enhancing the allure of this community beyond the golf course.
Established in 1967, the Las Vegas Country Club is a testament to timeless appeal. Situated just minutes from the bustling Strip, this golf course community offers an elegant retreat from the city's hustle and bustle. It boasts a classic golf course that has seen decades of swings and putts, creating an ambiance that's rich with history.
While golf is undoubtedly the centerpiece, the community is equally known for its various housing options. Las Vegas Country Club accommodates diverse residents from the condos at Regency Towers to spacious single-family homes. It's a haven for those who appreciate the balance between classic charm and modern convenience, all while staying close to the heart of the city.
Reach out for more information and to schedule a tour of neighborhoods in Las Vegas. Call or text (702) 718-3878 or contact us today.
Sun City Summerlin is an age-restricted golf course community that is a haven for retirees and active adults who want to enjoy the game, the company of like-minded peers, and the beauty of the surrounding landscapes. The community features not one, but three golf courses. Sun City Summerlin isn't just about golf; it's about savoring every moment in a community where age is just a number.
Painted Desert is a guard-gated community that boasts an 18-hole championship golf course that winds through the stunning desert landscape, offering a unique golfing experience that's as challenging as it is breathtaking. The affordable price points make it a practical choice for those who want to enjoy the best of both worlds – golf and a welcoming community.
Spanish Trail is a guard-gated golf course community that captures the essence of refined living. The community features a 27-hole golf course that promises a golfing experience that's as challenging as it is rewarding.
Beyond the greens, Spanish Trail offers a diverse range of housing options, including townhomes and estates. The mature landscaping and serene atmosphere create an aura of exclusivity, making it a sought-after destination for golf lovers with an eye for sophistication. It's where golf and refined living intertwine seamlessly, catering to those who appreciate both.
Nestled in East Las Vegas, Stallion Mountain stands as a testament to the charm and affordability of golf course communities in the city. Boasting an immaculately designed golf course as its centerpiece, this community offers residents a unique blend of leisure and cost-consciousness.
The homes within Stallion Mountain cater to diverse needs, featuring an array of living options that strike the perfect balance between comfort and budget-friendliness. Beyond golf, residents can indulge in various amenities, including clubhouses, pools, and recreational facilities, creating a holistic living experience.
Contact a Real Estate Agent to Tour Neighborhoods in Las Vegas, NV