5 Affordable Neighborhoods in Summerlin, NV
Posted by RetireBetterNow.com (RBN) on Monday, May 22, 2023 at 2:00 PM
By RetireBetterNow.com (RBN) / May 22, 2023
Comment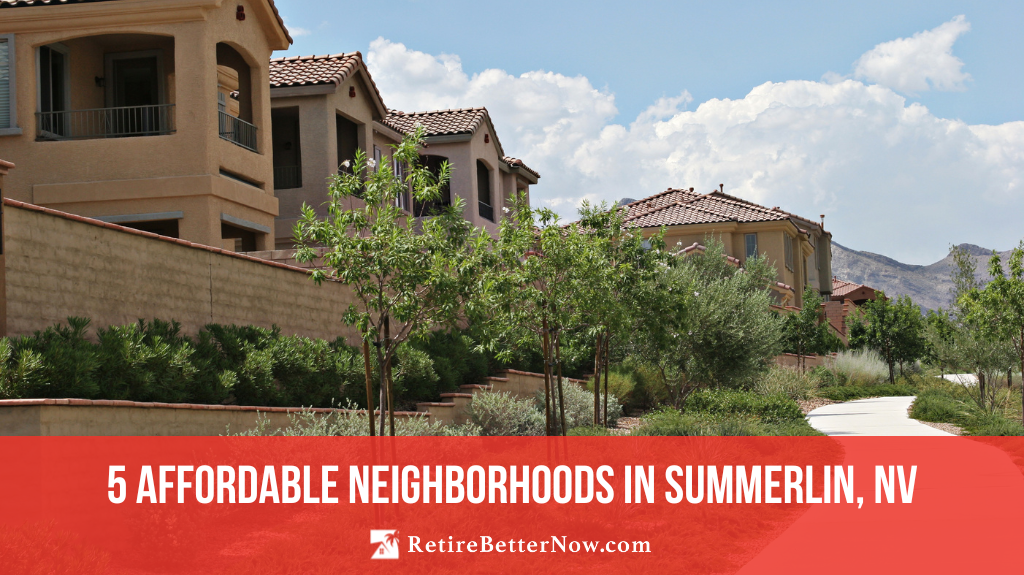 Situated on the western edge of the Las Vegas Valley, Summerlin is ranked among the best places one could choose to live in Nevada. The award-winning master planned community has something to offer everyone when it comes to real estate. From the exquisite multi-million-dollar homes and golf course communities to 55+ communities, townhomes and condos, the real estate market is varied, including in price. In this article we take a look at 5 of the more affordable neighborhoods in Summerlin, NV.
Affordable Communities in Summerlin, NV
Summerlin Centre is a village that spans approximately 1,004 acres in the heart of the masterplan. Located in the center of the action, residing in this affordable Summerlin community puts you minutes from dining, shopping, and entertainment at Downtown Summerlin. When it comes to housing options, it varies from single-family homes in tract and gated neighborhoods to urban luxury townhomes and condominiums in Affinity. Condos in Summerlin Centre may start around $345k, townhomes around $430k and single-family homes around $425k.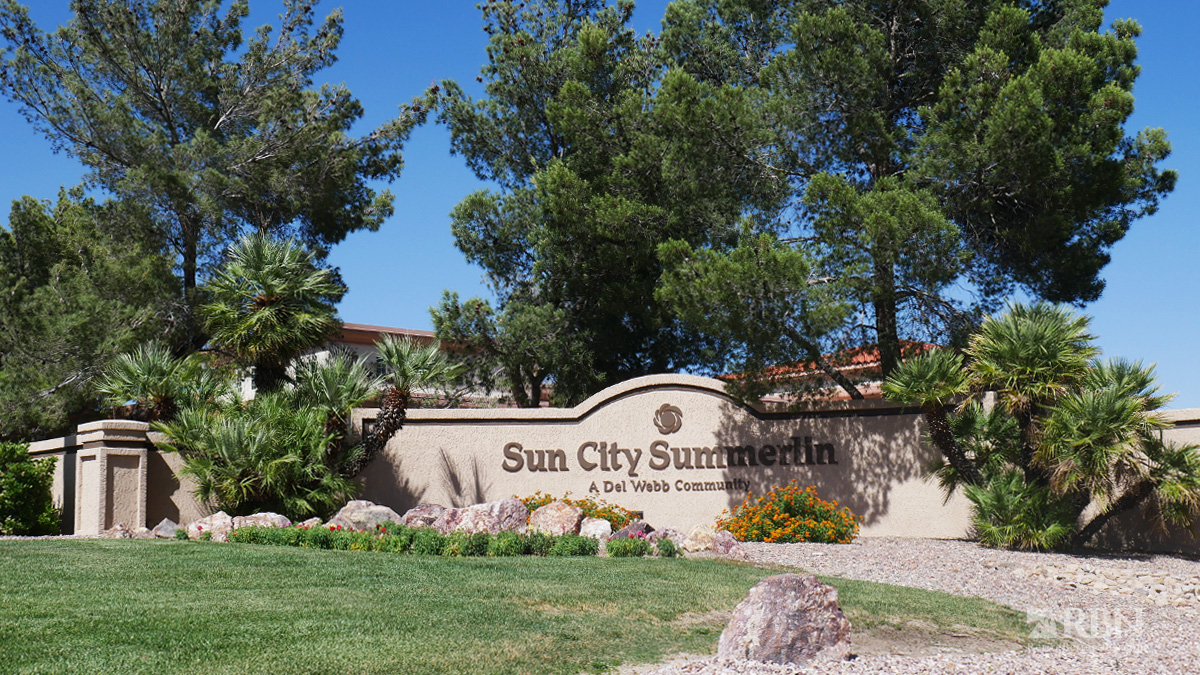 Sun City Summerlin is one of the largest 55+ communities in Nevada and can be found at the northern border of Summerlin at elevation offering breathtaking views of the valley and surrounding red rock mountains. This retirement community in Summerlin has four different clubhouses each with a range of resident amenities, three golf courses, over 80 different groups to join, and plenty of walking and biking trails. Nearby you will find various shopping centers, restaurants, Downtown Summerlin, and Red Rock Casino. Sun City Summerlin makes the list as an affordable neighborhood in Summerlin as townhomes can be found starting around $300k and single-family homes starting around $350k.
Situated in Summerlin North and measuring 530 acres, The Crossing is another of the most affordable communities in Summerlin. Here you will find a variety of real estate options including single-story and two-story homes, condominiums, and gated neighborhoods. Amongst the more affordable neighborhoods is Pacific Crest and Red Bluffs, both featuring condominiums that may start around $295k. Sunset Mesa is a gated townhome community that offers 2 - 4 bedrooms and may start around $390k.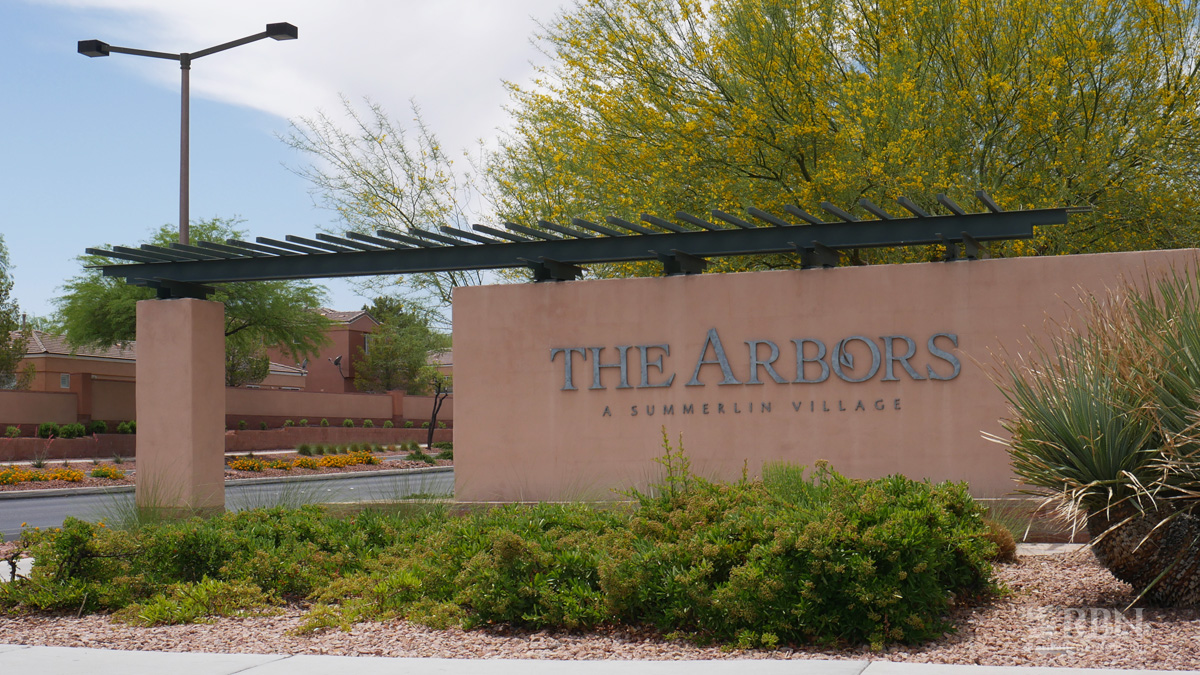 Located in Summerlin North, The Arbors is a 1,206-acre village made up of 30 sub-divisions developed in the late 90's and early 2000's. As a resident of The Arbors village, you get to enjoy several parks, well-equipped schools, golf courses, close-by shopping areas, health centers, and recreational areas. Among the many sub-divisions are Fallbrook and Cottonwood Terrace, two of the more affordable places to live in this Summerlin Village. Fallbrook offers residents single-family homes that may start around $400k, and Cottonwood Terrace offers townhomes that may start around $440k.
Among the Summerlin Villages with affordable neighborhoods is The Pueblo Village. Located in Summerlin North, the village houses some of the more affordable Summerlin condominiums and townhomes. Buena Vista is a community with affordable 2 and 3-bedrooms townhouses that may start around $330k. La Posada is a gated community featuring main level and second level condominium living that can be found starting around $250k. The Pueblo gives its residents access to Pueblo Park that provides trails and paths to walk, jog, and bike, enjoy the desert garden, green space, children's play areas, and basketball courts.
Contact a Real Estate Agent to Tour Summerlin Neighborhoods