Best ROI Home Improvements
Posted by Matiah Fischer on Monday, January 24, 2022 at 8:00 AM
By Matiah Fischer / January 24, 2022
Comment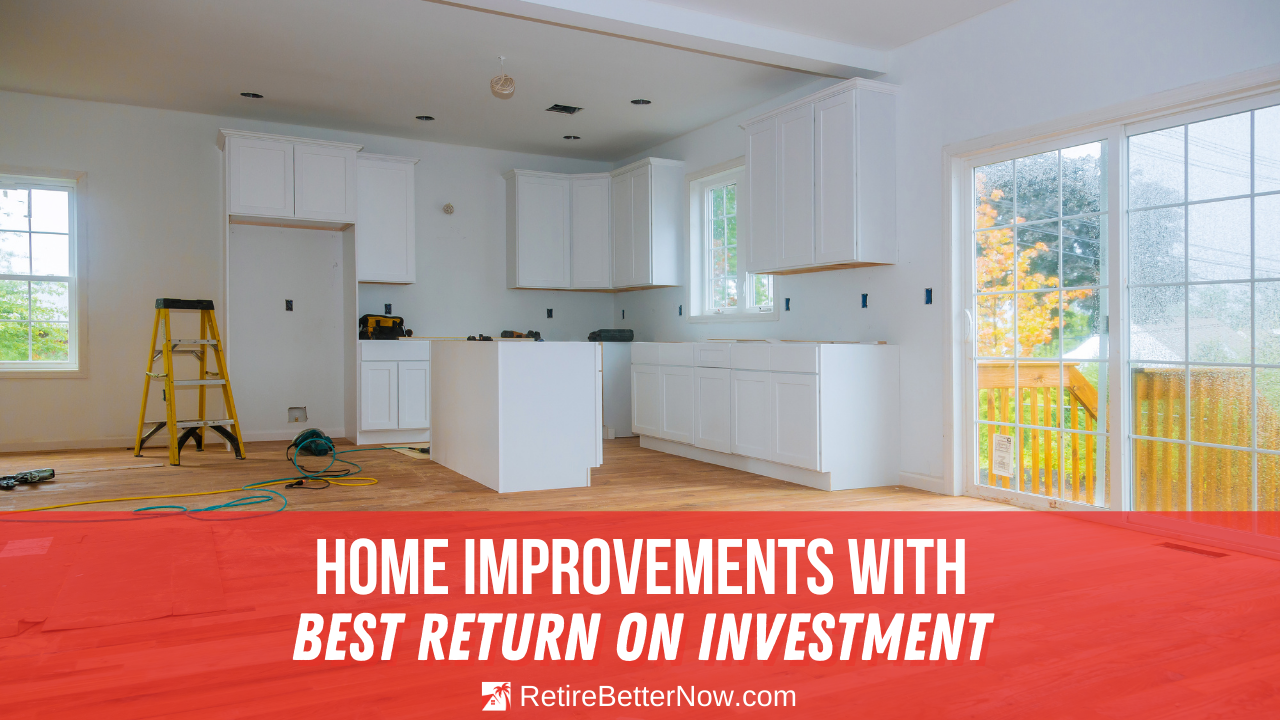 What are the smartest investments you can make in your home to achieve the best Return On Investment (ROI)? Asking this question means that you are ahead of the game. Whether you are ready to sell your home while the market is hot or just looking to spruce things up for yourself, you want to make sure it's worth it.
These are excellent reasons to be asking about what the best ROI is. Your time and money are valuable, make sure that your remodel decisions make financial sense. Let's get started taking a look at the best ROI home improvements for selling your home!
7 Home Improvements with the Best Return on Investment
Kitchen
A kitchen remodel is an excellent place to start since it has one of the highest ROI's. If you're looking at selling your house and you must pick between a kitchen or bathroom remodel, pick the kitchen.
To the buyer, a kitchen remodel will seem like a far more daunting task than a bathroom. If you have ever lived through a kitchen remodel, having to cook in a makeshift kitchen, then you know how inconvenient it can be. A kitchen remodel, if done sensibly can have a huge ROI.
Bathroom
Like kitchens, bathrooms are well known for their high ROI potential. Although the kitchen is a great first choice, the bathroom is an easy second. Even some updated fixtures and some fresh paint can bring you the high investment return that you are looking for.
Full bathroom remodels can be difficult and are not for the faint of heart. Although a full bathroom remodel can have good ROI, a simple clean update will usually score you a higher return and with less hassle.
Landscaping
What better way to catch a buyer's attention than with well-maintained landscaping? There is something magical about looking into a yard and seeing all the beautiful flowers blooming and the green grass shining.
Even if you don't have a large budget, this is one that can be done for less. A clean and trimmed yard free of debris, trimmed bushes, fresh mulch, and a clean driveway may be all your home needs. A beautiful yard with a small investment is a great way to increase your home's value.
Entry Door
Your entry door is what welcomes your guests into your home, this is your chance to make a statement. Going and buying a new one is a good option. Especially if yours is damaged or out of style.
A new door with a new style may be just what you need to step up your entry door game. If a new door isn't an option, then maybe a fresh coat of paint is all you need. A painted entry door has the opportunity to stand out and make a statement.
Garage Door
It is easy for us to forget about our garage doors. The size of your garage door makes it a potential statement piece for your home.
Replacing the old door can give your home that updated look that it needs. Garage doors have proven to have an excellent ROI with the curb appeal and appealing aesthetic that they can offer.
Paint
A fresh coat of paint can rejuvenate your home. Paint colors can fade over time. Maybe the color has gone out of style or is starting to show some wear. Whatever the reason, paint is a great way to make your home shine.
Interior paint is inexpensive and something that almost anyone can do themselves. Maybe it needs to be brought into the new decade with some fresh colors on the inside. Or maybe the outside of your home needs a fresh coat of paint as well to stand out in the neighborhood.
Grab some plastic, paint, and a brush, and watch that ROI grow!
Small Details
The small details of the house can make or break a home. This can be another inexpensive option to shoot your ROI through the roof. Walk through your home and look at the small details, maybe you have several different finishes of light fixtures or maybe different styles of doorknobs.
Changing them to a similar finish throughout the home will bring a sense of unity and will make all the rooms seem like they fit together. Consider matching the finish of your bathroom and kitchen fixtures with the lighting fixtures throughout the house.
Picking cabinet pulls and doorknobs with a similar style and sheen will also give your home a sense of uniformity.
Which Home Improvements Get the Best ROI?
A sensible kitchen remodel that is on par with your neighborhood will yield a high ROI, while an extravagant chef kitchen remodel that is way above your neighborhood value could possibly lose you money.
This goes for all the remodel options you have before you. Look at other homes that are for sale in your area and see what kind of upgrades they have done, and if it is helping their homes sell.
If several recently sold homes around you had remodeled kitchens, then perhaps that is where you should begin your remodel. Or if several of the homes had manicured lawns, then maybe you should investigate landscaping.
Summary
Whether you're upgrading your home with the intention of selling it, or if you plan on continuing to live in it, will make a big impact on which steps you choose to take with your remodel.
If you plan to sell your home in the next few years, then you need to look at these upgrades while keeping this in mind. If you plan on keeping your home for several more years before selling, then feel free to add your own personal style and enjoy it.
Consider all the different options that we have listed in this article. Approach each of these with a sensible opinion and budget-oriented plan. Remodeling may be a daunting task but keep your spirits up and watch as your house blossoms into a home again.
Don't be afraid to get your hands dirty, save some money by doing what you can yourself, and watch your ROI grow!
More Home Selling Resources