Should I Build a New Home or Buy an Existing Home?
Posted by Matiah Fischer on Tuesday, January 11, 2022 at 2:05 PM
By Matiah Fischer / January 11, 2022
Comment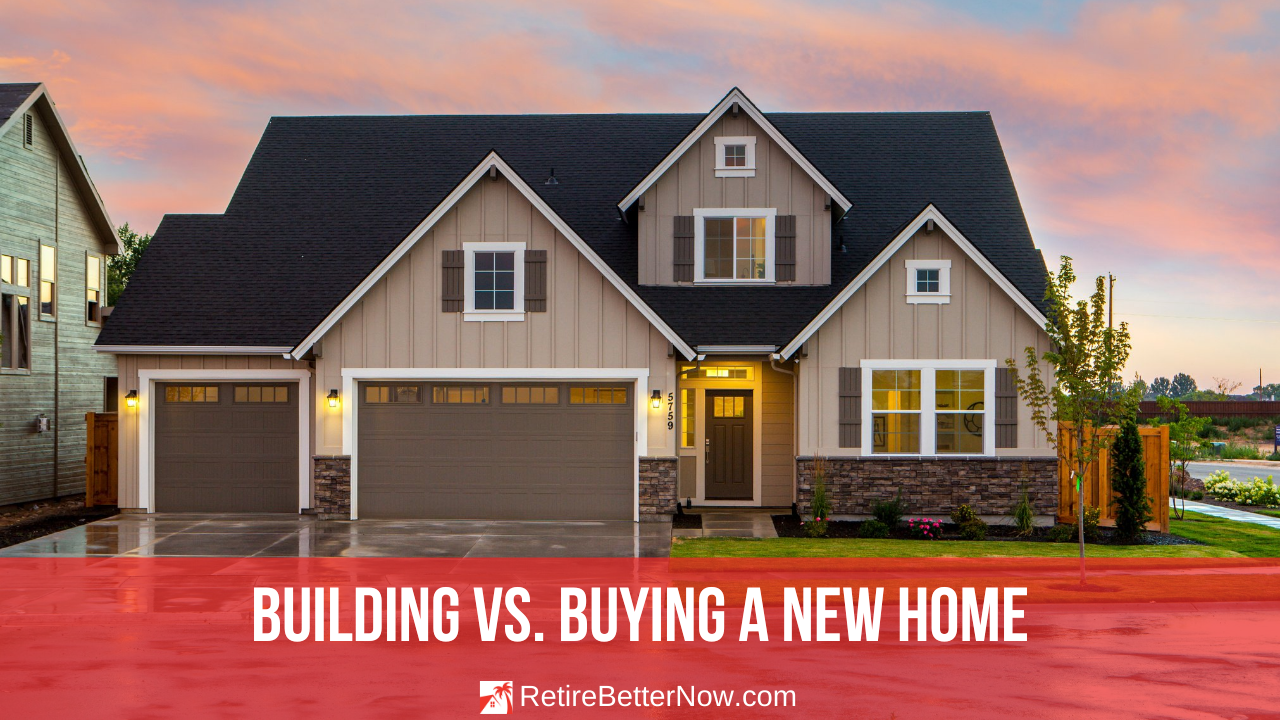 There are a lot of decisions to be made in life, especially when it comes to where you live. Once you've decided that buying a home is right for you, the next step is deciding whether to buy a resale home or build a new home.
Everyone is different and has their own set of circumstances that weigh on the decision. This article provides information on the differences between building a house and buying one, so you can decide whether it's better for you to buy an existing home or build a new house.
Let's get started!
Costs of Building vs. Purchasing a Home
The median sales price of previously owned houses in November 2021 was $353,000, according to the National Association of REALTORS®.
In November 2021, the US Census Bureau reported a median sales price of $416,900 for new construction homes sold.
Is It More Affordable to Build or Purchase a Home?
In general, the additional costs of building a new home make previously owned homes the less expensive option.
Getting Started
Building a new house or purchasing an existing home may be costly. Starting from scratch is usually not the greatest approach if you're trying to save money.
Even if the house needs improvements, you have the option of deferring the upgrades to give yourself more time to budget.
New Construction Expenses
Separate expenses that are already part of an existing home are included in the cost of building a house.
You'll need to buy land, get a construction loan, pay an architect to create blueprints, hire a home builder, landscape the property, and more if you build a house.
As you can see, home building costs can add up quickly. On the plus side, you'll have the exact house you want.
Unforeseen Expenses in Resale & New Home
Whether you're constructing or purchasing a house, there may be some unforeseen expenses. For example, if you're constructing a house, you'll have to pay for it while it's being built.
As a result, there may be a time when you're paying for two homes. As building progresses, new expenditures may appear, so be prepared to budget for them.
Existing houses, on the other hand, may have their issues. Older houses, for example, have lower energy efficiency than modern ones, which may result in greater utility costs.
They may also have aging roofs with underlying insect or mold issues. Furthermore, older home systems may need the purchase of a house warranty.
The Benefits and Drawbacks of Building A New House
Building a new house, like purchasing an existing home, has its own set of considerations. Here are some pros and cons to consider for building a new construction home.
The Advantages of Building A New House
Pick Your Lot
One of the advantages to building your own house is lot selection. Getting to choose the piece of land to build your home is an exciting experience for all involved!
Additionally, you get to determine how big your yard will be and what views you will have from your new home. You don't get to determine any of this when buying a resale property.
Build Your Vision
You have total control over the design of your unique house. You have complete control over the look and feel of the site.
Because you're beginning from fresh and creating precisely what you want, there shouldn't be any remodeling expenditures. Plus, you get to have everything exactly as you want it.
Upgrades
Because you're constructing a new house, you may want to consider buying brand new appliances to go with it. That way, you'll be able to have all of your major purchases completed at the same time.
If you purchase everything fresh, there shouldn't be any fees involved with repairing a washer or dryer machine for years to come.
The Disadvantages of Constructing a New Home
Your Budget
Let's say you've created the ideal design for your dream house. As soon as the work starts, you discover that what you're asking for is completely out of your budget.
The process of constructing a new house may be costly. Make sure you've done your homework so you don't get yourself in over your head.
Making adjustments and buying enhancements from the builder might be costly, so make sure you're completely satisfied with your choices.
Waiting
If you have plenty of time on your hands, building a new home might be a fantastic option. However, if you don't, starting from scratch may not be for you.
Building a house might take 3 – 9 months or more, depending on the house you're having built. The weather may also affect how long it takes to finish a house, depending on where you reside.
Other possible impediments that are beyond your control that might cause a delay in completion should be considered. Lumber and labor shortages are just a few factors in 2021/2022 that must be taken into consideration.
Paperwork
Read every paper (including the small print) from beginning to end. If a problem emerges and you take the builder to court, your agreement with the builder may restrict your rights.
Consider hiring a real estate agent or real estate attorney to help you navigate the paperwork and contracts.
The Benefits and Drawbacks of Purchasing an Existing Home
Purchasing an existing property offers both advantages and disadvantages. There's a reason why most people purchase pre-owned homes: they're less expensive.
Continue reading to discover more about the benefits and drawbacks of purchasing an existing home.
The Advantages to Buying an Existing Home
You Know What You're Getting
When buying a resale home, what you see is what you get. You've done your homework, been around the area, and gone over the house from top to bottom.
You already know what you're getting. The original home's floor design and layout will remain unchanged.
Faster Move-In
You can move into an existing home much quicker, whether you're relocating for a new job or just wanting to upgrade from your present home.
You're ready to move in after completing the mortgage procedure and closing. You are not required to wait.
This is particularly useful for persons who are moving for a new career or for families that have children who will be beginning a new school and have limited free time.
You Can Flip the House
If you buy a house and renovate it, you may resell it for a profit. It may be well worth your effort to examine this alternative, depending on how time-consuming and costly the improvements are.
Whereas with a new construction home, you better home you're not getting a new home that you have to renovate and flip!
The Drawbacks of Purchasing an Existing Home
Lack of Creativity
"What you see is what you get" is positive, as we already said. It may, however, be a disadvantage.
You may have home buyer's remorse if you like most of the house but are unsure about another component.
If you have to change the layout of a resale home, understand it can be difficult and expensive. Before you sign on the dotted line, be sure you're pleased with what you're getting.
Repairs
If your house needs repair, it will cost you both time and money. Depending on what you're refurbishing, you may potentially spend thousands of dollars.
In the United States, for example, the typical cost of a kitchen remodel may range from $12,000 upwards of $136,000, depending on the scope of the project.
Homeowner's Insurance
The cost of homeowner's insurance for a pre-owned house is more than for a new-construction home. Some pre-existing properties have outdated features, which raises insurance costs.
Building vs. Buying A Home: Financing Options
Financing a housing development differs from financing a home that has already been constructed. When buying an existing property, you may choose between conventional and FHA loans. These are typical and are available from a wide range of lenders.
New Construction Loans
You'll need to look for lenders that provide raw land loans, construction loans, and mortgages if you want to build a house.
Construction loans and conventional mortgages may be combined to create one-time-close construction loans, often known as construction-to-permanent loans.
Once the house is finished, these loans convert to a permanent conventional mortgage. Construction-to-permanent loans make the process easier, but they have drawbacks.
If you go over budget, you'll have less freedom, and your interest rates may be higher.
Other Important Factors to Consider Before Deciding on Buying vs. Building a Home
Before planning to construct your future house, you need to consider several aspects. Before you go in, consider the following additional factors and options:
Consult a real estate agent in your area to choose the finest builder for the task.
Calculate how much time you have till you have to move in.
Figure out how much sweat equity you'd have invest.
Think about the pros and cons of buying a fixer-upper as a compromise.
Determine how crucial it is for your new house to have all of your desired features.
Plan on whether you'll need to buy or rent temporarily while waiting for your new home.
Determine if you'll need to sell your present home to finance the construction.
In the End, Should You Build or Purchase a Home?
Whether you choose to construct a new house or purchase an existing one, there are advantages and disadvantages to both.
Carefully consider your options, consult with knowledgeable professionals, and make the choice that's best for you!
Home Buying Resources