Choosing The Right Retirement Community
Posted by RetireBetterNow.com (RBN) on Wednesday, November 15, 2023 at 10:00 AM
By RetireBetterNow.com (RBN) / November 15, 2023
Comment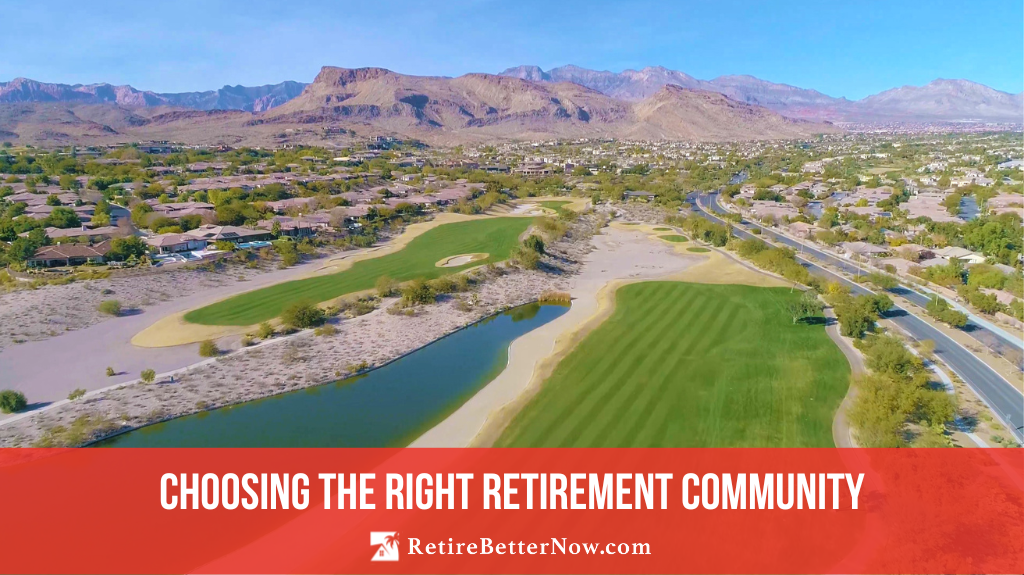 The pursuit of the ideal retirement community mirrors the quest for a dream abode, with an added layer of benefits. Every community has its own boast-worthy features, so let's dive into different factors to consider when choosing the right retirement community for you.
How to Choose The Right Retirement Community
Types of Retirement Communities
There are five primary types of retirement communities available, with three designed for those leading independent, active lives. Your age or the level of care you require will likely influence your decision and it's important to know the difference between retirement communities and assisted living.
1. Age-Restricted Communities
These communities require at least one person in the household to be 55 or older. Generally, children under 18 are not allowed but each community will differ. Homes will typically have 55+ friendly amenities and often provide access to clubs and activities like golf, walking trails, and recreational centers. They are designed to encourage interaction and an active lifestyle among people of similar ages. Outdoor maintenance services are usually included, but medical care is typically not offered.
2. Independent Living Communities
These communities, like age-restricted ones, have age limits for residents. They usually provide well-equipped homes with features like handicapped-accessible doorways or medical alert systems. These communities may offer a wide range of activities on-site, such as golf, games, hobby centers, and spaces for meetings and special events. They usually have a central dining hall and other conveniences. Outdoor maintenance services are typically included, but medical care is not usually offered.
3. Continuing Care Retirement Communities
Like age-restricted and independent living communities, these cater to a specific age group, typically starting at age 62. They are often set up like a campus, combining independent housing with various activities and amenities, much like independent living communities. The key difference is that continuing care communities offer additional support as resident needs change. This can include personal care housing for those who need extra help, though not full medical services. They may also provide full-scale nursing facilities on-campus or nearby.
4. Personal Care Housing
Similar to assisted living, personal care housing combines various housing options with additional supportive services. It's a good option for those who find it challenging to live independently and desire the security of 24-hour staff support for unscheduled personal assistance.
5. Nursing Care Facilities
These facilities offer round-the-clock skilled care with registered nurse supervision for individuals with more complex medical needs. They also provide specialized services and rehabilitation for those with serious medical conditions or memory losses.
Important Factors in Choosing a Retirement Community
When selecting a community, there are several crucial considerations to keep in mind:
Dining: Consider if you want daily meals served or if there are options for quick snacks or coffee.
The Greater Community: Look for opportunities for exercise, cultural activities, entertainment, and more in the surrounding area.
On-Site Services and Amenities: Check what the community offers to enhance your lifestyle.
Exercise and Wellness: Ensure there are options for staying active and healthy.
Pets: If you have pets, consider the community's policies regarding them.
Help When Needed: If you might require assistance, think about communities that offer both independent and assisted living options.
Transportation: Consider parking if you have a car and inquire about community shuttle services and public transportation.
Activities of Interest: Ensure the community offers activities and hobbies you enjoy.
Family Focus: If family visits are important, confirm that the community welcomes them.
Cost: Budget for the amenities you desire.
Relationships: Observe interactions between staff and residents to gauge the community's atmosphere.
Reach out for more information and to schedule a tour of neighborhoods in Las Vegas, NV. Call or text (702) 718-3878 or contact us today.
Benefits of Choosing the Right Retirement Community
Retirement communities can offer a host of benefits to retirees. Let's explore five key advantages:
Social Interaction and Companionship
Moving to a retirement community opens up a world of social opportunities. You'll be surrounded by people in a similar stage of life, making it easier to form friendships. Whether it's chatting over meals, participating in group activities, or simply enjoying leisurely walks, the social interactions can greatly enhance your overall well-being.
Convenience and Amenities
These communities are crafted to make daily life more convenient. They offer a range of amenities like fitness centers, swimming pools, libraries, and more. This means you have access to various activities without needing to venture far from home. Additionally, services like housekeeping and maintenance are often provided, easing the burden of household chores.
Access to Healthcare Services
Many retirement communities have healthcare services in close proximity. This can be a crucial factor for those with specific medical needs. Having healthcare professionals readily available can provide peace of mind, knowing that your health is a top priority.
Customized Living Spaces
Retirement communities offer a variety of housing options, allowing you to choose a living space that suits your preferences and needs. Whether you prefer a cozy apartment or a more spacious cottage, there are options available. Additionally, these spaces are often designed with senior-friendly features for ease of mobility.
Choosing the right retirement community can significantly enhance your quality of life during your golden years. It's important to consider your personal preferences and needs when making this decision. Take the time to visit different communities, talk to current residents, and gather all the information you need to make an informed choice. Remember, the right community can lead to a fulfilling and enjoyable retirement experience.
Considerations when Choosing a Retirement Community
Financial Factors: Affordability and Long-Term Sustainability
When evaluating retirement communities, it's crucial to consider the financial aspects. Begin by determining your budget and understanding the costs associated with each community. In addition to upfront fees, many communities have monthly maintenance fees or HOA fees that should be factored into your financial plan.
Visiting and Researching: Gathering Firsthand Information
While online research can provide a wealth of information about retirement communities, nothing beats visiting the communities in person. Schedule tours and plan visits to get a firsthand experience of the community's atmosphere, amenities, and residential options. Engage with current residents to gain insight into their experiences and satisfaction with the community. This firsthand information will help you make a more informed decision and evaluate how well each community aligns with your preferences.
Maintaining Independence and Flexibility
As you enter retirement, it's essential to choose a community that allows you to maintain your independence and provides flexibility for future changes in your needs. Consider communities that offer a continuum of care, where you can transition to higher levels of assistance if required. This ensures that you can remain in the same community even as your health needs change, providing continuity and familiarity in your retirement years.
Conclusion: How to Select the Right Retirement Community
Choosing the right retirement community is an important decision for older adults and their families. These communities offer various levels of care, amenities, and social opportunities. It is crucial to consider factors like location, cost, healthcare services, and community atmosphere. Research, visits, and asking questions will help in finding the perfect fit for a comfortable and fulfilling retirement lifestyle.
Contact a Real Estate Agent to Tour Neighborhoods in Las Vegas, NV