The Complete Guide to Building a New House in Las Vegas
Posted by Matiah Fischer on Saturday, March 27, 2021 at 12:00 PM
By Matiah Fischer / March 27, 2021
Comment
Are you excitedly planning to build a house in Las Vegas and looking for some accurate, helpful information that will serve as a useful guide? The great news is that this article shares with you everything you need to know about building a house in Las Vegas, so you can get to work on that dream project you've been thinking about for so long.
We start by looking at the cost to build a house in Las Vegas, which is often the main question on everyone's mind. We then take you through several more useful sections that provide you with tons of information about building a new construction home in Las Vegas.
So, without further ado, let's dive in and take a look at everything you need to know about building a new home in Las Vegas!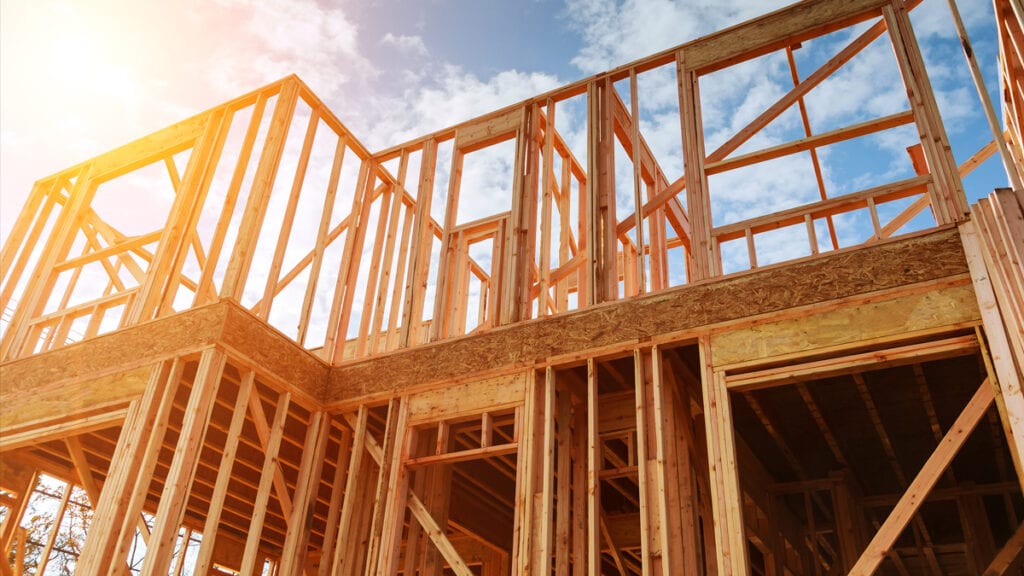 Building a New Home in Las Vegas
To help you navigate this guide, we've split it into several key sections with useful headings, so you can easily identify the information that you're looking for. We begin by looking at how much it costs to build a house in Las Vegas and give you an idea of all of the costs associated with building a new home.
We then compare the cost of building to the cost of buying and introduce you to the timeframe and stages associated with undertaking your own house-building project in Las Vegas. We then round things up by listing many of the pros and cons of building a house in Las Vegas before telling you exactly how to get started.
Below is the table of contents, so you can easily find the section that you're looking for.
Table of Contents
Cost to Build a House
According to a super helpful article by HomeAdvisor, the cost to build a house in the US usually costs somewhere in the range of $157,765 - $477,594. This is the range for a typical 'pre-set' home, but of course, the more you customize your home, the more expensive it will become.
To breakdown the cost to build a house, the builders will typically earn a minimum of $50,000, whereas architects usually command a fee of between $60 and $125 per hour. As for engineers, they are even more expensive, usually in the range of $100 to $150 per hour, and land surveyors will command a fee of between $300 and $700. You will also need to think about the cost of materials, labor, roofing, fixtures and fittings, land and excavation, and many other factors that will affect the cost.
How Much Does it Cost to Build a House in Las Vegas?
The average cost of building a house in Las Vegas, Nevada, falls within the national average range and may start around $300,000. Again, this is an estimated average cost of a pre-set home based on the real estate market which changes often, so you should budget for significantly more if you're hoping to construct a luxurious dream home with many custom features.
As we've introduced in the section above, you need to consider a variety of costs when it comes to budgeting for your new home in Las Vegas so that guide price is likely to change, depending on the type of home you hope to build.
How Much Does it Cost to Build a Custom Home in Vegas?
HomeAdvisor suggests that the national average cost of building a custom home is anywhere between $350,000 and $1.5 million. To get a clear picture of your initial budget, you need to think about what you want your home to look like and plan the key features accurately, so you get a good idea of how to budget for the project. Consulting with a custom home builder helps, too.
Be aware that there are some stunning properties in Las Vegas, complete with home gyms, swimming pools, and luxurious features. It's very easy to spend more than $1.5 million on a custom home project, so be sure you're clear about what you're hoping to build.
What is the Average Cost-Per-Square Foot to Build a House in Las Vegas?
The average cost-per-square-foot to build a house in Las Vegas is $150. This figure includes labor, foundation, permits, drywall, wall framing, standard-grade materials, and clean-up services. One of the things that affect the cost significantly is the price of materials. Some homes in Las Vegas can end up costing in excess of $300 per-square-foot; it really just depends on the materials used to construct the property.
The reason that this figure is important is that builders will often quote the cost of building a property in regard to cost-per-square-foot. It's helpful to start thinking in terms of square footage, as it will give you a clear idea of the size of your home.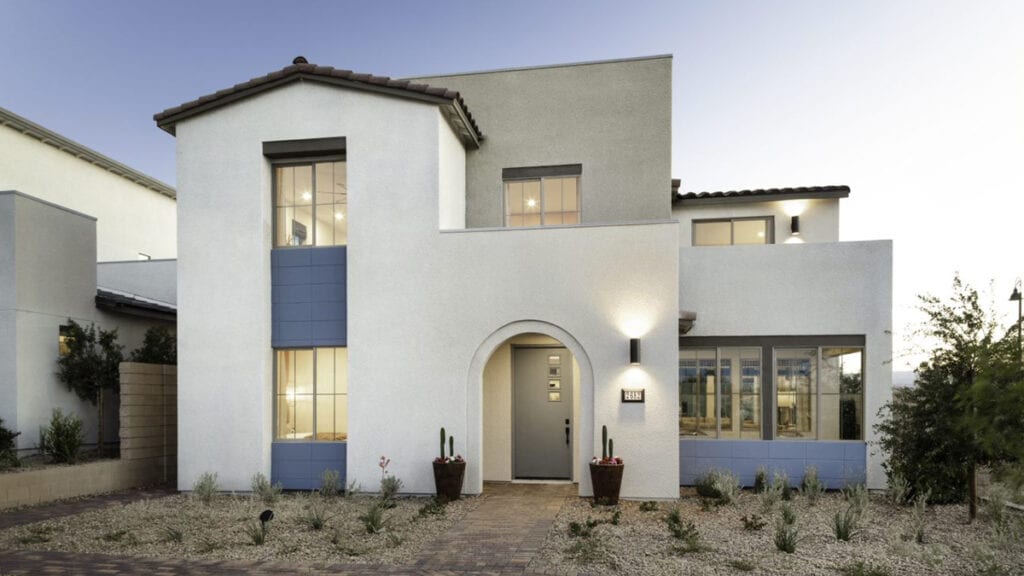 Is it Cheaper to Build a 1-Story or 2-Story Home?
Although you might be surprised to hear this, it usually costs less to build a new 2-story home than it does to build a new 1-story house. The reason for this is because the most expensive part of building a house is the foundation and roofing stages, and on a two-story home, they are usually being constructed on a smaller footprint.
Two-story homes tend to offer more privacy and have a higher resale value than single-story properties. Conversely, if you decide to build a single-story house, you will be able to choose from a wider range of design options than you could for a two-story property. As you can see, both approaches have their benefits, but it's usually cheaper to build a two-story property.
What's the Most Expensive Part of Building a House?
While the foundation and framing stages will eat up a considerable part of your budget, according to HomeAdvisor, the most expensive part of building a home comes when it's time to complete the interior. In fact, in most homes, interior finishes account for between 25% - 35% of the overall budget.
As you would expect, the more luxury custom features you add to your home, the higher this cost will be. It's certainly worth doing some research into your desired finishes before you undertake construction, as your choices will significantly impact the overall budget of the build.
Where Should I Build a House in Las Vegas?
Wondering where to build your new home in Las Vegas? There are so many new home communities popping up around Las Vegas, it can be hard to choose one! You could purchase a lot within a new home community directly from a builder and have them build the home or buy a move-in ready property. There's a fair amount of these types of new homes in Las Vegas, Summerlin, Henderson and North Las Vegas.
Another option is to purchase a piece of land somewhere in the city and build it yourself by hiring a contractor or local builder to help you pull off the project. No matter which route you take, be sure to consult with a local real estate agent first to get their helpful advice.
Here are a few of the popular new home communities in the Las Vegas area where you can build a new home:
Popular Las Vegas New Home Communities
Building a Home vs Buying a Home
If you're hoping to build a house in Las Vegas, the chances are you've weighed up the rationale for doing so. While building a home gives you the ultimate control over the property that you decide to live in, it's also a much more significant undertaking than buying a house that is already finished—as such, building a home can be a more stressful process than buying a house, as the process is much longer and more complicated.
Ultimately, there's no right or wrong answer here. If you elect to build your own home, you just need to be prepared for a longer process that could cause you a bit of a headache! That being said, when it's over, you are able to move into a beautiful, customized home that you've designed yourself.
Is it Cheaper to Build or Buy a House?
The average cost to buy a house in Las Vegas often ranges from $300,000 - $375,000, depending on the market. When you compare this figure to the ~$300,000 average cost of building a house in Las Vegas, in theory, it may be cheaper to build a house. However, this figure doesn't consider the cost of land, and it doesn't factor in the amount of your personal time it takes to take on a large-scale construction project. Additionally, some types of communities like new 55+ community homes may be a bit more expensive. You may be able to get more home for your money buying a resale home compared to building a new construction home in Las Vegas.
Should I Work with a Real Estate Agent When Building a New Home in Las Vegas?
Yes, it's a good idea to work with a real estate agent when you embark on the journey of building a new home. Remember that builders have their own agents to represent them and those agents don't represent you. It costs nothing to work with an agent to build a new home as the builder pays their commission. And don't think you can save that money by not using an agent; builders don't rebate you that money.
Can You Get a Loan to Build a House?
Yes, you can get a loan to build a house in Las Vegas. You will need to apply for a construction loan in order to build. They're not as common as mortgages, but that being said, they're not as sought after either. Construction loans are essentially short-term loans that you can use in order to get your project underway. They exist in a similar form to credit, whereby you only borrow what you need when you need it.
When you're building your home, you may only need to make interest payments or, in some cases, no payment at all at that time. Bear in mind that some construction loans last for less than a year, and repayment terms can vary. Always seek professional advice and understand all the terms and conditions when getting a loan or mortgage.
For more questions to ask when building a new construction home, check out our list of important questions to ask a builder before buying a new home.
Stages of Building a Home
Although every builder works slightly differently, you can generally expect the following stages when planning to build your home in Las Vegas:
Prepare the chosen construction site and begin laying the foundations.
Construct the home's rough framing.
Complete the necessary stages of rough plumbing, electrical wiring, and HVAC installation.
Install wall insulation.
Put up the drywall and other interior textures.
Begin the exterior finishing.
Lay the hard surface flooring.
Finish mechanical trims.
Add the interior finishing touches of each room (kitchen and bathroom suites, for example).
Final walkthrough with the builder to check all the necessary steps have been taken and you're happy with the finished house.
How Long Does It Take to Build a House in Las Vegas?
Depending upon your chosen site, it takes anywhere between three and six months to build a standard house. However, if you're planning a custom house with additional features, you should be prepared to wait longer.
It is likely to take anywhere between ten and sixteen months to finish a custom house. To ensure the house-building process is as smooth as possible, you need to make sure you have all of the necessary permits in place and ensure you have the sufficient budget to complete the process. Failure to acquire either can result in further delays and extend the process. 
Pros & Cons of Building a House in Las Vegas
Building your own home is a huge project to undertake, but it's the perfect way of ensuring your family can live in a property that has everything you need and want. If you have the budget (and the patience), building your own home in Las Vegas can be incredibly rewarding, and it's something that many families dream of achieving in their lifetime.
If you're still on the fence about building your own house in Las Vegas, hopefully, this pros and cons list will help you come to a decision:
Benefits of Building a Home in Las Vegas
Perhaps the most obvious pro is that everything in the house is brand new. You needn't worry about how previous occupants looked after the property, and you won't be surprised by any expensive repair bills early on.
When you're buying a house, you often have to compromise on certain things, whether it's the layout or the dimensions of the kitchen, for instance. When building your own house, you can plan everything exactly how you want it, ensuring you get the perfect home for yourself and your family.
New builds tend to be more energy-efficient and environmentally friendly. Depending on the way they're built, they may save you money on heating and water bills.
Drawbacks of Building a Home in Las Vegas
Building your own home is a huge project and something that could cause you sleepless nights. Although it's worth it when the house is complete, there are so many things you have to think about throughout the process, which can be stressful for lots of people.
If you're hoping to move your family into a new home, building certainly isn't the quickest option. Although there are also delays when it comes to buying a home, building will nearly always take longer, so you need to make sure you're not in a rush before starting the project.
Building Your New House in Las Vegas, Nevada – Get Started Today!
There you have it, an entire guide on building a new home in Las Vegas, NV. If you're interested in buying or building a new construction home, it's wise to start your journey with the help of a real estate agent who's experienced in the process and can help guide you through it. Fill out the form below to speak with a local real estate agent in Las Vegas to get started.