Best Golf Courses in Las Vegas
Posted by Matiah Fischer on Thursday, June 4, 2020 at 10:00 AM
By Matiah Fischer / June 4, 2020
Comment
Although there are many great golf courses and Las Vegas golf course communities, there isn't room to mention all 70+ courses. Some are better than others, but that all depends on what you're looking for. That's why in this post, you will find a list with some of the best places to play golf in Las Vegas.
The following list contains 7 of the best golf courses in Las Vegas for you to play!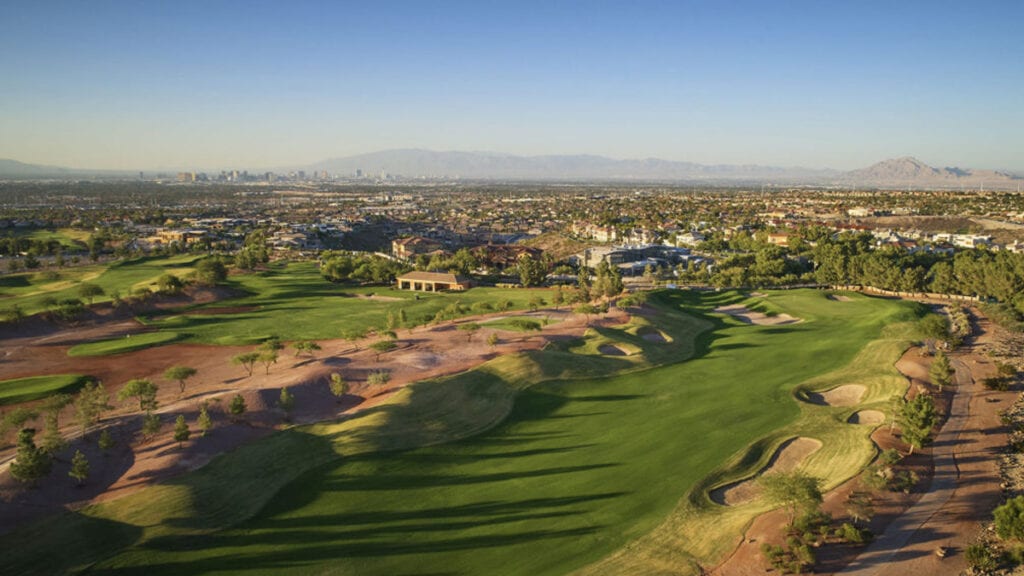 Rio Secco
Designed by Rees Jones, Rio Secco has been around for more than two decades. Exciting and daring, this course tests both expert and leisure players.
The course is home to the Butch Harmon School of Golf, where players can improve their game through the teachings of Butch Harmon, who has been called 'the best golf instructor in the world' and is Golf Digest's #1 instructor.
He's coached players such as Tiger Woods, Phil Michelson, Greg Norman, Rickie Fowler and other top professionals.
It doesn't matter if you're a pro or beginner, you will love playing golf in Las Vegas at Rio Secco Golf Club. And if you're in the market for golf course homes in Henderson, there are many that overlook the course.
Learn more: riosecco.com | Image: Rio Secco / ©2017 David Burk

Cascata
"Cascata" means "waterfall" in Italian, and this place honors its name with the spectacular 418-foot waterfall which cascades over a steep mountainside.
Located about 30 minutes outside Las Vegas near Boulder City, the par-72 course soars 3,200 feet above the desert valley and offers a variety of landscapes, lakes and streams to play around.
A large Tuscan-style clubhouse offers luxurious amenities and fine ambiance.
If you're looking for a high-end, challenging yet luxurious golf experience near Las Vegas, Cascata is worth your best shot.
Learn more: cascatagolf.com | Image: Cascata / ©2017 Dave Burk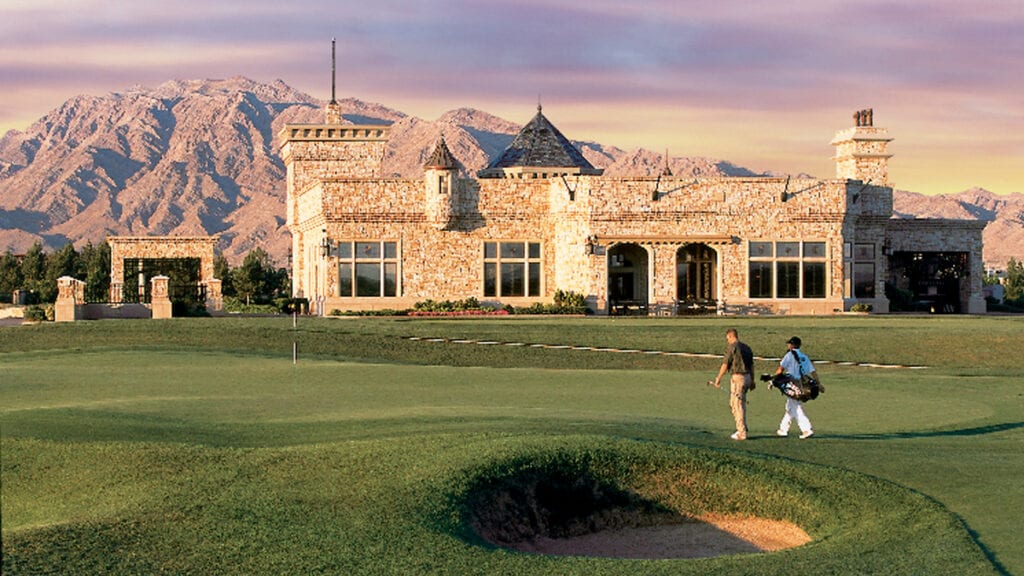 Royal Links Golf Club
Royal Links Golf Club is one of the most known golf courses in Las Vegas, and for good reason. It's been recognized by local press as the "Best Course in Las Vegas" and labeled as "America's Best Course You Can Play" by GolfWeek.
The course, designed by Dye International, features holes inspired by Open Championship courses. Traditional Caddies and Forecaddies are offered to enhance your round while educating you on this historic course.
Here, you'll be able to know some of the Champions that have played Royal Links on the Champions Wall, which is near the practice grounds.
Learn more: royallinksgolfclub.com | Image: Royal Links Golf Club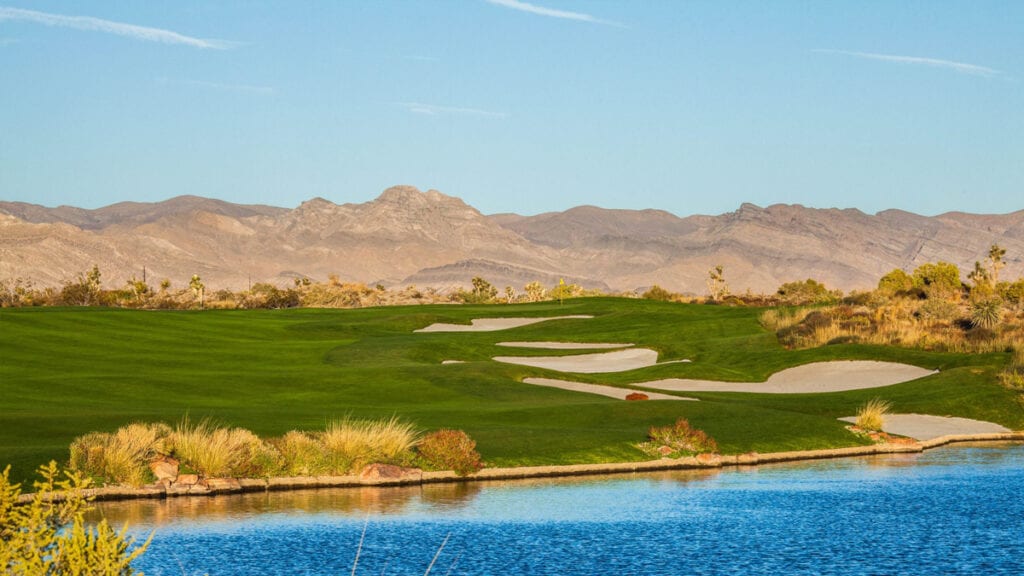 Paiute Golf Resort
Located northwest of Las Vegas only 25 minutes from The Strip, Paiute Golf Resort offers three championship courses designed by World Golf Hall of Fame architect Pete Dye.
As some of the most known golf courses in Las Vegas, Snow Mountain, Sun Mountain, and The Wolf offer players a variety of holes and challenges along the way.
Snow Mountain is a par-3 lover's paradise, with wide fairways, water hazards and railroad-tie bunkers.
Sun Mountain (pictured above) offers rolling terrain and mountain backdrops as you play this course in its natural setting.
The Wolf is the longest course in Nevada and known as the resort's signature, most difficult course.
Learn more: lvpaiutegolf.com | Image: Paiute Golf Resort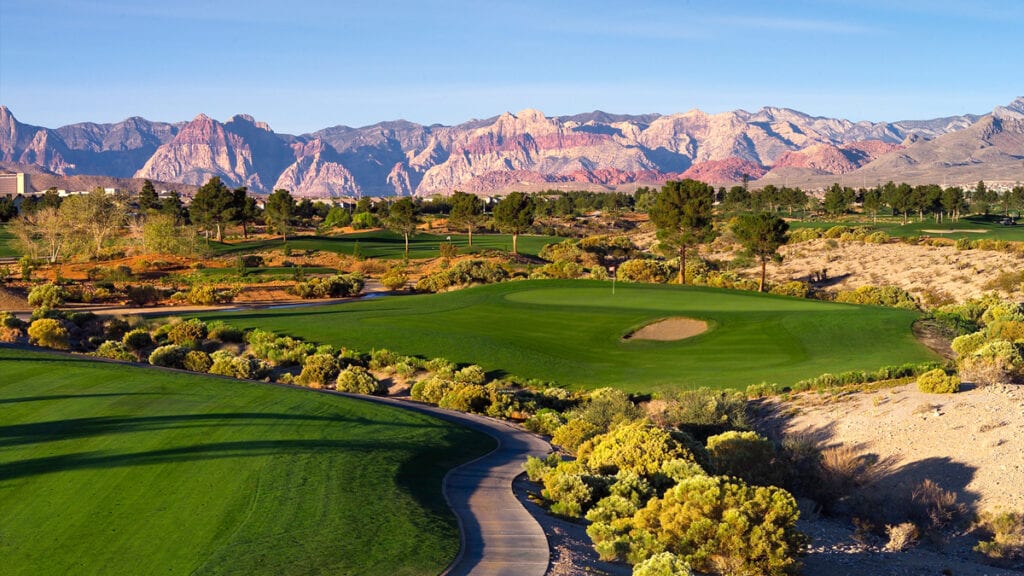 Angel Park Golf Course
This is a place where you can find several courses that fit any experience level.
At Angel Park in Las Vegas, there are two championship courses and a par-3 course with full lighting for night-time play.
The Mountain Course was designed by Arnold Palmer and features incredible views of the Red Rock Mountains. It primarily consists of par-5's and par-4's and challenging putting greens demand full attention by players.
The Palm Course was also designed by Arnold Palmer and is a bit shorter than the Mountain Course.
Cloud 9 is 12-hole, par-3 golf course in Las Vegas that offers night play on 9-holes. This course is perfect for a quick game with friends and also offers weekly league play. It's been named one of the 'Best Par Three Courses in the Country' by multiple press outlets.
There are difficulties for everyone; hence, either beginners or experienced players will find themselves having a great time here playing golf in Las Vegas.
Learn more: angelpark.com | Image: Angel Park Golf Club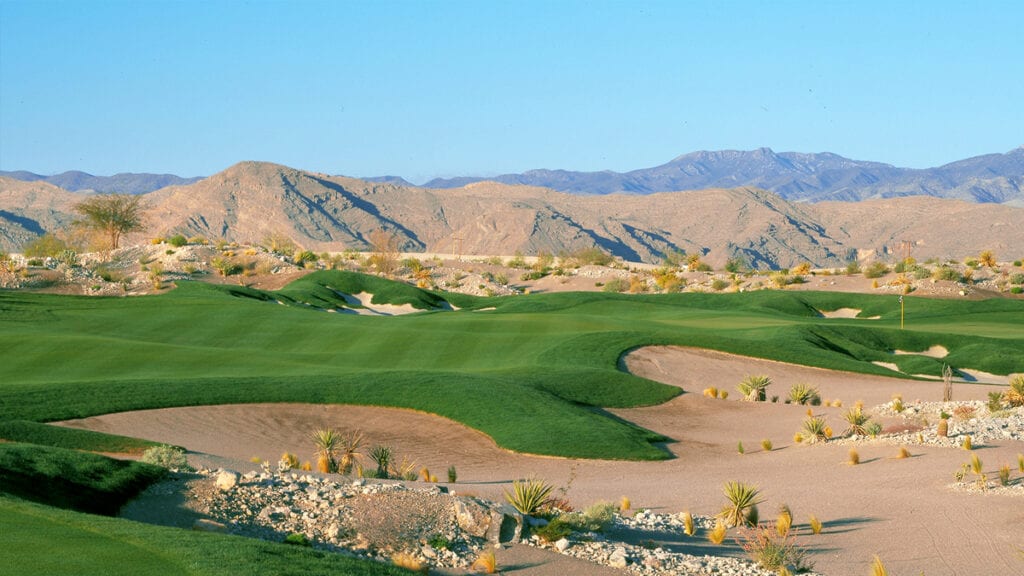 Coyote Springs
Coyote Springs, a Jack Nicklaus-designed golf course, is located about 45 minutes outside of Las Vegas. This exquisite course is considered one of Jack's finest creations.
Cradled inside an enormous valley between the Delamar, Arrow, Meadow Valley and Sheep Range Mountains, it's a par-72 course with 5,349 yards from forward tees and 7,371 from the championship tees. Eleven lakes and numerous bunkers come into play on this challenging course.
One thing is for sure: you'll be playing in one of the best golf courses around Las Vegas!
Learn more: coyotesprings.com | Image: Coyote Springs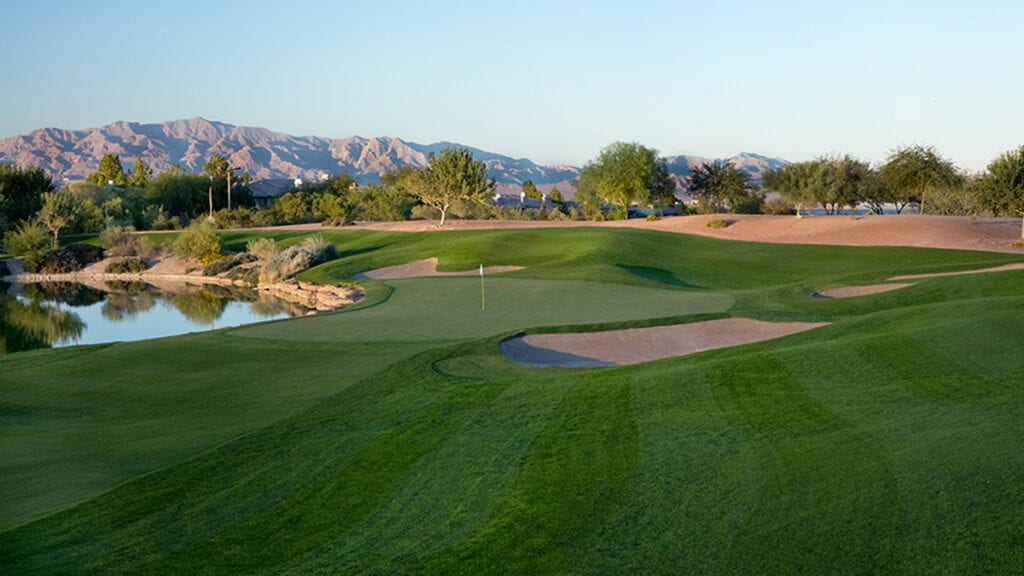 TPC Las Vegas
TPC Las Vegas is a premier PGA Tour property and consistently mentioned as one of the best golf courses in Las Vegas.
You can expect some of the best players to be here. The challenging par-71, 7,104 championship course is a true test to any player.
With varying elevation and breathtaking views of The Strip and Mountains, it's a must-play for any golfer visiting Las Vegas. It's also the home to several of Summerlin's golf course communities.
Learn more: tpc.com/lasvegas | Image: TPC Las Vegas
7 Golf Courses in Las Vegas to Play
Golf enthusiasts have myriad selection of golf courses to play in Las Vegas.
With over 70 courses in the area, these are just 7 of the best places to play golf in Las Vegas.
With so many options, which one will you choose?