Top 10 Home Pricing Myths Sellers Need To Avoid
Posted by Matiah Fischer on Friday, May 27, 2022 at 10:00 AM
By Matiah Fischer / May 27, 2022
Comment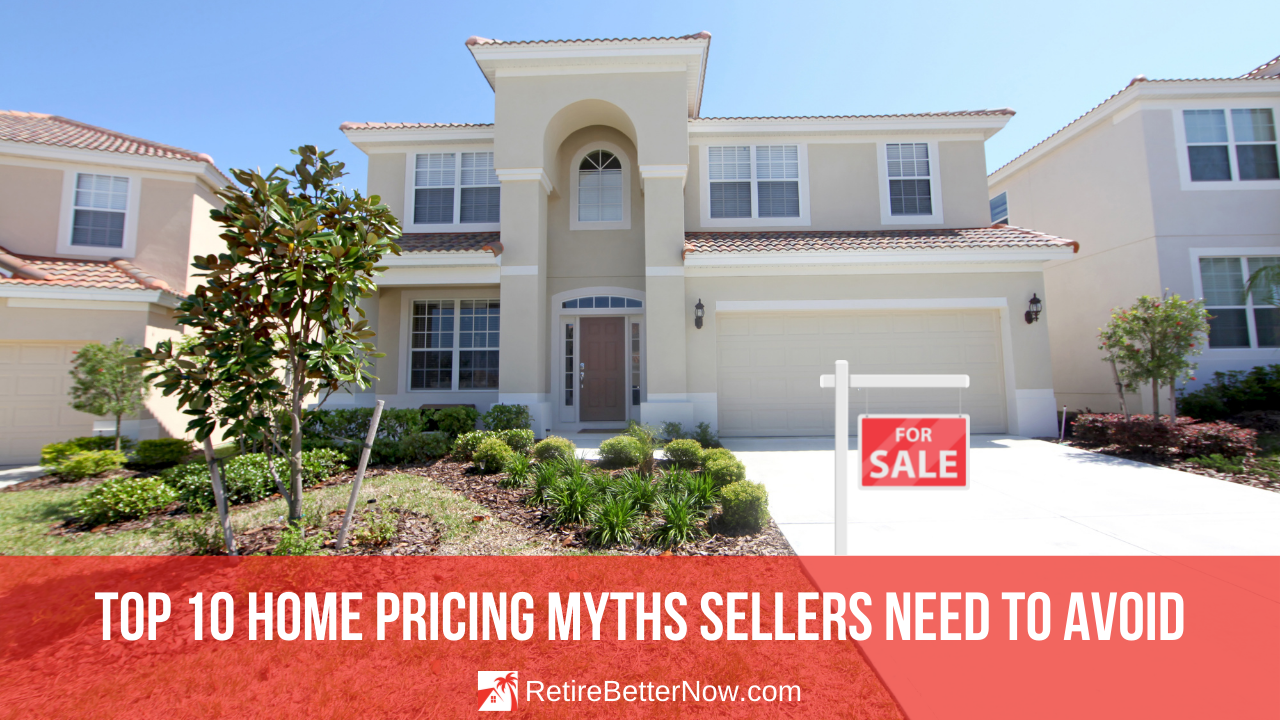 Selling your home can be a tricky process, and setting the right price at the start can significantly impact the number of offers you get, how quickly you sell, and ultimately if you get the best price possible.
You may be overestimating how much your home is actually worth due to emotional attachment and the amount of effort you've put into the home; you may have even found some valuations that indicate how much your home may be worth.
Taking a full unbiased look at your home, the current market, and setting realistic expectations on price can help you sell your home quickly and for the best price possible.
Don't fall into these 10 home pricing myths that sellers need to avoid!
Home Pricing Myths To Avoid When Selling Your Home
Myth #1 – Quickly Receiving Offers Means You Priced Your Home Too Low
Once your home goes on the market, it should gain a lot of interest in the first 3-4 weeks, and if you connect to the right buyers who are looking for the type of home you're offering, then you should be expecting offers quickly.
If you've done your research right on the current market and comparable homes, you should have set an asking price that matches the market and keeps you happy with the sale.
Receiving no offers or interest in your property within the first 3-4 weeks can often mean that your selling price is too high or there are other issues with the home that you need to review.
Thinking About Selling Your Home? Get a Free Home Valuation from a Real Estate Expert in Your Local Area!
Myth #2 – You'll Eventually Receive The Offer You Want If You Wait
If you've set a specific price that you want, which is above market price, or your home simply isn't selling, you may think leaving it on the market and keeping the price high will eventually lead to the right buyer finding your home and making an offer.
Sellers are looking at how long a home has been listed for and making assumptions, if it's only been a short amount of time, there is a need for urgency as somebody else may be swooping in to buy the property.
If your home has been listed for a long time, then sellers will be wondering why it's still on the market. Is there a problem with the house? Is the home priced too high? Buyers may even start low-balling offers as they may think you're desperate to sell.
Up to 30 days can be considered new on the market, but if your home has been waiting to sell for 60 days or more, that will raise concerns and even stop some buyers from looking at your house further.
Myth #3 – Pricing Your Home Higher Guarantees A Higher Selling Price
Setting your home selling price higher than you really believe it's worth isn't a guarantee that you're going to boost the selling price and can actually remove buyers from your buyer selling pool.
If your selling price is much higher than comparable homes, it will put buyers off even seeing the home or considering it as there are other similar options on the market for less.
You also need to consider how buyers are searching for homes; it's most often done online, and search results will be filtered, so the difference between even $800,000 vs. $800,100 can remove you from being seen at all.
You might also be hoping to use the higher price to negotiate down to the actual price you want. In a typical market like Las Vegas or even most locations around the US, this could have a negative impact on even connecting with buyers.
Myth #4 – Ignoring Similar Home Sales And Setting Your Price Too High
Deciding on your home selling price should involve comparing your home to other similar homes in the area. You need to understand that buyers are going to be doing this, and if your home price stands out without significant real differences, buyers are going to ignore your listing.
A real estate agent should be able to provide a comprehensive report on sale prices to help you determine the upper and lower ranges, including how long it may take to sell at certain price levels.
Your selling price should be based around this report but still needs to take into consideration any major differences about your home, property, location, and anything else that can help make it stand out from similar listings.
Myth #5 – Believing Generic Online Home Valuations Are Accurate
Getting a home valuation online is simple these days but the results received are going to be very generic and only based on a few simple details, so basing your entire listing price on these types of home valuations is not a good idea.
Online home valuations can give you a starting point or general ballpark of where your home price may end up, but it shouldn't be relied on or the basis for the selling price you set.
There are too many factors in the market and your home for a generic online form to be trusted.
Myth #6 – Assuming Upgrades Will Significantly Increase Your Home Price
If you're considering upgrades or renovations to your home specifically to increase the selling price, you may want to reconsider some of your plans.
Significant renovations can be very costly and time-consuming; it's also unlikely that the cost to do them will increase your selling price to even cover the renovation cost. So you may end up putting time, effort, and money into your home for no benefit.
Often cleaning up your home and property, along with performing basic maintenance, can get you more bang for your buck when selling a home. A fresh coat of paint, cleaning up the gardens, and fixing any major eyesores can improve your price.
Myth #7 – It Doesn't Matter Which Realtor You Use, Your Home Will Sell
Deciding on which realtor to use can have a significant impact on how quickly your home will sell and if you end up getting the best price for your home.
A realtor that has sold a number of homes similar to yours in the same area is going to have existing buyers and will understand the marketing that's worked before.
Different pools of buyers react differently, and the marketing, home preparation, and many other factors need to be matched to your home and the buyers you're looking for.
Myth #8 – You Can Make More Money Selling The Home Yourself
Even in hot home selling markets like Las Vegas, getting the best price for your home can be challenging. It's certainly possible to sell your own house or apartment, put a sign out front and throw some ads online.
If you don't maximize your home's sale reach, either through your own hard work or a realtor, you're going to be leaving potential buyers on the table that may be willing to spend more for your home.
You could save a few thousand dollars on realtor commissions, but you're likely to lose that same few thousand or more from lower offers and a longer sale.
It's also going to be a lot more work for you to deal with the process, especially when it comes time to actually make the sale and navigate the requirements and paperwork of the sale.
Myth #9 – Prepping A Home For Sale Isn't Needed To Get The Best Price
Prepping your home can take up a lot of your time, may cost a little money, and you need to keep your home prepped for the entire selling process, which can impact your daily life, so not prepping may sound easier, but it will impact your pool of potential buyers.
Some buyers may be looking to purchase "as is" or want a fixer-upper, but those buyers are also looking to pay less due to any issues they find.
The time and cost for you to prep can bring in more buyers that simply want to move into a new home and guarantees you'll get a better price.
Review your entire home and see what improvements, changes, or cleaning needs to be done that isn't going to be too costly but will improve the appearance and livability of your home.
Myth #10 – Waiting For Summer Will Bring In A Higher Selling Price
Historically people have believed that summer is the best time to sell your home to get the highest price for a variety of reasons. It's true that certain times of year aren't going to be as good as others and even some should be avoided, like selling at Christmas.
However, you need to review how significant the difference is in average selling prices between the "best" and "worst" times to sell. You may get $1,000 more if you want until summer, but the ongoing costs can start adding up to more than you get by waiting.
Final Thoughts On Home Pricing Myths Sellers Need To Avoid
When setting the price for your home, you should be reviewing the current market against the reality of your home in an unbiased manner. Put yourself into the seller's shoes and consider whether you would buy your home for the selling price you want to set.
If you take out any emotion from the home and compare it to similar homes, is the selling price reasonable, and would you consider repurchasing it at that price or even include it in your potential purchasing options?
Those are key questions to consider when pricing your home to sell.
Sell Your House With a Real Estate Expert in Your Local Area. Get Started Today!