How Much Do First-Time Home Buyers Have To Put Down In Nevada?
Posted by Matiah Fischer on Tuesday, July 26, 2022 at 11:00 AM
By Matiah Fischer / July 26, 2022
Comment
Most people have grown up believing that 20% is the minimum down payment on a home purchase when utilizing a standard mortgage. However, there are a range of different mortgage options available across the US and some first-time home buyer programs specifically within Nevada.
Many people will still put down between 10% - 20% for their down payment. However, the average to put down in Nevada is 7% with the help of all the different first-time home buyer programs available, so it's well worth finding the right option for your circumstances.
Down Payments For First-Time Home Buyers In Nevada
The average price for a home in Nevada is $470,000; however, this is increasing each year as most areas of Nevada are seeing huge demand and somewhat limited inventory. The most common down payments for first-time home buyers range from 0%, 3%, 7%, 10%, and 20%.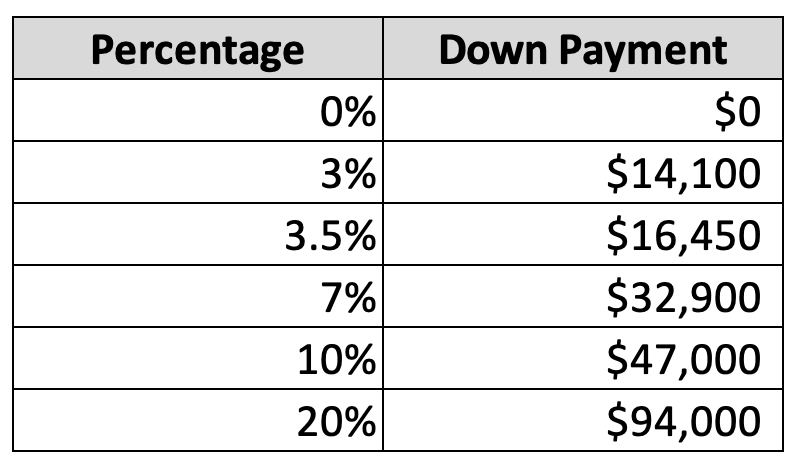 There is a significant difference between the best mortgage options for first-time homebuyers and a standard 20% down payment, so utilizing first-time home buyer programs and grants if you're able can get you into your first home before prices increase even more.
Some of the programs may even give you a portion of the down payment; the most common is 5% of the down payment, which could be half the $47,000 listed above, making it just $23,500.
You need to determine whether you want to build up a down payment so that your monthly mortgage payments are lower or whether you want to get into a home faster before home prices are out of your reach for the next 5-10 years.
Down Payments For First-Time Home Buyers Across Nevada
Different areas of Nevada have wildly different average home prices, and some of the more remote or smaller areas have special mortgage options if you qualify and settle in the smaller communities.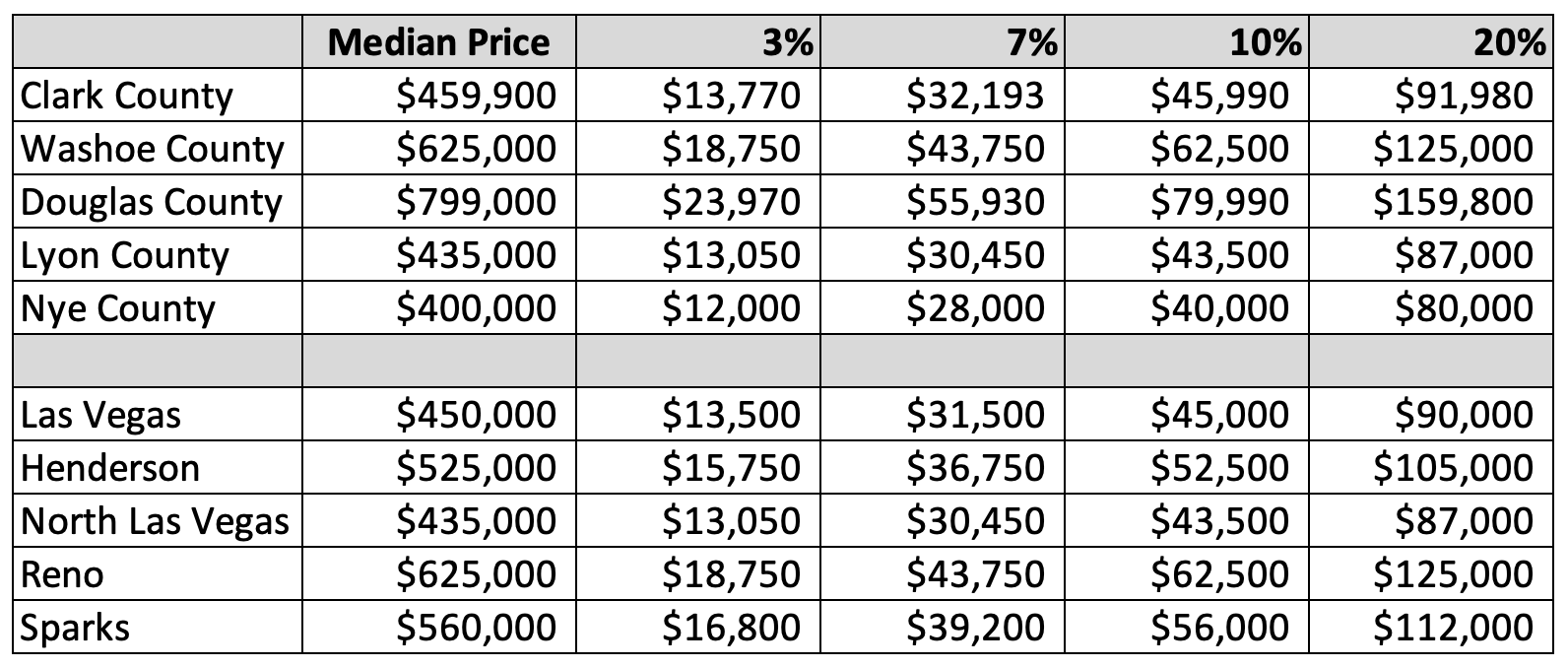 A 7% down payment for a first-time home buyer in Nye County could be $28,000 or even less for a lower cost house or with the right mortgage that drops your down payment to 3%, which is only $12,000 which is well within most people's ability to save quickly.
So ensure that you check what area suits you the best or if there are multiple options or county's that could work, consider picking the one that gets you into your first home the fastest.
Mortgage Options For First-Time Home Buyers In Nevada
There are a range of national programs to help first-time home buyers settle into a new home. Nevada has two primary organizations that offer a number of programs to help with down payments, lower interest rates, and even credits back if you stay in your home long enough.
In most cases, you'll still need a good credit score as well as a reasonable debt-to-income ratio because you'll still be working with a standard mortgage company and just getting assistance or backing from these first-time home buyer programs.
So ensure you run through the requirements of all programs to ensure you meet them. If not, start working towards improving your credit score and debt-to-income ratio so you can make your first-time home purchase.
*Disclaimer: This material is provided for information purposes only and is not to be construed as investment, tax or financial advice. Readers are strongly advised to consult with their professional advisors regarding the information herein.