How To Market Your House For Sale In 2022
Posted by Matiah Fischer on Monday, June 20, 2022 at 6:30 AM
By Matiah Fischer / June 20, 2022
Comment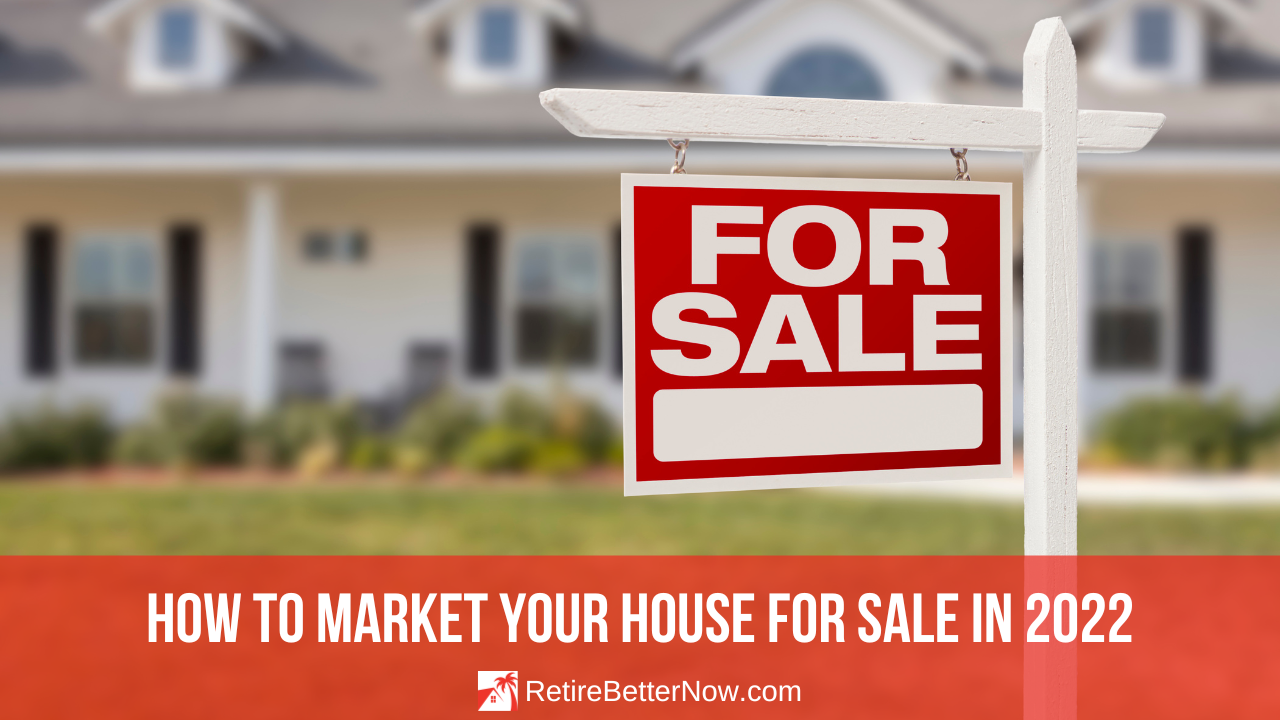 Marketing your house for sale in 2022 will heavily rely on technology. Most home buyers start their home buying research online, and they expect as much information as possible to be available before they ever set up an appointment or even contact a real estate agent.
If you're not providing the marketing features that buyers want, such as full virtual tours and high-definition imagery that captures your home, you may never connect with them and miss out on getting more buyers viewing your home or the best price possible for your property.
Preparing Your House For Marketing And Showings
Prior to selling your home, you need to prepare and stage your house for sale; even in hot markets with lots of buyer competition, you should still make every effort to make your home look as good as possible so that you can get the best price possible.
Your house preparation will assist greatly when taking photos or videos for marketing purposes and is an essential step to showcase the best of your home when potential buyers come for viewings.
Declutter Your Home
Many home buyers often look for new homes because they've outgrown their current home and want something bigger and with more space to fill up with their things. Your house may technically be the size they want, but if it's cluttered, it may appear cramped and small.
You should consider a spring cleaning of your house, go through the entire home and throw out things you don't need, and put items into storage that you're not going to need in the near future. The more items you can remove from your home, the less cluttered it will appear.
Ensure that your closets and cupboards aren't full and have ample space as it gives the impression of more room vs. a cupboard that's full and overspilling when you open it.
Improve Your Home
Walk through and around your home looking for problems, dents, scratches, holes, chipped paint, or anything that a buyer will notice, and consider if it's cost-effective to fix the problems you find.
You should also test everything in your home, open and close doors, check that cupboards aren't stuck or loose, and make sure that anything somebody is going to open is smooth and trouble-free.
Performing major home renovations such as replacing floors or redoing kitchens isn't always the most cost-effective as the cost for the renovations can be more than you'll get from an increase in price from doing it.
Depersonalize Your Home
Take time to depersonalize your home so buyers can imagine themselves living in it. Your entire goal is to prepare the house for sale to entice and encourage somebody else to call it home.
You should consider removing family photos, putting away any personal belongings, and even reviewing any specifically personalized artwork or furniture that may not appeal to many people.
Stage Your Home
Take a walk through your home and consider what needs to be moved to make it look its best, as people often change their homes to make themselves more comfortable or things more convenient.
You may want to take photos of each room and see how lighting hits everything or if any furniture looks out of place and needs to be moved or even removed.
Make sure that all rooms are being used for their designed purpose, so bedrooms shouldn't be gyms or home offices in most cases. For example, if people are coming to see a two-bedroom home, they likely want to see two bedrooms and not a home office.
Improve Curb Appeal Of Your Home
Just like the inside of your home, you can improve first impressions by tidying up the outside of your home. Cut your grass, put away anything lying around, trim your hedges or clean up your garden.
If anything is broken outside your house or even your fence, consider if it's cost-effective to repair any damage.
Have Professional Photos Taken
A critical part of marketing your house for sale is getting professional-quality photos taken; if you have the skills to get this done yourself, then that's fantastic. You must ensure you take pictures of every room from multiple angles and in the best light possible.
Hiring a professional real estate photographer will get you the photos you need with the best angles, and their experience will be invaluable in making sure that you get enough of the right parts of the house included.
List Your Home For Sale Online
The first and critical step is to find the biggest and most popular real estate listing websites in your area. Get your listing included with a fantastically written, informative, and detailed description with a huge range of photos that showcase every room in your house.
If you're working with a real estate agent, they should be getting you included in the local MLS listings, which will spread your listing out through multiple websites to hit different buyers and real estate agents that represent buyers.
List Your Home In Online Classified Ad Sites
Many significant online classified ad sites are a great way to get your house listed, and they can hit a different demographic of people. Sites like craigslist can be excellent, especially if you're selling your home without an agent.
Use a similar description as your other listing and include as many photos as the classified ad site will allow.
Create A 3D Virtual Tour Of Your House
One of the newer features that most online buyers prefer now is a 3D virtual tour of your home; instead of just being a video or set of photos they can check, this type of tour allows them to interactively browse through your home and get a real feel for how everything flows together.
There are apps for your phone that can do this, or your professional photographer should be able to create a fantastic 3D virtual tour for you.
Write A Detailed Listing Description
Your listing description should be informative and include information on your home, your property, and even the local area. You may consider using bullet points so that people don't need to read too much and can skim for the specific details they want.
Include popular terms in your description that people are likely to search for, and consider what you would search for when looking for a home amongst thousands of homes. Include all of the features of your home, such as heated floors, high-end appliances, water views, etc.
Include A Floor Plan
People want to look and compare your home against what they know or even currently have. Get your home measured and create a floor plan that shows the layout of your house with the size of each room.
Real estate agents can typically create this for you with a laser measurement tool and specialty software. But if you have a tape measure, you can do it online and create your own floor plan.
The floor plan can be included as part of your online listing, and people can see how your bedroom compares to their current bedroom, as well as other rooms. A large chunk of viewings are wasted time when floor plans aren't included.
List Your Home For Sale Through Traditional Offline Methods
In most locations, traditional offline marketing methods for your home are disappearing; the majority of home buyers these days are looking online for the homes they want and then arrange a viewing
Some practical ways to market offline can include:
Have an open home so that interested buyers can easily come to view the house without setting up appointments. Many buyers still search online but look for open homes so they can see as many in a single day as possible.
Put a sign in your front yard so people searching neighborhoods can see your home is for sale. Likely the sign will redirect them to an online listing to view further, or they can call you or your real estate agent.
Trying Unique Marketing Methods For Selling Your House
You'll find a range of "unique marketing methods" listed online, but unless you're running some type of business, you typically don't need to spend money on online banners or pay-per-click marketing like Google Adwords.
You're more likely to spend money and gain nothing in return; it's similar to preparing your home and determining what's cost-effective, and most paid advertisements won't reach the buyers you need.
Look for ways to enhance your online listings rather than trying to find brand new avenues to pull in buyers.
Some of the marketing methods you may see include:
Create a website for your home. If there is too much information to include in your listing details or you have a very high-end home, then a website may work. However, for the majority, the time it takes to get your website noticed is longer than your home should be on the market.
Promote your home on social media. Unless you already have a huge following, you're not going to be reaching enough people to make it worthwhile and paid social media posts can't drill down to the exact buyers you need, so you can be throwing your money away.
Send out email marketing. If your real estate agent has a huge list of potential buyers that would be interested, then email marketing is perfect. However, for you personally, it's unlikely that you have a targeted list of interested buyers.
Purchase banner ads. High-cost option where you're likely competing with businesses that have more money to spend than you.
Pay-Per-Click advertising. High-cost option where you're competing with real estate agents in your area and other businesses, so it can be very costly with potentially no return.
Best Way To Sell Your House In 2022
The majority of people looking for new homes will use the major online real estate listing websites in the area; it's essential that you're included on those sites with professional photos that show all areas of your house; more photos are better.
You should include a 3D virtual tour created for your home, which most professional real estate photographers can assist with; it will allow people to get a feel for your home without even having to book a viewing.
You can market and sell your own home, but finding a great real estate agent that understands what's needed to sell in 2022 will take away most of the hassle and work required to get your home sold.