Las Vegas Home Prices Drop for Third Consecutive Month
Posted by Matiah Fischer on Wednesday, September 21, 2022 at 2:00 PM
By Matiah Fischer / September 21, 2022
Comment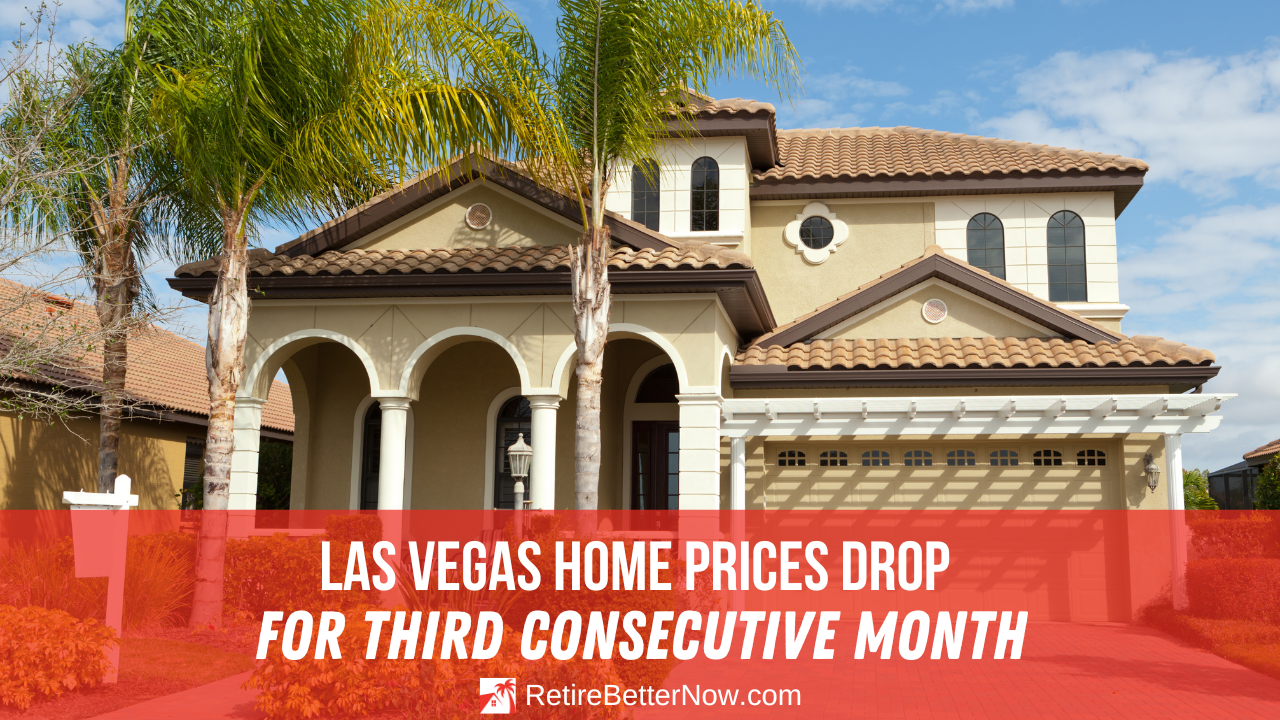 The drop in home prices Las Vegas has seen over the last couple of months is continuing into August. For the third consecutive month, home prices have dropped to a median sales price of $450,000, down $15,000 from July. The price is still up 11.1% from August of last year, but the price decrease over the past few months is worth noting after months of home prices on the rise.
Home Sales are Down in Las Vegas
Previously, home prices were on the rise and sellers were met with multiple offer situations. With the housing market in Las Vegas starting to shift, In addition to a decline in median home price, the total number of homes sold has declined in the past three months, and inventory available is on the rise. In August, there were 2,002 single family homes sold and 7,997 listings with no offers. Compared to August of last year, 3,210 single family homes sold and there were only 3,256 homes with no offers.
Shifting Markets
Matiah Fischer, Las Vegas Realtor® and Founder of RetireBetterNow.com stated, "We're beginning to see the market shift from a seller's market to more of a neutral and buyer's market. There's more inventory available and prices have gone down for 3 straight months."
Worth noting, August's median price is at a six-month low for Las Vegas and matches the median price from February of this year. The shift in market is likely due to higher interest rates, inflation, and general uncertainty about the future.
What Will Happen to the Las Vegas Real Estate Market?
Not too long ago, homes in Las Vegas were hitting record highs, sellers were met with multiple offer situations, and homes flew off the market. Now, we are starting to see the market neutralize and take a shift. Las Vegas isn't the only place that is seeing this shift. Markets across the United States are also seeing a similar pattern.
Get Answers to Your Las Vegas Real Estate Questions
Have questions about the market? Thinking about buying, selling, or investing in Las Vegas real estate? RetireBetterNow.com offers free virtual real estate consultations and private home showings with our partner real estate agents in the Las Vegas area.
The information provided on this page is deemed reliable but is not guaranteed and should be independently verified. Use at your own risk. This data is based on information from the LAS VEGAS REALTORS® (LVR) Multiple Listing Service (MLS). *Median and average home price data reflects units sold. Availability reflects inventory excluding those with offers.