Las Vegas Home Prices Reach New High in May. Is a Price Correction on the Horizon?
Posted by Matiah Fischer on Friday, June 10, 2022 at 1:30 PM
By Matiah Fischer / June 10, 2022
Comment
The real estate boom did not miss Las Vegas.
If anything, Nevada was one of the epicenters of the boom we witnessed over the past several years, not to mention in the past decade. In fact, a recent report tells us that prices have quadrupled over that same period, rising to $482,000 on average.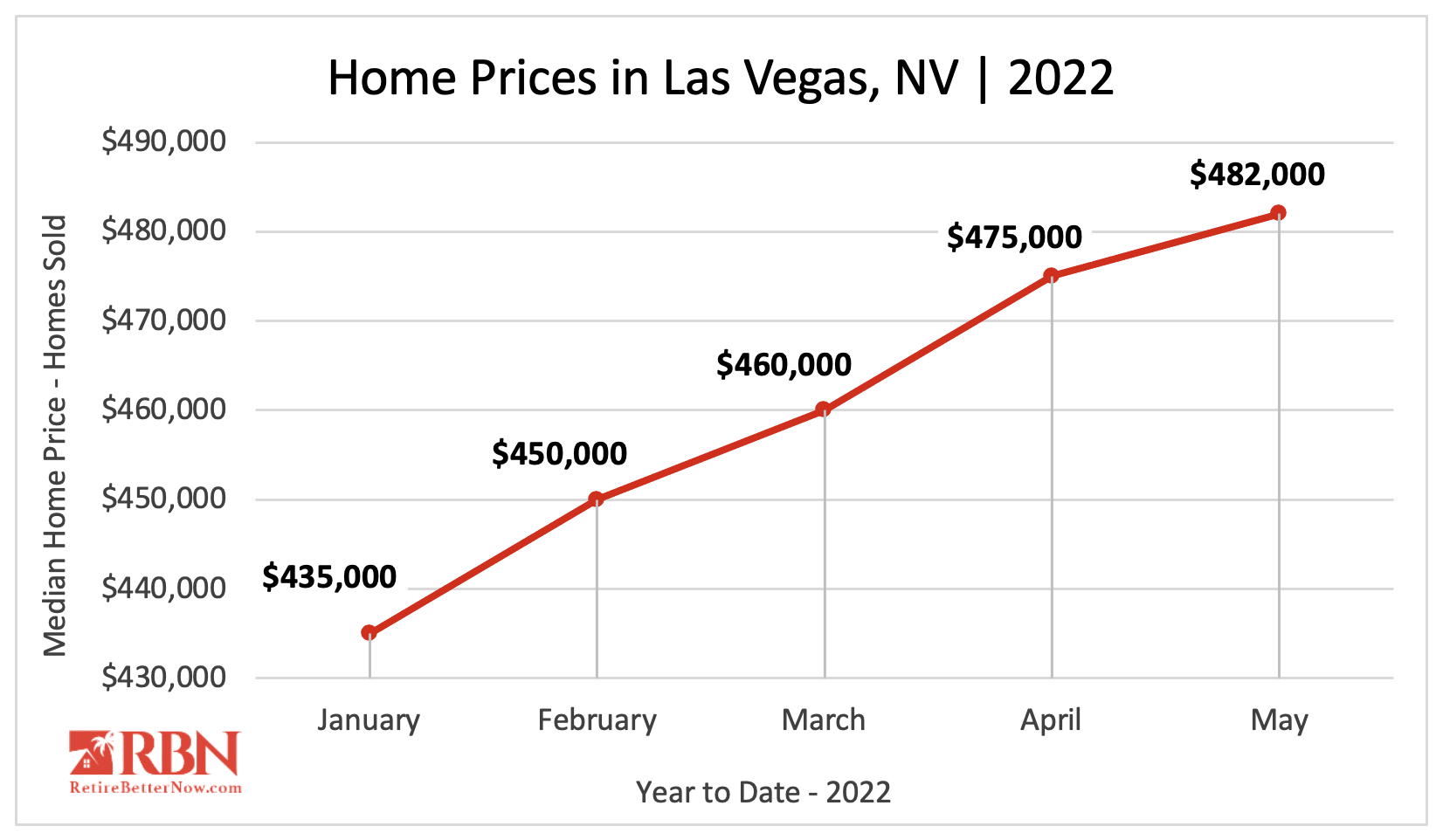 Las Vegas, NV Median Home Price (Units Sold) YTD 2022. Data Source: LVR.
And this is a trend we can expect to continue to see in the future, albeit at a much slower pace according to real estate professional Matiah Fischer, Las Vegas REALTOR® and the Founder of RetireBetterNow.com.
"As we've seen month-over-month, I anticipate that home prices in Las Vegas will continue to rise in the future months, though at a slower rate than what we've seen in the past."
Las Vegas Real Estate Prices Increase, Total Number of Home Sales Decline in May
Nonetheless, we are in a somewhat unique market in southern Nevada with rising prices and falling sales. Two main factors might be prompting this trend, Fischer notes.
Statistics from Las Vegas REALTORS show that single-family homes sold in the area had a median price of $482,000, up 25.2% year over year, with condos and townhomes at $285,000 or up 39.0% over this time last year.
A constrained supply of new housing and rising prices mean that people who want to sell their houses in Las Vegas benefit from a seller's market.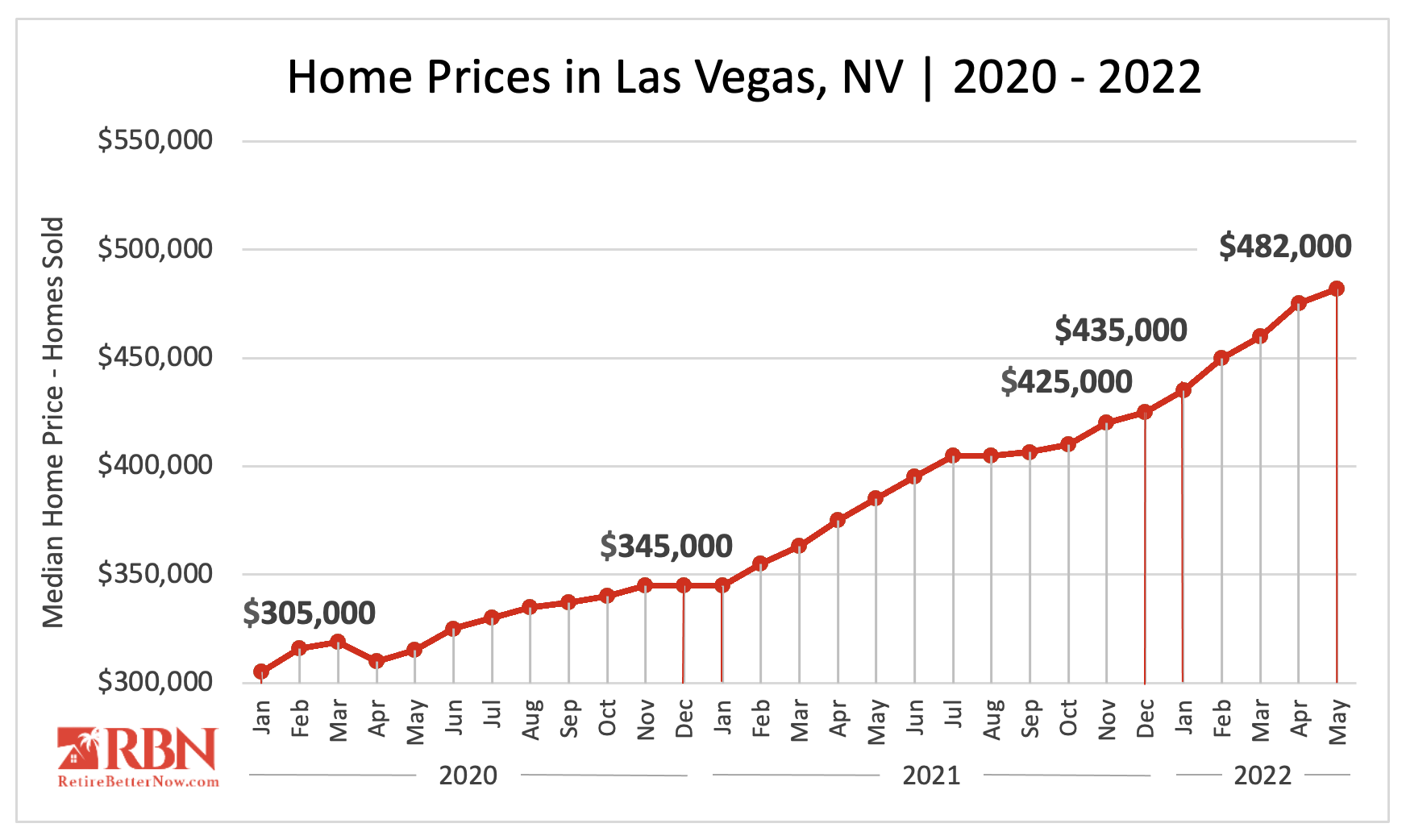 Las Vegas, NV Median Home Price (Units Sold) 2020 - May 2022. Data Source: LVR.
Where is the Inventory Shortage Headed?
This could make for a great time to buy even with current supply constraints, which Fischer expects will ease as we head into the summer months. During the month of May 2022, more homes were listed on the market, a trend that could continue as sellers list their homes during the summer selling season.
In fact, we're already starting to see signs of that. The number of available listed homes excluding offers in May 2022 was 3,570 – up 75.8% from May 2021.

Number of Single Family Homes Available (Excluding Offers) in Las Vegas, NV 2021 - May 2022. Data Source: LVR.
Could Rising Interest Rates Impact House Prices in Las Vegas?
However, one thing to consider is rising interest rates, which could make mortgages on a home more expensive than the one they currently own, which could have a downward pressure effect on home values and sales.
This is a trend that we are seeing on a national scale, too, as interest rates rise. Rising interest rates and constrained supply also highlight one of Las Vegas' regional strengths when compared with urban areas in California and that is relative affordability and livability. These, too, become less attractive incentives as they are diminished by rising prices and rising interest rates.
Of course, along with rising interest rates come higher mortgage rates, and this is already having an impact on demand in some markets with the average interest rate on a 30-year mortgage reaching 5.53%, CBS News reports. That same report outlines how rising rates might be a boon for borrowers as it could require a price cut in some markets in order to attract buyers, particularly if they rise as high as 7%.
Looking to the Future
One forward-looking indicator that is on the minds of many homeowners, real estate agents, and investors is the Pending Home Sales Index (PHSI) which "slid 3.9% to 99.3 in April," while "Year-over-year, transactions fell 9.1%."
"Pending contracts are telling, as they better reflect the timelier impact from higher mortgage rates than do closings. The latest contract signings mark six consecutive months of declines and are at the slowest pace in nearly a decade," Lawrence Yun, chief economist for the National Association of Realtors.
To quantify this, an index number of 100 is equal to the level of contract activity recorded in 2001.
"The vast majority of homeowners are enjoying huge wealth gains and are not under financial stress with their home as a result of having locked into historically low interest rates, or because they are not carrying a mortgage. However – in this present market – potential homebuyers are challenged and thus may attempt to mitigate the rising cost of ownership by opting for a 5-year adjustable-rate mortgage or by widening their geographic search area to more affordable regions."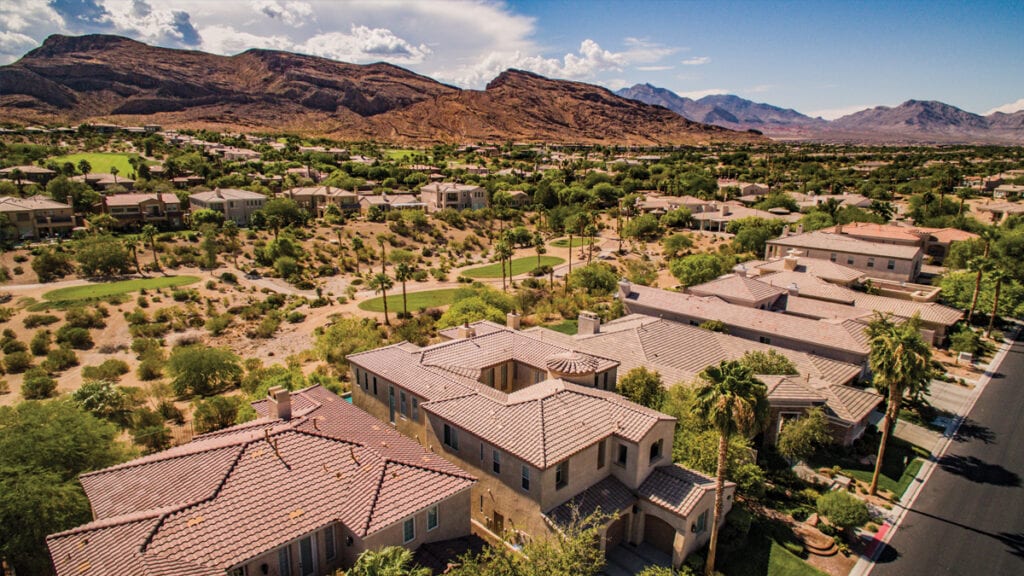 What's Next for the Las Vegas Real Estate Market?
Will we witness a return to equilibrium in the near future?
"I believe that more homes in Las Vegas, Henderson and Summerlin will be coming on the market during June and July, creating a more competitive market for sellers and potentially flattening the price of homes" says Fischer, "eventually the market will reach a point where buyers have more choice and sellers have to price more competitively."
Yun believes that, if job numbers continue to improve and mortgage rates stabilize, we could see a reversal of the unique situation wherein pricing growth outpaces sales although, from a homeowner's perspective, the appreciation in the value of a primary residence also has a myriad of benefits such as enabling the purchase of a larger home down the road or financing construction on a new residence.
Buying and Selling Las Vegas Real Estate
Regardless, Las Vegas remains a hot real estate market, thanks to benefits like no state income tax, a warm climate, and more affordable real estate prices than neighboring California.
If you're interested in learning more about the market, buying or selling real estate in Las Vegas, Matiah Fischer's network of experienced local real estate partners in Las Vegas can help.
Home Buyers – Tired of spending hours scrolling through homes and always having to keep up with the market? Have our system do the work for you by sending you only the homes that match your search each day! >> Register for Customized Listing Alerts
Las Vegas Homeowners – Get a Free Home Value Assessment from a home selling specialist!
*Disclaimer: The material provided on this page is for information purposes only and deemed reliable but is not guaranteed and should be independently verified. Use at your own risk. This data is based on information from the LAS VEGAS REALTORS® (LVR) Multiple Listing Service (MLS). *Median and average home price data reflects units sold.
Citations