New Place for a New Life: How to Choose a New Hometown
Posted by RetireBetterNow.com (RBN) on Monday, December 5, 2022 at 6:15 PM
By RetireBetterNow.com (RBN) / December 5, 2022
Comment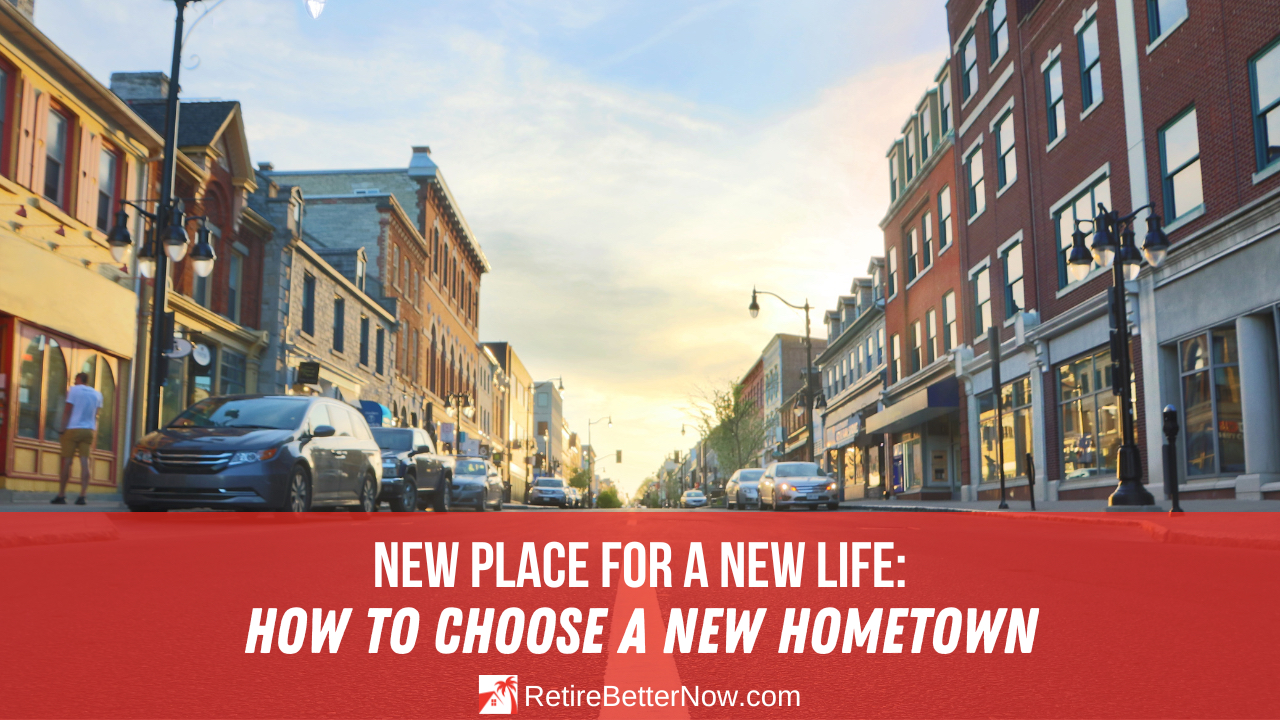 Figuring out where to put down roots can be tough. There are a lot of factors to consider, and it's hard to know if you'll really like a place until you give it a try. So how do you choose the right hometown? Here are some things to think about as you weigh your options.
1. Evaluate your priorities
When you're looking for a new place to call home, it's important to evaluate your priorities. For some people, the most important factors may be the quality of the schools or the strength of the local economy. Others may prioritize access to public transportation or the availability of transport services.
For instance, if you have to ship your car when moving you will need to evaluate if the destination has reliable car transport services. AmeriFreight Auto Transport can help you with this process.
2. Consider the cost of living
Moving to a new town can be an exciting process. But before you start packing your boxes, it's important to consider the cost of living in your potential new hometown. Housing costs, transportation expenses, and the price of groceries can vary widely from one location to another, so it's important to do your research before you make the move.
Fortunately, there are a number of online resources that can help you compare the cost of living in different towns and cities. By taking the time to compare the cost of living in various locations, you can be sure to choose a new hometown that fits your budget.
3. Research the job market
When considering a move to a new town or city, it is important to research the local job market. This will give you an idea of the types of jobs that are available, as well as the average salary for each type of position. It is also important to look at the unemployment rate in the area, as this can impact your ability to find work.
4. Weigh the pros and cons of each location
When choosing a new hometown, it can be helpful to make a list of the pros and cons for each location. Think about the things you like or don't like about each place, as well as any potential red flags that come up during your research. This will help ensure that you choose the best possible option for your needs and preferences.
5. What type of community are you looking for?
The type of community you want to live in can also be a deciding factor when choosing a new hometown. Are you looking for an urban center, a rural area, or something in between? Do you prefer a small town with tight-knit neighborhoods, or would you rather have access to all the amenities or entertainment of city living like in Las Vegas? Consider what type of atmosphere and lifestyle you're looking for before making your decision.
6. Make sure the schools are good
If you have children, it's important to consider the quality of the local schools. Make sure to do your research and find out what kind of educational opportunities and resources are available in the area. You should also take the time to visit any potential schools and talk to the staff or students before making your decision.
7. Research the crime rate
Do your own research for the crime rate in any potential hometowns you're considering. You can look at local crime statistics and consider how safe you feel in each area. You can also talk to the police in each location and get their perspective on safety issues.
8. Visit the town
The best way to get a feel for a place is to visit it in person. Take the time to explore the area, talk to locals, and get a sense of what it's like to live in each town. You can also ask questions about services, amenities, and local attractions to get a better idea of the lifestyle on offer. By visiting each city or town in person, you can make sure that your new hometown is the right fit for you.
9. Make the move
Once you've done your research and determined which town is the best fit for you, it's time to make the move. This can be an exciting and scary process, but it can also be a wonderful opportunity for growth and exploration. With the right preparation and planning, you can make sure your move is as smooth and successful as possible.
At the end of the day, choosing a new hometown is a highly personal decision. Take the time to evaluate your priorities, research the cost of living and job market in various locations, and weigh the pros and cons of each place. With careful consideration and research, you can find the perfect place to call home.
How to settle into your new hometown
When you move to a new town, it can be difficult to adjust. You don't know your way around, you're not familiar with the local amenities, and you may not know anyone in the area. However, there are a few things you can do to help make the transition a little smoother.
1. Explore your new hometown
Take the time to explore your new town and become familiar with it. Drive around, visit local stores and restaurants, and get a feel for the area. Talk to people and find out what the town has to offer. This will help you get a better sense of your new hometown and start to feel more at home.
2. Get involved in the community
One of the best ways to meet people and settle into your new hometown is to get involved in the local community. You can join a volunteer organization, participate in local events, or simply talk to your neighbors. This will help you to build relationships, expand your social circle, and ultimately feel more comfortable in your new home.
3. Take advantage of amenities
Make sure to take advantage of all the amenities available in your new hometown. Whether it's visiting the local library, exploring a nearby park, or attending an event at the local community center, there are plenty of ways to make the most of your new home.
4. Get involved in local activities
Another great way to meet people and get settled into your new hometown is to look for local activities. This could be anything from sports teams to clubs, churches, or libraries. You may even be able to find online groups that meet up in your area. Whatever it is, getting involved in activities is a great way to meet people and build relationships.
5. Connect with family and friends
Finally, don't forget to stay connected with family and friends back home. Put in the effort to keep in touch, as this can help you feel less lonely and make the transition to a new town much easier.
6. Be patient
Above all, be patient with yourself and give yourself time to adjust. Moving to a new town can take some getting used to, but eventually, you'll feel more comfortable and at home.
By taking the time to research, explore, and get involved in your new hometown, you can make sure that your move is as successful and enjoyable as possible.
Check out this article: 94 Moving Hacks for Faster, Easier, Less Stressful Moves.
*Disclaimer: This material is third-party provided content and for informational purposes only. It is not to be construed as investment or tax advice. Readers are strongly advised to consult with their professional advisors regarding the information herein.