Living in Las Vegas: Pros and Cons + 19 Fun Reasons to Live in Las Vegas
Posted by Matiah Fischer on Monday, May 18, 2020 at 4:00 PM
By Matiah Fischer / May 18, 2020
Comment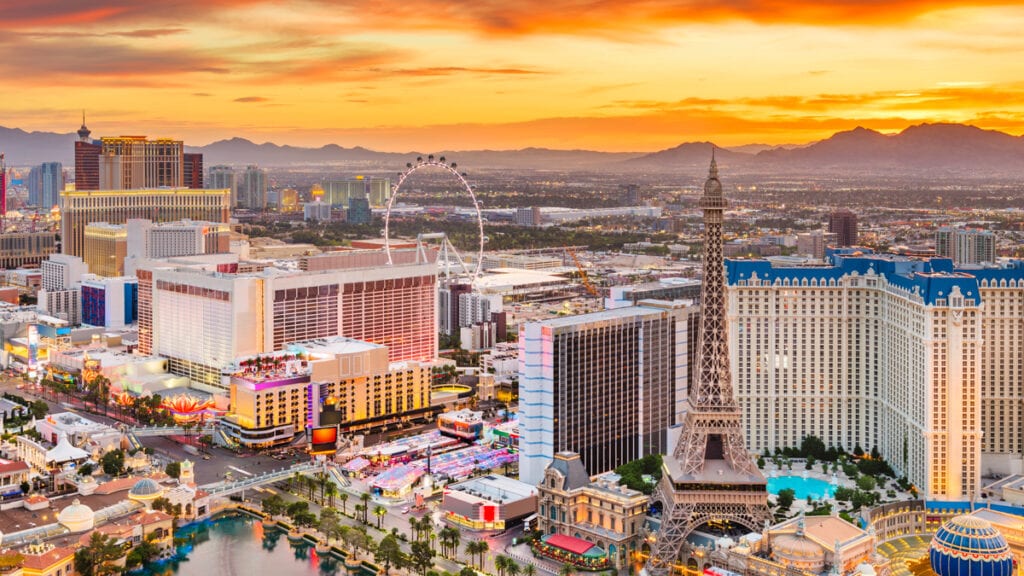 People from all over the country (and world) want to live in Las Vegas, Nevada. But why? Well, considering the Las Vegas Valley has increased in population from less than 1 million people back in the late 1990's to over 2.5 million people today, there's got to be some good reasons why so many are moving to and living in Las Vegas, right? If you're asking yourself the question "is Las Vegas a good place to live?", look no further, because we'll be discussing all the pros and cons to living in Las Vegas!
Pros to Living in Las Vegas
Pro: World Class Entertainment
One of the perks of living in Las Vegas is that you will never run out of things to do. Las Vegas is considered by many to be the entertainment capital of the world, which means you'll certainly never be bored living here!
We're not just talking about gambling, although there's certainly lots of fun to be had there. No, what we're talking about is the upstart pro sports scene and world-famous shows going on every weekend in Vegas. At any given time, you can attend performances from the likes of Penn & Teller, David Copperfield, Cirque Du Soleil, and Absinthe. If you think about it, with so much fun right at your fingertips who won't want an excuse to come visit? Honestly, Las Vegas has so much to offer everyone, no matter their age.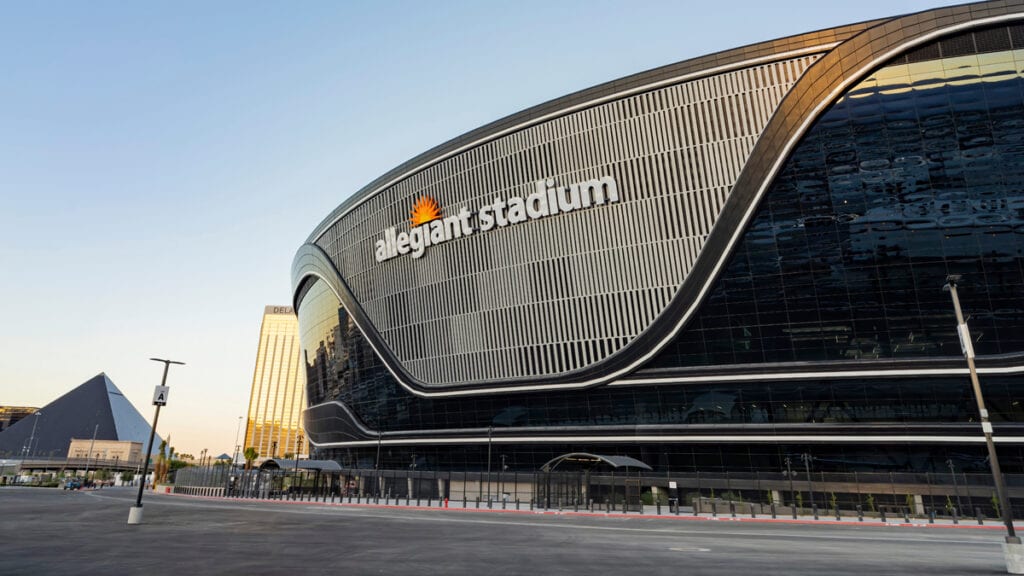 In Las Vegas, from world-class arenas to famous shows and local lounges, the entertainment scene is in full-force. Plus, there's now professional sports in Las Vegas, including the NFL Raiders and NHL Vegas Golden Knights. See the brand-new, state-of-the-art NFL Raider's stadium, just off the Strip. And it's not just for football games; major concerts and shows will be playing here; adding to the list of marquee arenas and venues found in Las Vegas.
Pro: The Weather
While it's true that for several months each year Las Vegas is HOT, it's also important to remember that 8-9 months out of the year it has a climate beloved by nearly everyone. Las Vegas sees over 300 days of sunshine each year and gets very little precipitation. Spring and Fall are gorgeous times of the year; while winter provides relief to snowbirds coming from cold climates.
Pro: Affordability
Las Vegas is surprisingly affordable in comparison to other large cities. The median home price, according to City-Data.com, is around $300,000. For those seeking to move from vastly more expensive areas such as California, the ability to stretch your dollar even further buying real estate is definitely a pro to living in Las Vegas.
Pro: Excellent Communities
Whether you're looking for a nice suburb or seeking one of the retirement communities Las Vegas is so famous for, you have tons of communities to choose from at all price points. Regardless if you want to live in Las Vegas or Henderson, you can explore all types of communities designed for how you want to live.
Pro: Tax Benefits
Nevada is known as a tax haven for those looking to escape high-tax states, such as California, Illinois, New York and others. The main tax benefit of living in Las Vegas, Nevada is that there's no state income tax. Additionally, there's no state tax on estate or inheritance and overall there's low property taxes.
Pro: Indoor/Outdoor Living
Everyone loves the indoor/outdoor lifestyle! In Las Vegas, many homes are developed with fenced backyards for privacy and finished with barbeque areas, pools and spas.
Pro: Incredible Outdoor Recreation & Activities
Like the outdoors? You're in luck, because this is one of the biggest pros of living in Las Vegas. From Lake Mead to Mt. Charleston; Red Rock Canyon to the Hoover Dam and beyond, know that this city is serious about their outdoors!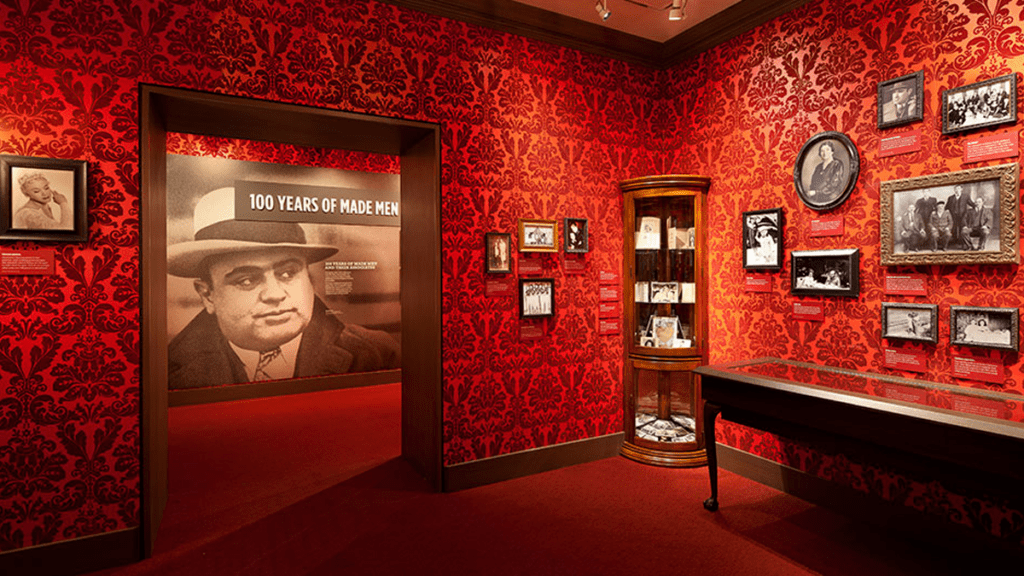 Pro: Unique Experiences
The city's uniqueness is certainly a major pro of living in Las Vegas. There are a number of unique museums including the Mob Museum, Neon Museum, Pinball Hall of Fame, and National Atomic Testing Museum. There are also many rotating exhibits in casinos as well as the Clark County Museum. For people considering the pros and cons of living in Las Vegas, keep in mind that not every city has this many attractions and experiences. Additionally, Las Vegas is only a few hour drive away from other major cities such as Los Angeles, San Diego, Salt Lake City and Phoenix.
Pro: 50+ Golf Courses
Love to golf? Then you'll love living in Las Vegas! There are more than 50 golf courses in Las Vegas ranging from beginner level to expert, championship level courses.
Pro: Casinos & Gaming
The Las Vegas area is a gambler's paradise! Seriously, even people who play on occasion or for fun can find their casino vibe in Las Vegas. With so many choices, it's easy to find your favorite places to play; from the glitz of the Strip casinos to local video poker bars, there's something for everyone who likes pulling the slot machine lever down or placing their chips on the table.
Pro: The Dining Scene
It's impossible to talk about Vegas without mentioning it's food scene. After all, we're talking about over 2,000 restaurants! From fine dining and celebrity chefs; to steakhouses and seafood restaurants; all the way to local Mexican and pizza joints, Las Vegas loves its food.
Think beyond some of the overpriced and over-hyped places on the Strip and you'll discover the true Vegas foodie scene. In fact, there's so many great dining options available that when you live in Las Vegas, it'll be hard to try even a fraction of them all!
Pro: Gated Community Lifestyle
Las Vegas is known for having many gated communities which offer a secondary layer of privacy and protection. When choosing to live in Las Vegas, consider looking at some of your options for gated community lifestyles.
Cons of Living in Las Vegas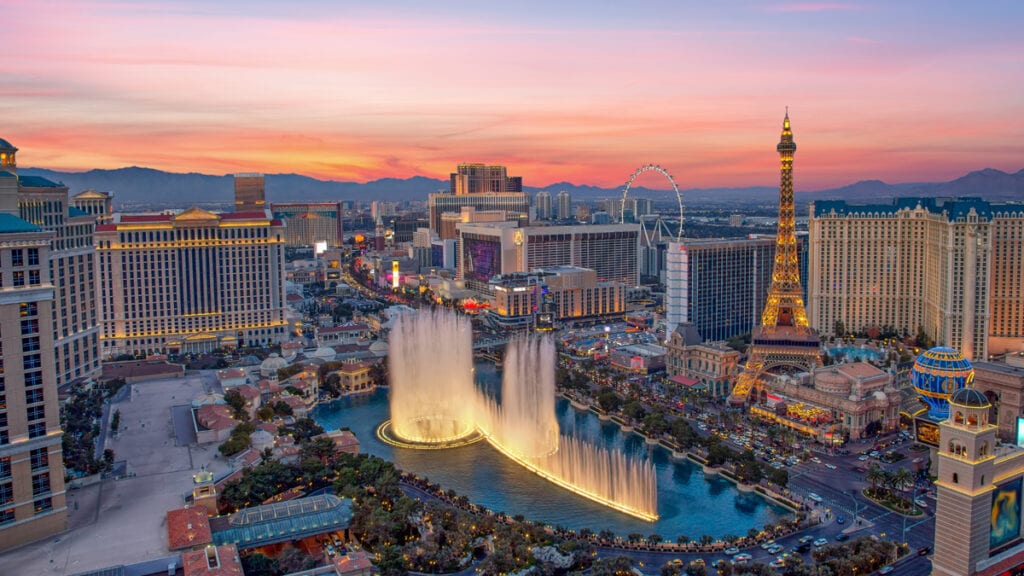 Con: Tourists
Las Vegas gets over 42 million annual visitors! People from all over the country (and world) come to Las Vegas for vacation, work and play. That means the Strip area can get really busy and yes, there are parts of town that have a tourist feel. If that's not your thing, you'll quickly learn the areas to avoid.
Con: The Weather
You may be thinking "wait, didn't you say that the weather was a pro, not a con to living in Las Vegas?" Yes, but remember that Las Vegas can be very hot sometimes! Temperatures in the summer frequently top 100 degrees. This is the desert, after all. While it is a dry heat (meaning much less sweating), it can be an adjustment for some. Tips for navigating the heat include staying hydrated and planning outdoor activities for earlier in the morning or late afternoon/early evening. Making a habit of wearing sunscreen and hats can definitely help as well.
Con: Public Transportation
One of the major cons of living in Las Vegas is the lack of public transportation. While Las Vegas does have public transportation, the relatively low number of routes, particularly in adjacent communities, often make it difficult to connect from suburb to suburb. This means that most people will want to drive or take advantage of taxis or Ubers for their transportation needs. Fortunately, Las Vegas' road system makes it relatively easy to quickly navigate and traffic is generally not bad.
Areas to Live in and Around Las Vegas
Nevada has evolved into one of the top destinations in North America. While this area of the country is prized for its scenery, affordability, and temperate climate, there's no denying that the real draw to Nevada is Las Vegas. The entire Las Vegas Valley has an estimated population of roughly 2.7 million people. In Las Vegas, there are many communities and areas worth checking out. From resort-style 55+ retirement communities to local neighborhoods, your living options are endless in Las Vegas.
Las Vegas
Las Vegas is the largest city in Nevada, sporting a population of 662,000. We've obviously covered a ton already about living in Las Vegas and everything that exists in or near the city. It's important to remember that while there's no denying that living in Las Vegas means having instant (and constant) access to some of the world's greatest gaming and gambling establishments, casinos and entertainment barely scratch the surface of what Las Vegas has to offer. Moving to Las Vegas proper means having your choice between historic neighborhoods, local favorites and excellent 55+ retirement communities all within the city limits. Additionally, Las Vegas is only a few hour drive away from other major cities such as Los Angeles, San Diego, Salt Lake City and Phoenix.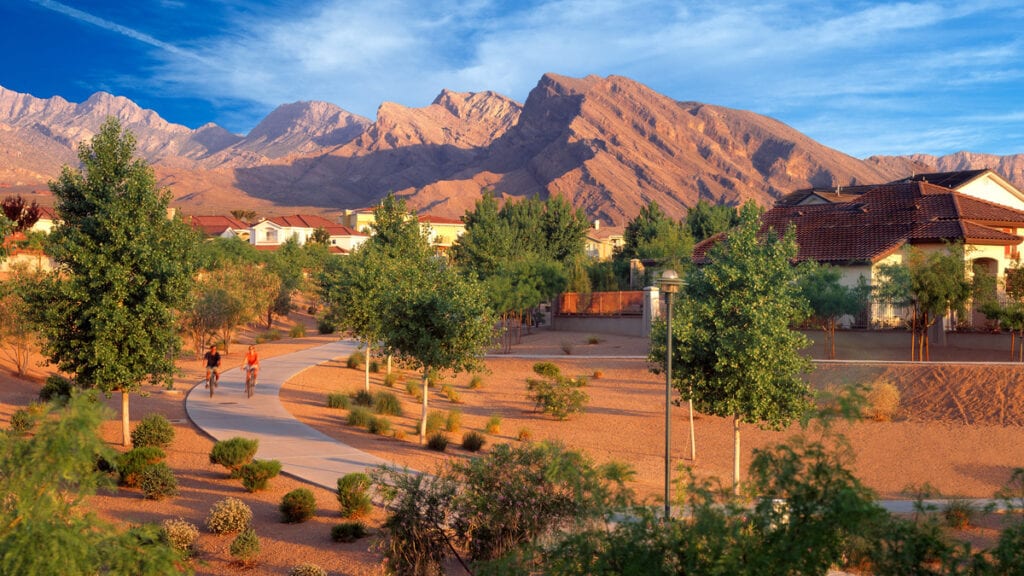 Summerlin
Summerlin is a master-planned community on the western edge of Greater Las Vegas with a population of roughly 100,000, located just a 15-minute drive from the entertainment and excitement of the Strip, yet brimming with its own opportunities, luxuries, and activities. Located at the base of breathtaking Red Rock Canyon National Park, stunning views await in this place that offers a life filled with more of what you love. There are ten golf courses, 250 parks, and over 150 miles of trails, plus there's shopping, dining, sports, recreation, and much more in this upscale locale. Whether it's trying a new restaurant, swinging the golf club, sweating through a fitness class or attending a pro baseball game at the new stadium, there's always something to do. It even has Downtown Summerlin®, a happening place where shopping and dining converge in a gorgeous, completely walkable downtown setting.
See Our Summerlin Retirement Guide

Henderson
Henderson, Nevada continues to grow in popularity for its high quality of life just outside the Las Vegas Strip. It's the second-largest city in the state with a population of 330,084 and is located just southeast of Las Vegas proper. Take a closer look and you'll see that when living in Henderson, NV you get the best of everything – a variety of stunning suburbs, beautiful scenery, a great location near the Las Vegas Strip, and plenty of things to do from golf and other outdoor recreation to shopping and dining. It often rivals Summerlin, NV as the premier place to live in the entire Las Vegas Valley. It's easy to see why with all the master-planned luxury communities and variety of home styles. For more on this, check out our article Living in Henderson vs Summerlin.
See Our Henderson Retirement Guide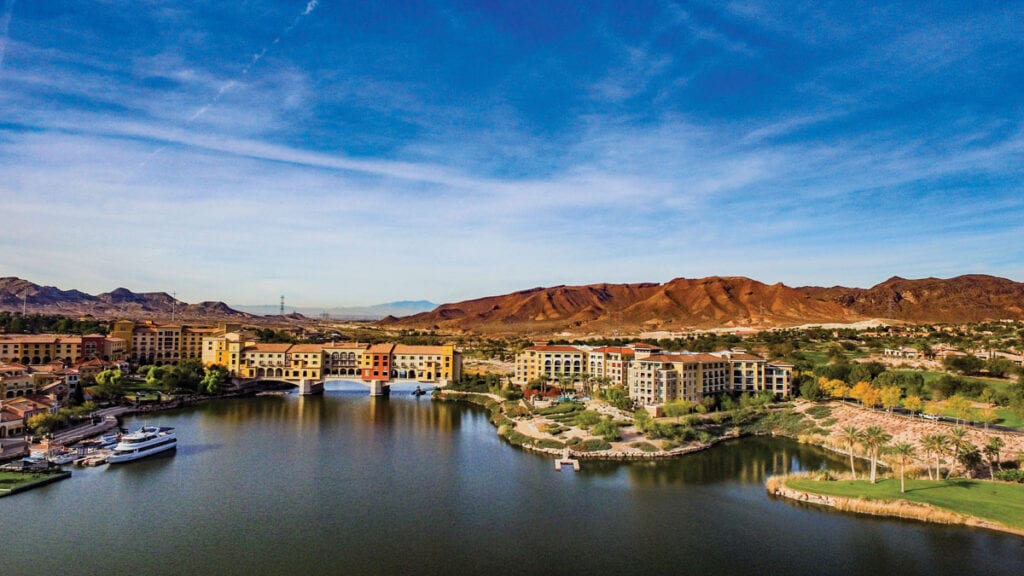 Lake Las Vegas
Lake Las Vegas is a beautiful community of approximately 25,826 people located on the shores of the 320-acre lake of the same name. Along with a host of amenities and luxuries, you will find a tranquil desert lifestyle here. The community sits to the east of the famous Las Vegas Strip and is part of Henderson, NV. The lake is a major attraction for many residents, as it offers plenty of opportunities for kayaking, swimming, and paddleboarding. Though residents never tire of the attached golf courses, there are also a number of hiking and running trails to enjoy, and endless wildlife areas to explore. Aside from the lake itself, residents are free to enjoy two different championship golf courses – Reflection Bay and SouthShore – and a brand new on-site sports club. At the latter, community members will find endless fitness and exercise opportunities, including pickleball, cycling, tennis, running, and more.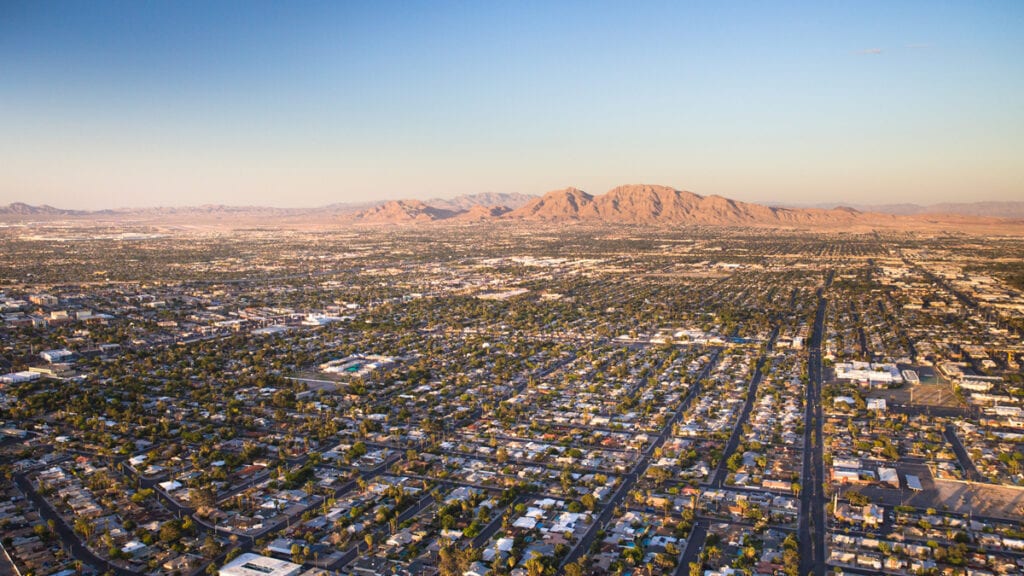 North Las Vegas
One of the best ways to enjoy the relaxing comforts of rustic Nevada and endless excitement of Las Vegas is by living in North Las Vegas. As the name might imply, the city of North Las Vegas, with a population of roughly 251,974, makes up the northern section of the Greater Las Vegas area. It is intersected both by the Bruce Woodbury Beltway and Interstate 15, and sits just a stone's throw away from The Strip itself.
That said, North Las Vegas provides retirees with instant access to the Nevada wilderness. To the North, you'll find Gass Peak, an excellent area for hiking and exploration. The area also boasts a wide variety of golf courses and parks, as well as attractions like The Neon Museum and Las Vegas Motor Speedway. Nellis Air Force Base is found in North Las Vegas as well. Despite seeming more a part of Las Vegas than its own separate city, North Las Vegas has a distinct character and culture that retirees are sure to love. Not only does it offer easy access to shopping outlets, grocery stores, and restaurants, but residents will also be situated within minutes of VA Regional Medical Center and Valley Hospital.
Myths About Living in Las Vegas
Myth #1: The only thing to do there is gamble.
Debunked: Contrary to the infamous "What Happens in Vegas…" punchline, the city has far, far more to offer. There's more than 2,000 restaurants, great entertainment and famous performers, professional football and hockey, 50+ golf courses, and hundreds of miles of outdoor hiking/biking trails and community pools. There's even a ski resort only 20-minutes away!
Myth #2: It's too hot.
Debunked: The summer months are hot, but there's great air conditioning in homes and everywhere you go. Spring and fall are beautiful, sunny in the 70s and low 80s, and winter is cool and mild. Las Vegas gets nearly 300 sunny days per year, very little rain and very low humidity.
Myth #3: If you want/need to keep working, there aren't as many jobs.
Debunked: Not true! Finding full-time or part-time work in Las Vegas is fairly easy to come by, since it's one of the hottest job markets in the nation. It even leads the United States in rate of job creation, per the U.S. Labor Department.
Myth #4: The healthcare is poor in Las Vegas
Debunked: Don't believe the reports that say Las Vegas has bad healthcare. What's great is that there are several world-class healthcare facilities all within your reach. With way less traffic, you will be a quick drive away from any care you need. UNLV even started a medical school in 2017 to increase the number of doctors in the city. Las Vegas cares about your health!
Myth #5: Las Vegas isn't safe.
Debunked: Like any medium-sized city that has a tourism draw, there is crime present. However, the city and surrounding communities strive to make the city safe. And, those who live in guard-gated or gated communities (which are plentiful in Las Vegas) benefit from extra security and privacy provided by the communities.
Pros and Cons of Living in Las Vegas: The Verdict? Not Even Close!
Viva, Las Vegas! How could you ever think it'd be a close call? Las Vegas is a booming city that's quickly emerging as a top-tier place to live in the country.
Bonus! 19 Fun Things to Do When You Live in Las Vegas
Here are 19 fun things to do in Las Vegas:
1. Attend a Las Vegas Raiders game at the new $1.8 billion stadoum
2. Dinner on Top of the World - 160th floor fine dining at the Stratosphere Tower
3. Attend shows and concerts
4. Watch NASCAR at the Las Vegas Motor Speedway
5. Tour the Grand Canyon in an RV
6. Race a Ferrari, Porshe or Lamborghini
7. Skiing at Lee Canyon Ski Resort
8. Shoot historic weapons and crush a car in a tank
9. Go boating on Lake Mead
10. Scenice loop drive at Red Rock National Conservation Area
11. Relax at resort pools
12. Attend a Minor League Baseball game at Las Vegas Ballpark®
13. Tour the Hoover Dam
14. See the Las Vegas city lights from a helicopter at night
15. Attend a Las Vegas Golden Knights game at T-Mobile Arena
16. Gamble at a local casino
17. Visit a museum
18. Attend a concert at T-Mobile Arena
19. Become a pickleball fanatic