Pros and Cons of Selling For Sale by Owner (FSBO)
Posted by Matiah Fischer on Monday, January 24, 2022 at 9:30 AM
By Matiah Fischer / January 24, 2022
Comment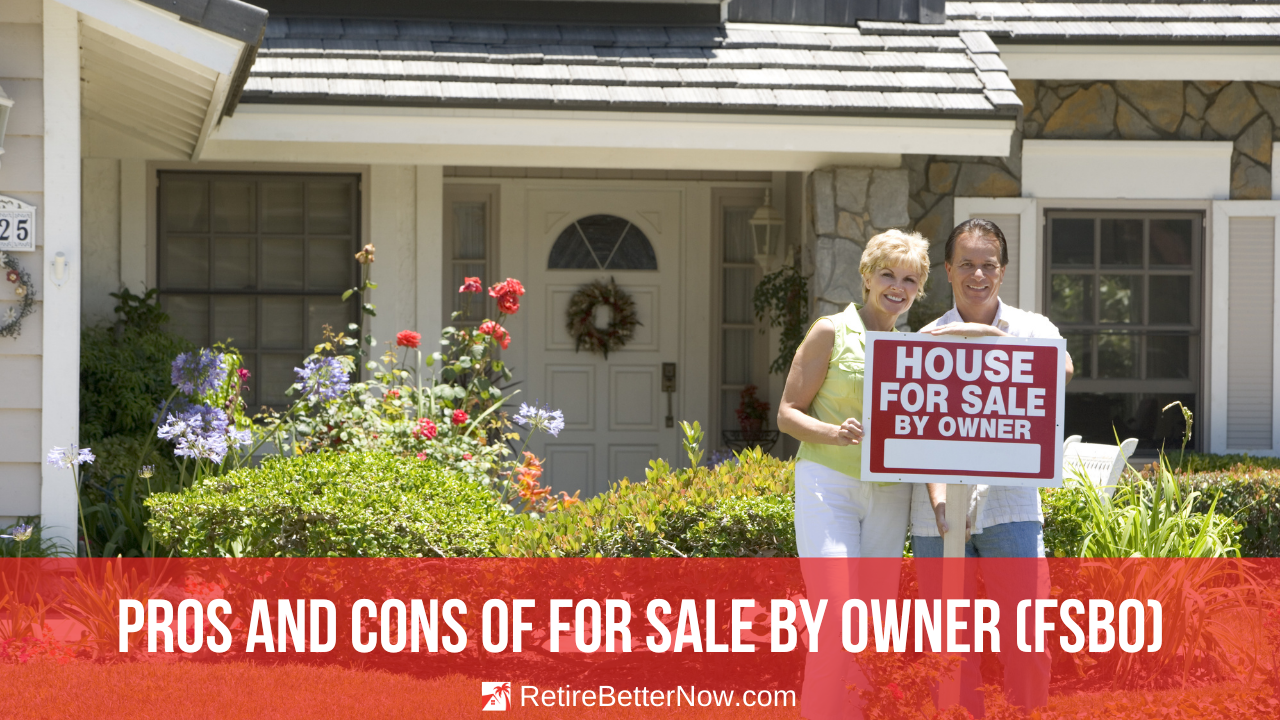 Thinking about selling your own home without a real estate agent? This is commonly referred to as "For Sale by Owner" or FSBO. When looking to sell your home without a Realtor, many factors can come into play and there are advantages and disadvantages to consider.
Money is one of the most common factors. All the work involved in marketing and showing your house can be an issue too. Using an agent can rack up the bill, but so can selling your own home and not getting maximum value.
There are benefits and drawbacks to selling your own home. Let's break down the pros and cons of selling FSBO in this article!
Why FSBO is a Good Idea?
Selling your home "For Sale by Owner" is a good idea if you want to save the typical 5%-6% commission fee that many real estate agents charge for their services. However, selling FSBO is usually only recommended for people who know their local real estate market well, understand all the steps that go into selling a home and are experienced with real estate transactions.
FSBO Pros of Selling Your Own Home
Starting with the advantages of selling FSBO, saving money on commission fees, doing things your way and selling at your own pace really takes the cake. Setting your price for your home is quite empowering. Not accepting less than you feel it is worth is definitely a pro. Here are four more FSBO benefits:
Save Money on Commissions
The most common reason people want to sell their own home is to save money. Real estate agents usually charge a 5%-6% commission to sell a house. A 5% commission on a $400,000 home is $20,000.
FBSO home sellers would get to save that money and put it toward their next home or into savings. Savings the thousands of dollars in real estate agent costs is one of the main benefits to doing a For Sale by Owner.
You Know the Area
Knowing your neighborhood is also important and if you're a neighborhood expert it gives you an advantage over a real estate agent. Knowing how good or bad the schools are and how far they are from your home is something most buyers really want to know.
Do you have friendly neighbors? If the buyers are from out of town, you have explicit knowledge of the area they wish to purchase the home. That is something an agent isn't going to know firsthand. It is critical information, however.
Knowledge of Your Home
Knowing the details about the house is also a huge pro. Being the one to own the home and having lived in it, you know everything there is to know about the house itself.
What was the contractor's name you got to do the roof last winter? When was the last time the bathroom was remodeled? Who painted the house? These are all details that, as the homeowner, you know precisely. An agent may not know these little details.
More Freedom
When it comes to the actual selling of the home, you have more freedom when selling your own home by owner. Scheduling showings and open houses can be daunting on someone else's schedule. If you are the one doing it all, you can make sure that it all fits around the life you are living.
More time in the evening? That's okay. You can make your appointments to see the house then. Don't feel like leaving your home for hours at a time while someone else shows the house? That's okay too. Showing it yourself means you don't have to.
Why FSBO is a Bad Idea?
Selling a home For Sale by Owner is a bad idea if you don't know what you're doing, because you can potentially lose out on thousands of dollars or do something illegal that comes back to haunt you.
FSBO Cons of Selling Your Own Home
Selling your home really involves quite a bit of work. Between marketing, legal paperwork, pricing research, and photography, the workload can really pile up. Here's a look at five disadvantages to selling FSBO:
Could Misprice Your Home and Lose Thousands of Dollars
The first major drawback to selling FSBO is that you could price your home incorrectly and have it not sell or potentially leave tens of thousands of dollars on the table. Remember that agents have uninhibited access to the competitive market of home sales. They are going to be more experienced in determining the fair market value of your home.
Seeing the competitor's prices also gives them an insight of the best possible price for your home. Sometimes an experienced agent can even get you more than your house is actually worth if the market is right and your home is priced correctly.
Lack of Marketing
Selling a home at the price you want really comes down to marketing and sourcing a pool of potential buyers. Great listing agents know how to make your home look great in various marketing channels and may even have their own database of prospective buyers they can reach out to. Unless you're an experience marketer and know how to generate demand and leads, you might consider hiring a real estate agent instead of selling FSBO.
Hiring a photographer can be costly as well. Not that you can't take great pictures on your own, but using a professional always makes the images look more alluring. Generally, photography comes with the fees associated with using an agency. However, they can help you set your house up to look warm and welcoming, along with taking the fantastic shots that will sell the home for you.
Lack of Legal Knowledge
Real estate has its own set of laws at the Federal and State level. While real estate agents are by no means attorneys, they do have to abide by laws and ethics. A good real estate agent will also have attorneys that work directly with them so that makes it easier for them to access the wealth of knowledge the attorney may hold.
Do you really want to risk breaking a law by saying something you shouldn't have said or doing paperwork incorrectly that results in penalties or fines? Instead, you may want to consider paying for the services of an experienced listing agent.
Planning Open House and Showings
Getting buyers to attend an open house can be a daunting affair. That is one thing hiring an agency can help sort out. An agent will have access to people who are looking to buy as well as help you sell. They can arrange for the open house and take all the guesswork and planning out of the equation for you.
Showing your home can also be uncomfortable. Making sure you know all the selling points of your home and really making them stand out is important. If you have no idea what you are doing then an agent is an excellent choice. A seasoned agent will have the skills to not only sell your home on its better qualities but can close the deal. This is where some For Sale by Owner homes go wrong. Without closing, there is no sale!
Spend Time Educating Yourself
The final disadvantage to FBSO is that you have to spend lots of time educating yourself on every aspect of selling a home. From the marketing and sales prospecting to legal considerations and paperwork, there's a lot that goes into selling a house.
There's a reason why agents have to spend so much time studying and in classes to get their real estate license. Do you really want to spend weeks of your time learning about selling real estate just for the chance at saving some money? Remember, there's added risk in doing something you've never done before and have no experience doing.
Is it Worth Doing a For Sale by Owner?
Selling your own home can be a pleasure as well as a pain. Doing things your way and potentially saving thousands of dollars on commissions is a huge pro; while someone else doing all the work can be great too. It will, of course, help you in the end if you know what you are getting yourself into. The pros and cons of selling your own home can seem overwhelming. Do what is suitable for you in the end and don't be afraid to consult with a local real estate agent if you have any questions or concerns.
Home Selling Resources
*Disclaimer: The content on this site is not intended to provide legal, financial or real estate advice. It is for information purposes only, and any links provided are for the user's convenience. It is not Matiah Fischer's or RetireBetterNow.com's intention to solicit or interfere with any established agency relationship you may have with a real estate professional. Please seek the services of a legal, accounting or real estate professional prior to any real estate transaction.