Everything You Need to Know About Retiring in Summerlin, Nevada
Posted by Matiah Fischer on Friday, June 5, 2020 at 11:00 AM
By Matiah Fischer / June 5, 2020
Comment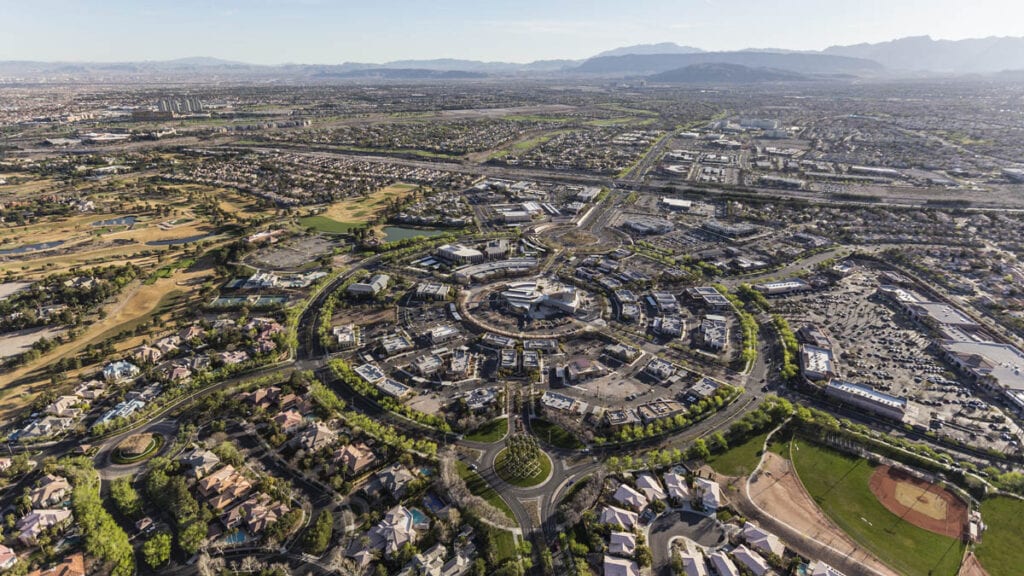 Summerlin, Nevada is a master-planned community on the western edge of Las Vegas, just a 15 minute drive from the entertainment and excitement of the Strip, yet brimming with its own opportunities, luxuries, and activities.
When it comes to choosing a place to retire, Summerlin is one of the top choices in the Nation because of its stellar offerings and quality of life. There are ten golf courses, 250 parks, and over 150 miles of trails, plus there's shopping, dining, sports, recreation, and much more in this upscale locale.
Located at the base of breathtaking Red Rock Canyon National Park, stunning views await in this place that offers a life filled with more of what you love during retirement.
Interested in moving to Summerlin? Browse the latest homes for sale in Summerlin.
Things to Do in Summerlin – Activities & Entertainment
One of the best things about living in Summerlin is that there's always something to do that's fun, exciting or relaxing. Whether it's trying a new restaurant, swinging the golf club, sweating through a fitness class, attending a pro baseball game at the new stadium or relaxing with friends and family at one of the many parks, you'll have a hard time finding reasons not to enjoy an active retirement.
Here's a short list of local favorites!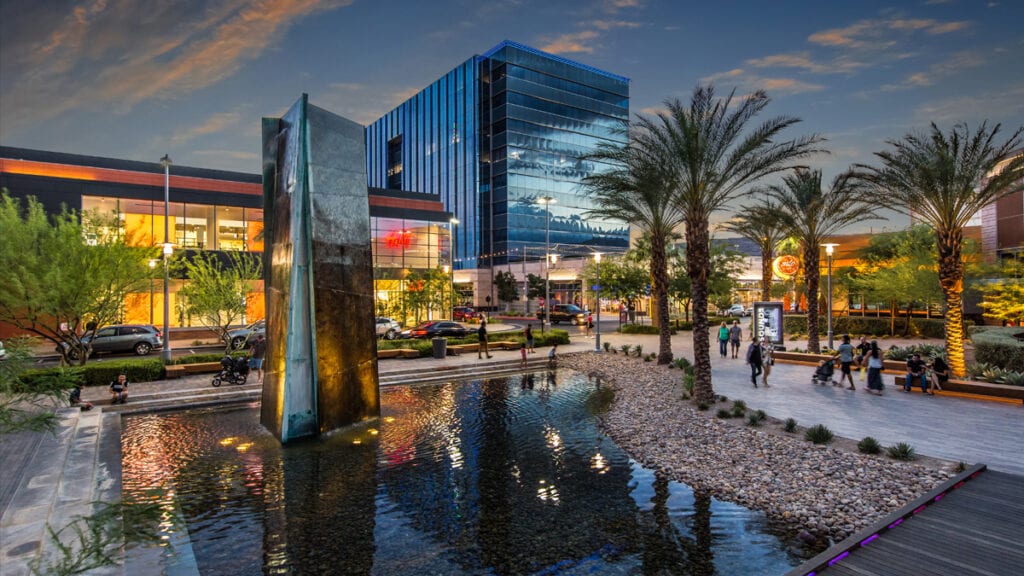 Downtown Summerlin & Summerlin Mall
Downtown Summerlin® is a happening place where shopping and dining converge in a gorgeous, completely walkable downtown setting. In Downtown Summerlin, you'll find big brand stores as well as smaller boutiques and restaurants that fit every budget from casual to upscale. Often called the Summerlin Mall, this shopping and dining district is a hidden gem that tourists rarely see, making it more of your own private oasis.
Summerlin Restaurants
Hungry for more? Summerlin has quickly made a name for itself among foodies. Gourmands love it for the variety of restaurants from big chains to more localized family-owned authentic experiences. There's something for every mood, every palate, and every desire to taste and discover here.
Red Rock Canyon National Conservation Area
In Summerlin, Red Rock Canyon National Conservation Area is right in your backyard! This stunning landscape is a popular place for locals and tourists alike. If you like living an active life and enjoying the outdoors, you'll definitely want to explore Red Rock.
It's a nice contrast from the entertainment side of Las Vegas, a place where you can simply partake in a scenic 13-mile drive or delve deeper with miles of hiking trails, mountain and road biking, horseback riding, and places for picnics and observing nature.
The visitor center and bookstore also offer more ways to learn about this unique conservation area. Want more adventure? Then try your hand at rock climbing. There's never been a more perfect place to learn!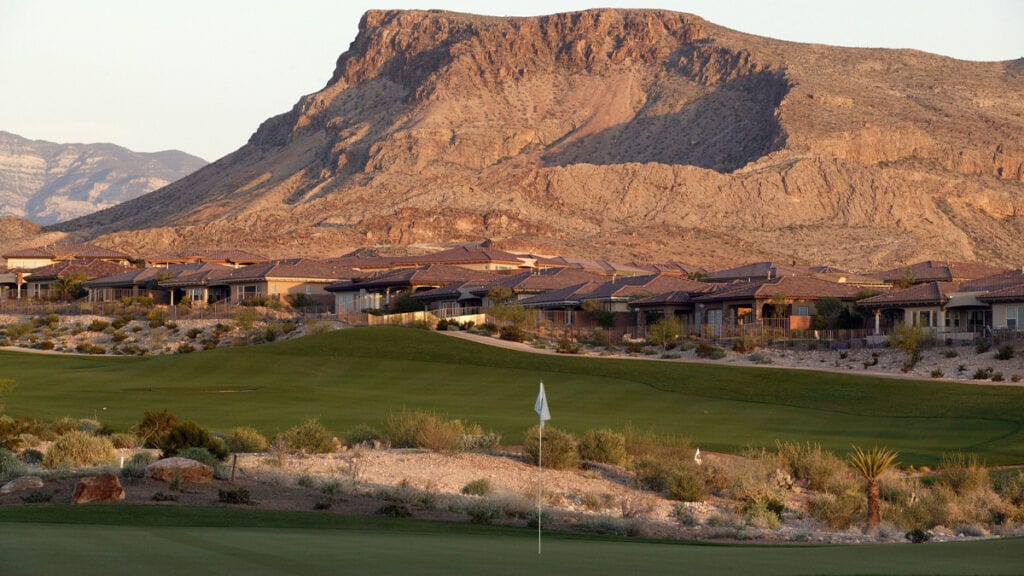 Golf
Red Rock Canyon isn't the only place for recreation and adventure. In Summerlin, NV, get on the green at the best golf courses in the Vegas area or move into one of the finest golf course communities. There are ten courses for your perfect tee time, including two Tournament Players Club (TPC) courses and Bear's Best, one of the first ever built. Wherever you play through, you'll find a world-class golfing experience for all skill levels.
City National Arena
Prefer hockey? Then don't miss your chance to catch the NHL's Vegas Golden Knights practicing at the nearby City National Arena. Practices are free to watch though it's on a first come, first serve basis. Once they're full, they're full, but if you get there early enough, you'll get to catch the action on the ice.
Even when there is no practice, there are opportunities for public skating, or even taking hockey or figure skating lessons. It's great exercise plus it's a wonderful way to keep cool on a hot day!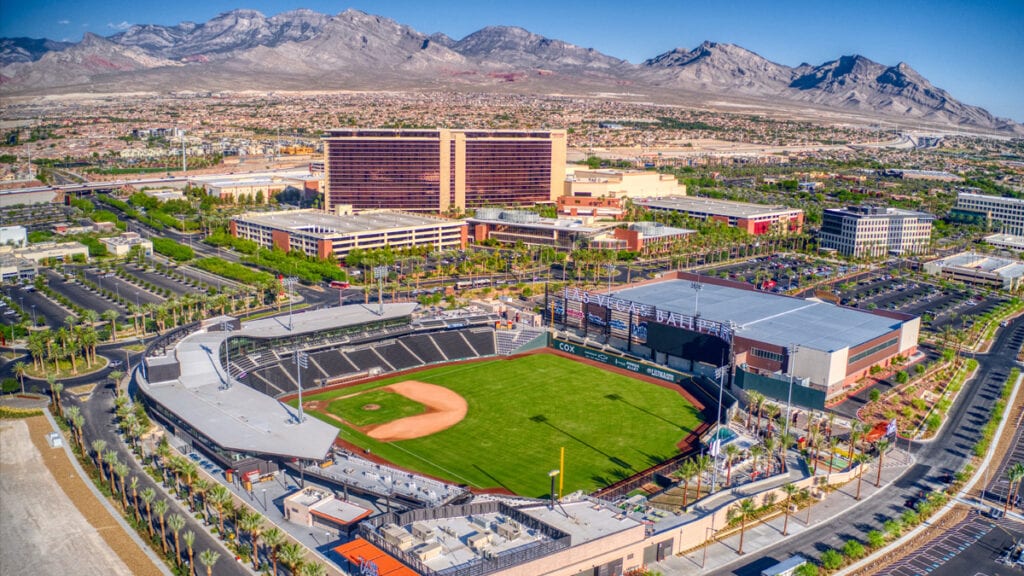 Las Vegas Ballpark®
Love going to baseball games? Then you'll love it even more in Summerlin! In Spring 2019, the all-new Las Vegas Ballpark opened and the Triple-A Las Vegas Aviators played in their new $150 million home. Summerlin makes it easy to love life with more things you enjoy right at your doorstep.
Tour de Summerlin Bike Race
It's a tradition that's been going on for nearly 20 years now. The Tour de Summerlin Bike Race is simply fun for anyone that wants to join. Cyclists of any level can join in this annual race that takes advantage of the many bike-friendly streets amid the gorgeous surrounds of Summerlin.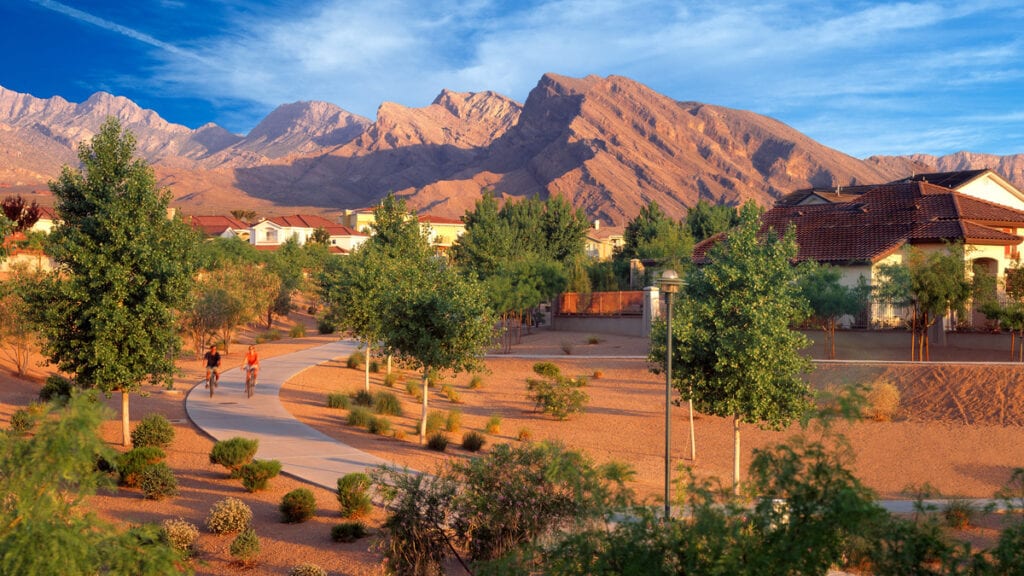 Parks & Recreation
Summerlin, Nevada is home to over 250 parks! All over tucked in the villages and neighborhoods, there are parks for play or simply to enjoy the beautiful weather and natural surrounds. It's no wonder people in Summerlin seem happier overall. There are so many ways to keep busy and active, whether you want to go for a jog on your own or meet with friends to walk and talk.
With community centers in the mix too, there's so much to keep busy with. They offer chances to swim and cool down on hot days as well as join classes and workshops. You'll also find fun community events here that give you more of what you want to enjoy in life.
Red Rock Hotel and Casino
Want to enjoy Vegas in an opulent way without heading to the craziness of the Strip? The Red Rock Hotel and Casino is ideal for an evening out or for your first stay when you come to Summerlin to explore homes.
Once you see how amazing it is here, you'll likely be telling guests to come stay at this immaculate hotel, complete with casino, luxurious outdoor pool area, spa, and all the finest amenities you desire.
Summerlin, NV 55+ Retirement Communities
As a premier place to live, it's no surprise that Summerlin is home to a several stunning 55+ communities.
From the classic Sun City Summerlin and Siena, to the newer Regency at Summerlin and Trilogy in Summerlin, you have many options and various price points for homes.
So let's dive right in and learn more about each!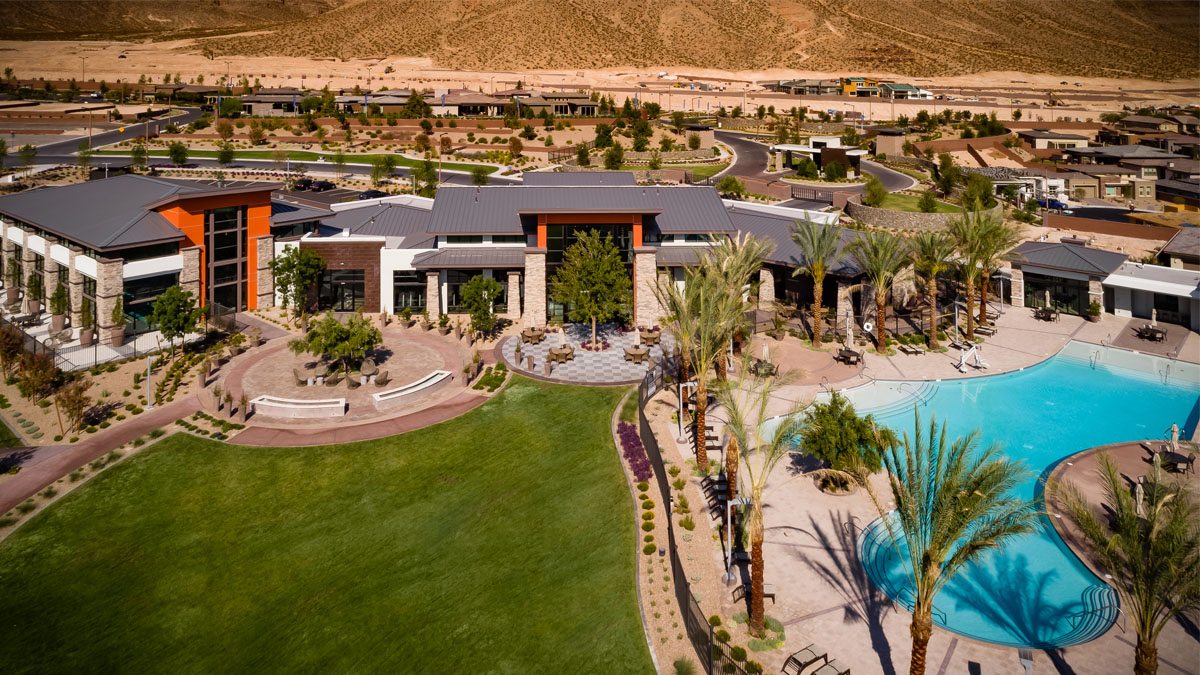 Set on elevated terrain at the base of a dramatic ridgeline in The Cliffs, Regency by Toll Brothers offers all single-story luxury homes in nine unique floorplans ranging from 1,665 to 2,428 square feet and priced from the high $400,000s.
Regency homes feature a desert contemporary architectural style to complement the rugged beauty of the area, and they include gourmet kitchens, two bedrooms and up to two-and-one-half bathrooms. Several models include indoor-outdoor living opportunities with covered patios and courtyards, and ample flex spaces create opportunities for home personalization to suit individual lifestyles.
Regency's resort-style amenities create the lifestyle buyers expect, including a community clubhouse spanning more than 16,000 square feet with an indoor lap pool and outdoor resort-style pools; tennis, pickle ball and bocce ball courts, game rooms and an onsite lifestyle director who will schedule classes and plan social gatherings and outings.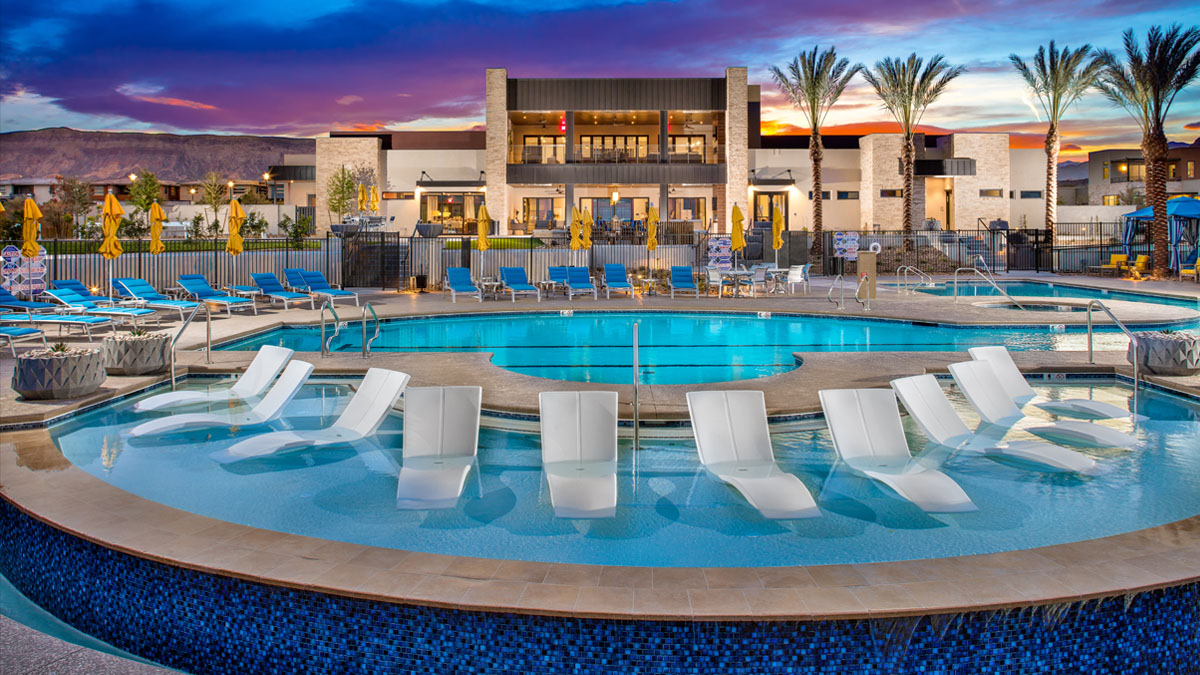 Shea Homes brought its Trilogy® active lifestyle concept to Summerlin last year. At Trilogy, attached homes, which share common walls with neighboring homes, offer 13 different floorplans featuring both single- and two-story living, priced from the high $400,000s.
All homes are designed to encourage entertaining with reduced maintenance, while the community's activities, events, concerts, classes, and clubs offer many opportunities to enjoy life and maintain an active, healthy lifestyle full of fun and socialization.

Sun City is a special place in Summerlin where active adults ages 55 and up can call home. This well-established community is a comfortable place with tree-lined streets, fantastic shopping, spectacular restaurants, plus award-winning resorts, spas, and casinos. The 2,530-acre village boasts 7,779 homes and is the place where you have your pick of three 18-hole golf courses to play through.
There are extensive recreational facilities with four fitness centers, an Olympic-sized pool, and plenty of walking and biking trails to keep fit. Popular theatrical and musical performances are available plus movies and guest speakers too.
Enjoy aerobics, mini-golf, billiards, bocce, ping pong, shuffleboard, tennis and much more while making new friends. With many clubs and groups to join, you'll always have a neighbor to share in the fun of your retired years.
Why spend your retirement in a place that makes it difficult to get around and thrive? You'll always have the refreshing views of the scenic natural landscape to take in plus you'll have no shortage of things to keep you busy. This is what you dreamed of having when you worked all those long hours. Now it's time to reclaim what you deserve by moving into your new home in Sun City Summerlin!

Another 55+ community in Las Vegas' Summerlin, Siena is sprawled across a 667-acre area. There's a multitude of houses to choose from, regardless of your budget: single-family homes and villas alike, all surrounding the 18-hole championship golf course. Security is no issue here – the luxurious homes of Siena are secluded behind a six-foot high masonry perimeter wall and contain accessed-controlled entries.
Siena's community is particularly suitable for retirees looking to stay active physically, mentally and socially. The Village Center is a 71,000 square foot gathering place for activities. The Health and Fitness center contains everything you need to be healthy in retirement. There is a weight room and cardiovascular area, locker rooms with sauna and steam rooms, and an indoor swimming pool. Or you can head outside to soak up the beautiful Vegas weather at the Fitness Center's whopping 115,000-gallon clover-shaped outdoor heated swimming pool.
Siena is not only packed with opportunities for a socially and physically rewarding retirement, but makes it easier than ever to remain in touch with your loved ones as McCarran International Airport is only a 15-minute drive away.
Why Retire in a Summerlin, NV 55+ Community?
Keeping pace with today's Baby Boomers requires homebuilders to design homes for an active generation. Single-level homes that are energy efficient yet full of updates and amenities are the most popular.
In addition to replacing yards with living patios for outdoor living and adding decorative landscaping or optional flower beds to accommodate gardening enthusiasts, other popular home features include home offices to accommodate those who are transitioning from a 9-to-5 job or enjoying a part-time second career.
Other common home features include tech and media centers with top-of-the-line systems, including wireless home networks, remote control lighting and security features; better lighting and bigger windows to enhance natural light; first-floor bedrooms and bathrooms; and flex space to allow customization such as turning a guest bedroom into a hobby room or library.
Summerlin Retirement
Recently ranked as the nation's fourth best-selling master-planned community by RCLCO, a leading real estate think tank, Summerlin is synonymous with quality of life in Las Vegas, offering more amenities than any other community in Southern Nevada.
A Summerlin address comes standard with 250-plus parks of all sizes; resident-exclusive community centers, pools and events; 150-plus miles of interconnected trails; ten golf courses; 26 public, private and charter schools; and the Downtown Summerlin® area with fashion, dining, entertainment, Red Rock Resort, office towers, City National Arena, home of the Vegas Golden Knights National Hockey League practice facility, and Las Vegas Ballpark®, a world-class Triple-A baseball stadium and home of the Las Vegas Aviators.
Home to both age-qualified and home for families of all ages, Summerlin currently offers more than 180 floorplans in 40 neighborhoods in nine distinct villages. Homes are available in a variety of styles – from single-family homes to townhomes, priced from the $230,000s to more than $1 million.
If you're thinking about making the move into one of Summerlin's 55+ retirement communities, you need to be sure to select a qualified and trustworthy real estate agent. Doing so will save you time, headaches and could save you money during a negotiation.
Live Your Best Retirement in Summerlin, NV!
Without a doubt, Summerlin is a great place to retire. The best part is – besides the incredible homes, extraordinary amount of things to do, healthy and fun activities, and quality of lifestyle – there's affordable homes and communities for everyone.
In Summerlin, the retirement you always dreamt of is available right at your fingertips!