Summerlin or Henderson? Living in Henderson vs Summerlin
Posted by Matiah Fischer on Thursday, August 6, 2020 at 3:00 PM
By Matiah Fischer / August 6, 2020
1 Comment
Locals and those from out-of-state alike are always asking: "Should I live in Summerlin or Henderson, NV?" With Las Vegas quickly becoming a popular, go-to living and retirement destination in the United States, the suburban areas surrounding Las Vegas have been growing at a record pace.
This article compares living in Henderson vs Summerlin. It's a heavyweight battle, that's for sure, as both are very popular for their own reasons. Keep reading to learn about each location's differences, pros and cons so you can determine whether Henderson or Summerlin is better for you!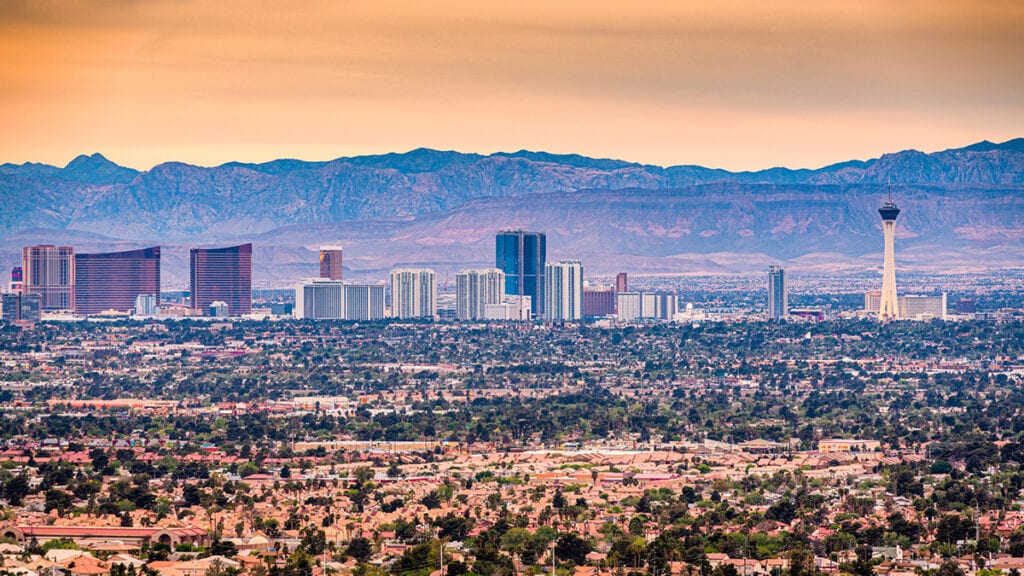 Henderson vs Summerlin: What You Need to Know
Location
Henderson is the second-largest city in the state of Nevada with roughly 300,000 people and is located just southeast of Las Vegas proper. It is a fully-established town with its own government and plenty of its own attractions, jobs, shopping and dining. Nearby, residents have access to the Lake Mead Recreational Area, Lake Las Vegas and the Hoover Dam.
Located just 16 miles from the Las Vegas Strip, getting there should take you between 20-40 minutes, depending on which part of Henderson you live in and traffic. Living in Henderson places you approximately 20-30 minutes from McCarran International Airport, depending on traffic and where you live in the city.
Summerlin is located on the western edge of Las Vegas, and is actually considered part of the greater Las Vegas area. Rather than a city, it's a master-planned community. Many people get this wrong, since Summerlin feels much like its own city, with a population around 100,000.
Summerlin feels relatively self-contained and many areas boast a "brand-new" feel that some people might prefer. Much like Henderson, it has its own attractions, shopping, dining and a growing job market. Getting to the Strip area will typically take you just 10-20 minutes on most days, and scenic Red Rock Canyon is just a stone's throw away. Driving from Summerlin to the airport takes approximately 15-20 minutes, depending on traffic.

Lifestyle
Comparing the lifestyle of Henderson vs Summerlin is fun, since both are considered great places to live.
Summerlin has an affluent suburban feel, with several areas in Summerlin North and Summerlin South boasting ultra-affluent and ritzy vibes. Overall, it's a great place for everyone. Summerlin has 250 parks, 10 golf courses, 150 miles of trails, minor-league baseball, restaurants, casino, shopping and more.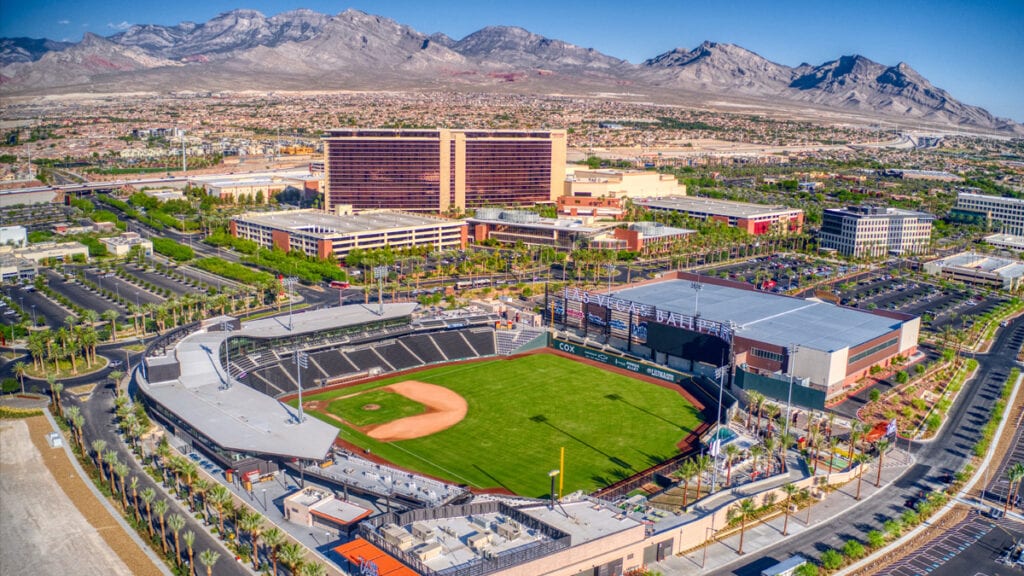 One of the advantages to living in Summerlin is Downtown Summerlin®, a happening place where shopping and dining converge in a gorgeous, completely walkable downtown setting. In Downtown Summerlin, you'll find big brand stores as well as smaller boutiques and restaurants that fit every budget from casual to upscale.
The community hosts a number of activities to encourage people to interact and have fun. People in Summerlin seem to identify strongly with their community; talking to locals, one gets the feeling they're quite proud to live there.
As a city, Henderson is also great for people who enjoy getting outside with its 66 parks, 184 miles of trails, many golf courses and outdoor shopping and dining venues. There are plenty of attractions in the Henderson area, such as casinos, recreational facilities, The District at Green Valley Ranch, Water Street District and Galleria Mall. Other fun includes the Lion Habitat Ranch and nearby Lake Mead.
Since its population is nearly 3x the size of Summerlin's, you might feel less of a "one-community" vibe and instead have closer connections to your local neighborhood areas. However, this varies from person-to-person and many proudly say they're from Henderson, not Las Vegas.
Should I Live in Summerlin or Henderson?
All cities and communities, no matter how large or small, have their charms and their blemishes. So, when the question of living in Summerlin or Henderson comes up, it's much more about your preference than one location's superiority. Both are considered top-tier places to live in Southern Nevada.
Is Henderson or Summerlin Safer?
When it comes to safety, generally speaking people consider both Henderson and Summerlin safe places to live. Henderson was named the #2 safest large city in America by AdvisorSmith. Summerlin has many gated and guard-gated communities to provide an extra layer of security. Before moving to Summerlin or Henderson, be sure to do your own research and look at official safety and crime data to form your own opinion.
Schools in Summerlin vs Henderson
Comparing schools in Summerlin vs Henderson is a major factor for those with children. Luckily, both areas are known for having great schools and boast above-average test scores.
Summerlin has 16 public schools and 10 nationally-recognized private schools, including Bishop Gorman High School and The Adelson Educational Campus.
Henderson has many public and private schools, which typically rank above-average in graduation rate and test scores, including math and reading proficiency. With 106 schools in total - 45 elementary schools, 24 middle schools and 15 high schools - it's clear Henderson cares about education.

Henderson vs Summerlin Weather
When comparing weather in Henderson vs Summerlin, you may be surprised just how much people pay attention to it. After all, just how much difference in weather can there be when Summerlin and Henderson are so close to each other?
Turns out, there are differences in climate between Summerlin and Henderson.
Summerlin's average elevation is about 3,500 feet above sea level - with some areas climbing to nearly 4,000 feet. Summerlin promotes that the temperature is cooler in Summerlin than other parts of the Las Vegas Valley by as much as 5-7 degrees.
Compare this to Henderson, which mostly sits at an elevation between 1,500 and 2,000 feet and therefore, tends to be hotter than Summerlin. If you're looking for a place that can offer you a bit of relief from the heat of the desert, Summerlin appears to be the better choice.
How Far is Summerlin from Henderson?
It's a 25.4 mile drive from Henderson to Summerlin. On good traffic days, this may take only 25 minutes. During heavy traffic this drive may take more like 45 minutes to 1-hour.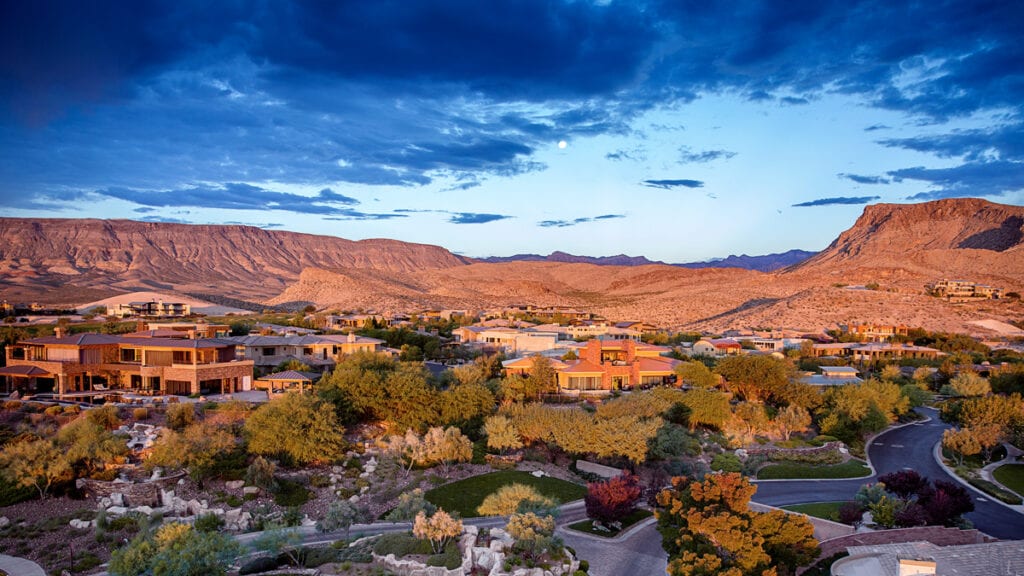 Should I Buy a Home in Summerlin or Henderson?
When comparing whether to live in Summerlin or Henderson, it's a good idea to understand the differences in real estate. Summerlin and Henderson real estate tends to cost more on average than other areas of Las Vegas.
Houses in Henderson average around $350,000 - $375,000, and of course can cost much more in affluent neighborhoods. Summerlin homes tend to cost a bit more on average, with the average starting price closer to $400,000. If you're looking for the most affordable homes, Henderson may be the place to start your search.
Both areas offer many great places to live. In fact, Summerlin is home to 26 villages and many neighborhoods and subdivisions within each. Some popular places to live in Summerlin include The Paseos, The Trails, Stonebridge, Red Rock Country Club and The Ridges. The master-planned community offers a great selection of new construction homes, pool homes and condos.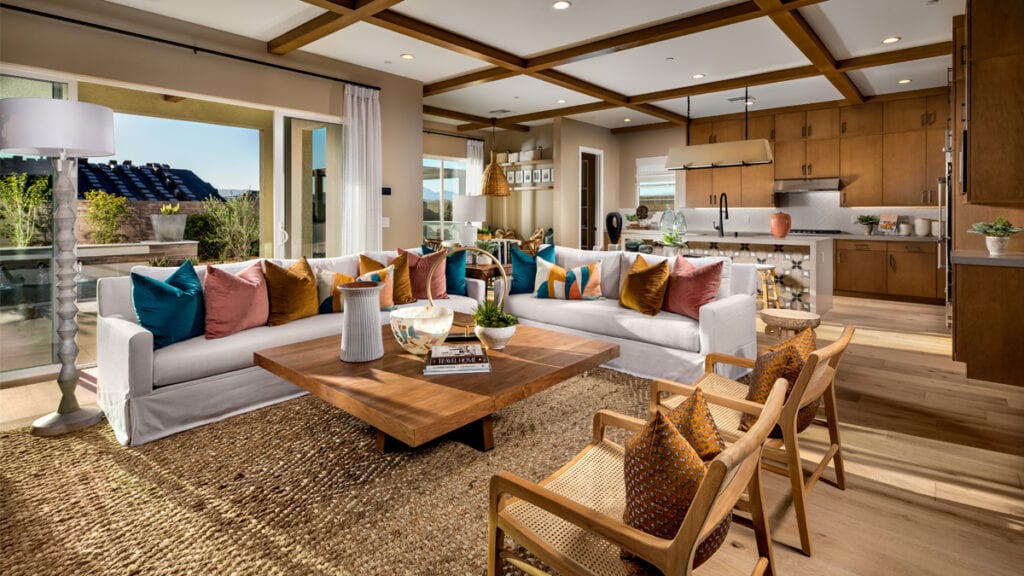 From affordable, down-to-earth neighborhoods to the most expensive in Nevada, Henderson has it all. Henderson offers many great neighborhoods and various types of housing. There are prestigious neighborhoods such as MacDonald Highlands and Anthem Country Club. Henderson also has its own master-planned communities (not as large as Summerlin) such as Anthem, Inspirada and Seven Hills.
With all of these choices, your options in both places are seemingly endless. Determining whether you should buy a home in Henderson or Summerlin is entirely up to you!
Henderson vs Summerlin Retirement Communities
Many people nearing retirement are wondering whether they should retire in Henderson or Summerlin? The choice is often difficult; after all, both places are home to award-winning retirement communities.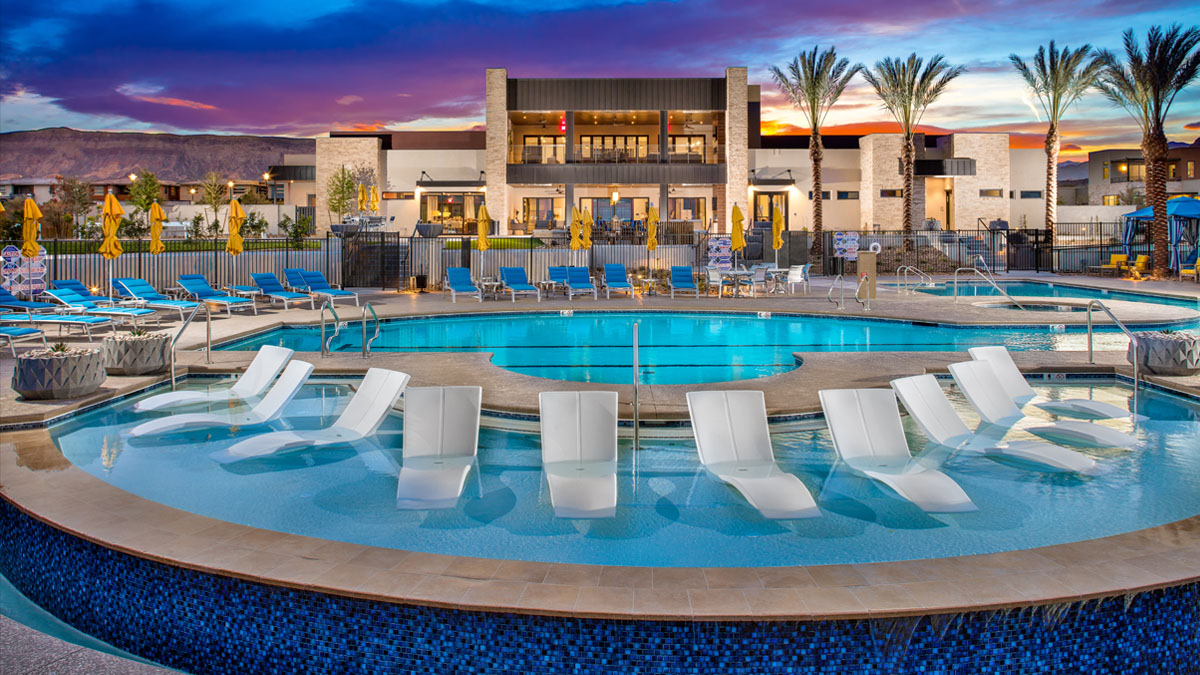 55+ communities in Summerlin include the famous Sun City Summerlin and Siena. The area is home to several new retirement communities that exude the luxurious nature of Summerlin, including Trilogy®, Regency at Summerlin and the brand-new Heritage at Stonebridge.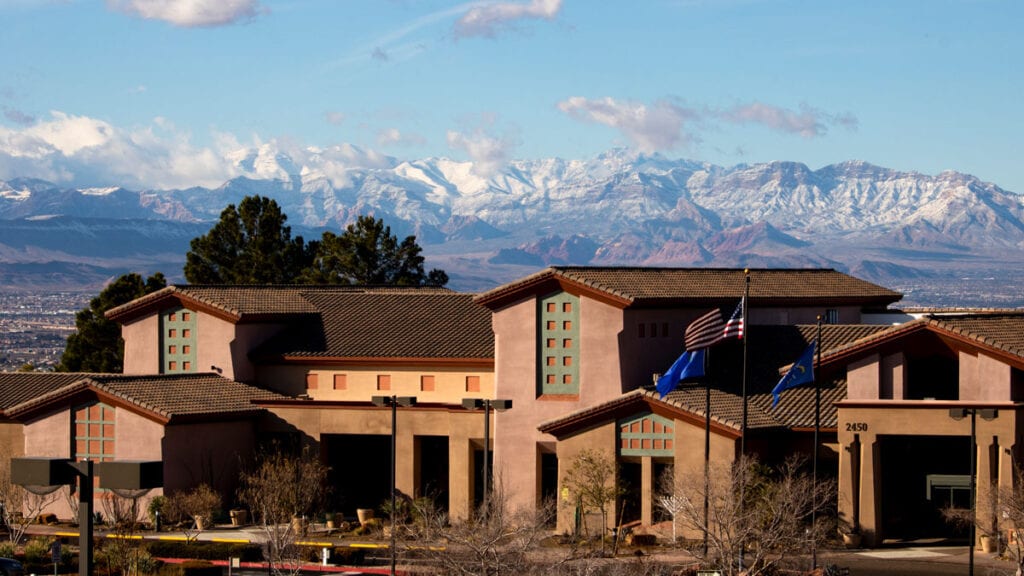 Henderson is not to be outdone when it comes to retirement living, however. Retirement communities in Henderson are a major draw for people ages 55 and up and there are 7 communities to choose from. Popular age-qualified living in Henderson includes Sun City Anthem, Heritage at Cadence and the new Del Webb at Lake Las Vegas.
Is Henderson or Summerlin Better?
Whether you choose to live in Summerlin or Henderson has more to do with what you want than anything else. No doubt, most people could be perfectly happy in either one. They are both extraordinary places to live.
One other important thing to consider is whether you prefer the structure that comes with a planned community or the organic nature of an actual city. Both Summerlin and Henderson are friendly to people of all ages and backgrounds, and offer something for everyone.
Visit both, check them out, and see which suits you best. Whatever you choose, there are sure to be plenty of opportunities to have the time of your life.

Is Henderson Better than Summerlin?
The City of Henderson is the larger of the two. Henderson has many neighborhoods and tons of its own attractions. Real estate tends to be more affordable and it's separated from the action on the Las Vegas Strip.
While we'd never suggest that one place is better than the other - there are pros and cons to both - Henderson does have many redeeming qualities that make it a great place to live.
Pros of Living in Henderson
Many areas to live at all price points; can be more affordable than Summerlin.
Tons of outdoor activities, attractions and recreation.
High ranking schools and several medical facilities.
Further away from Las Vegas nightlife.
Being its own city, it has a local government and services.
Is Summerlin Better Than Henderson?
If you're looking for a place with close-knit community vibes and perhaps an overall feeling of prestige, Summerlin may be a good choice. The area is home to many great villages and neighborhoods that offer something for everyone. Summerlin continues to grow and expand as well, which makes its future exciting.
Pros of Living in Summerlin
Master-planned community that's been carefully developed.
New developments and newer housing inventory.
Plentiful outdoor spaces, recreation and golf courses.
Closer to the action in Las Vegas.
Has its own downtown area and a brand-new minor league baseball stadium.
Lots of community pride and plans for future expansion.
Moving to Henderson or Summerlin? Work with a Local Real Estate Agent
No matter if you're moving to Summerlin or Henderson, it's a good idea to work with a local real estate agent if you're buying a home. Get in touch with an agent in Henderson or Summerlin by filling out the form below.