Things to Repair Before Selling Your Home
Posted by Matiah Fischer on Sunday, January 9, 2022 at 10:00 AM
By Matiah Fischer / January 9, 2022
Comment
Are you planning on selling your house? Wondering what and if you need to repair certain things in your home before selling it? If you said yes to both these questions, keep reading!
When you live in a house for many years there may be a lot of wear and tear on the home, thus resulting in the need for repairs. For many, this is not something they pay attention to until they decide that it's time to sell. Below is a list of things to consider, easy ways to freshen things up and repairs to make before you sell your home.
List of Repairs to Make Before Selling Your Home
Interior Painting
If you are planning to sell your house, you may start off the repairs with painting. Yes, you read that correctly. Painting is one of the easiest ways to make your house feel fresh. The best part is, you usually don't need to hire a professional to do this (unless you want too of course). When freshening up your interior walls, you may consider removing any old or bold wallpaper and replacing them with paint.
Another thing to note when painting, the color you select is key, as well as being consistent with it! As a rule of thumb, it's a good idea to avoid bold, strong colors at large and instead opt for colors that make the space feel bigger and calming. Some of the best colors to paint your walls when selling a home include neutral light greys, white, beige or taupe.
Exterior Touch-ups
When you start working on the repairs of your house, you should take a hard look at the exterior as well. You want your house to look good, not only on the inside but also from the outside, as this is the buyers first impression of the property. Since curb appeal is important, some easy ways to freshen up your property before selling is to plant some fresh flowers or shrubs, remove any accumulated junk/debris (no one likes to see a yard full of stuff!), and if you have any fence boards or shingles missing, consider replacing them.
Kitchen Upgrades
The kitchen is one part of the home that buyers are most concerned with and interested in checking out before they buy a house. People like a nice kitchen where they can easily cook and host their friends and family. If investing in a total remodel isn't something you're looking to do, there are easier and less expensive ways to freshen up the space for prospective buyers including painting walls or cabinetry, installing new cabinet hardware, installing new lighting fixtures, and upgrading appliances as needed.
Bathroom Updates
The next area of your house that should be on your list in terms of repairs is the bathroom. People are often looking to buy a home where the bathrooms are in good condition. Somethings to consider are repairing a running toilet or leaky faucet, freshening up the paint, and cleaning grout or even replacing it if necessary.
Lighting
With the right kind of lighting, you can make your home more appealing to buyers. Lighting is one feature that can make your house feel bigger, warm, and more inviting. Check and see what type of light bulbs you have in your different lamps and fixtures. Some of the best light bulbs to use when selling your home are soft/warm white ideal for living rooms, dining rooms or bedrooms, and cool white which are good for kitchens, bathrooms, or workspaces. Some other things to consider are replacing any old lights or fixtures that are damaged or no longer work.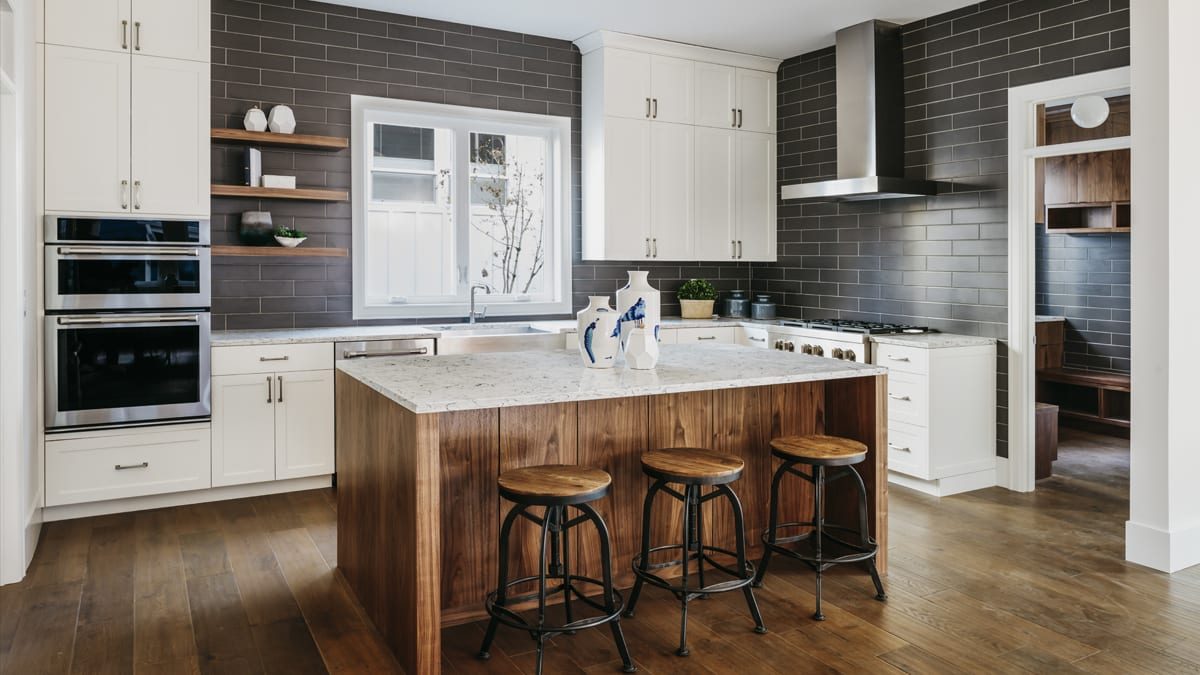 Floors
Another thing that a lot of buyers look for when they purchase a house is hardwood or tile flooring. If you are selling a home with existing hardwood flooring, you may consider refinishing your floors before showing your house to buyers. If you have tile, consider cleaning the grout and replacing or repairing any tiles with cracks. If you are selling a home with carpet, hire a professional to come in and really deep clean your floors, as this can help with any orders, dirt/dust and freshen up the space.
If your budget and appetite allows, you may consider replacing the carpet entirely and opting for a laminate or tile floor especially in areas like the kitchen, living room and dining room. Since the flooring can change the entire look and feel of your home, you may even end up getting a larger return on the investment you put in.
Functionality & Staging
Before selling your home, another thing to look at (one that people often overlook) is the functionality level of the different spaces. Is there a nice flow between rooms that makes sense? Are there changes you could make to the floorplan, room appointment or even furniture placement that would create value during resale? Consider talking to your real estate agent or an interior designer about the overall functionality and flow of your home.
Pre-Sale Inspection
A pre-sale inspection can help determine if there are any larger or immediate repairs that need to be done, and how much time, money, and energy it may require. This will give you good insight into anything you may have overlooked or not known about, and help you determine which repairs you need to or can make before putting your home on the market.
Conclusion – Things to Fix Before Selling Your Home
Making smart, and often times easy, repairs before selling your home can be an advantage to you in terms of selling price and how quickly your home sells.
If you're interested in selling your home and want to speak with a local real estate professional who can help guide you through the process, complete the form below!
Interested in Selling Your Home? Speak with a Las Vegas Home Selling Specialist