10 Tips For Selling A Horse Property
Posted by Matiah Fischer on Sunday, August 28, 2022 at 8:00 AM
By Matiah Fischer / August 28, 2022
Comment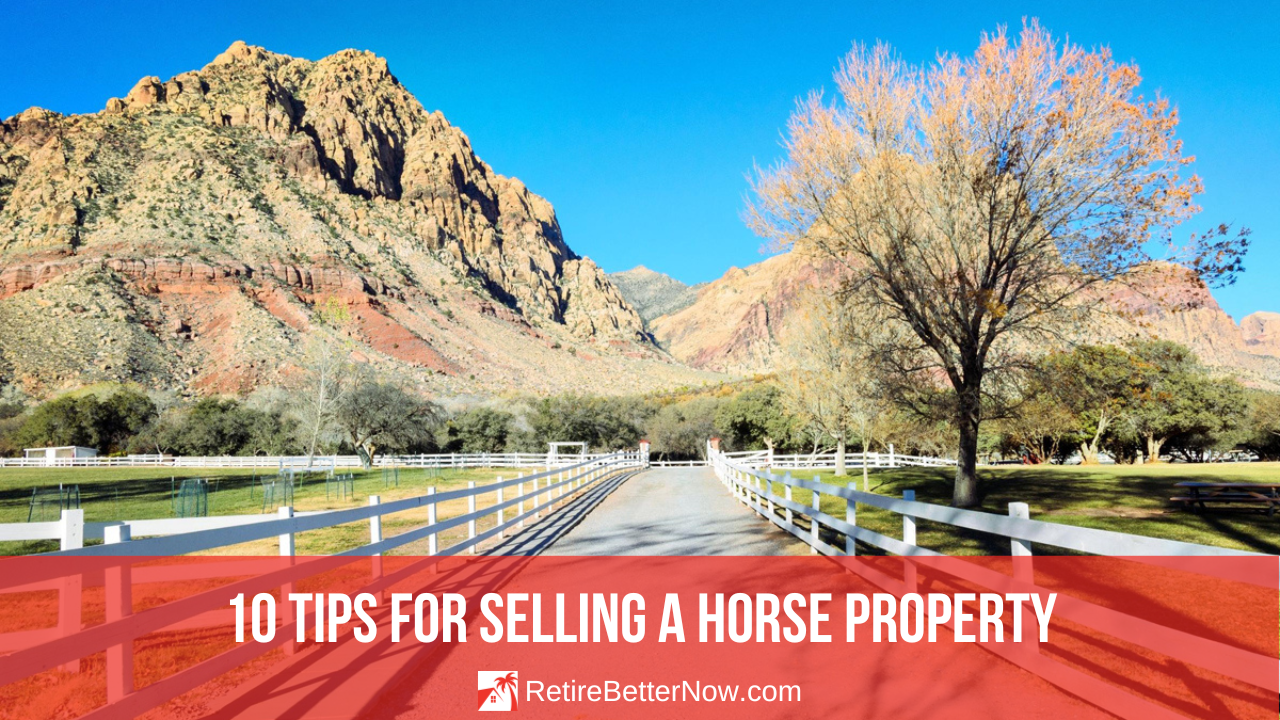 When selling a horse property, you're marketing towards a smaller population of people that are specifically looking for their own horse property as a business or simply for their family to enjoy, so there are some differences from just selling a farm or house with a bit of property attached.
Considering what tips and advice are available for this type of property can help you get the best price and sell faster so that you can move on to your next stage of life or into a new property.
Tips for Selling a Horse Property
1. Find A Real Estate Agent Who Specializes In Horse Properties
Finding a real estate agent specializing in selling horse properties is key to connecting with the right buyers and the best advertising avenues. Unlike traditional homes or even farms, it's not as easy as just throwing up a listing on the local MLS site to sell your horse property.
Look at local real estate listings for horse properties and see which agents or agencies are selling similar properties, including historical sales in the surrounding areas.
You may need to expand your search outside of your smaller town to find a real estate agent with the skills and connections required to get the best price for your property. Don't rely on the first or closest agent that you can find.
2. Stage Your Horse Property
Stage your horse property so that it can be presented in the best light possible, you want the property to appear as if the buyer can step in and start enjoying the property straight away, rather than thinking about cleaning up areas or fixing issues.
Remove clutter from the property and inside any of the buildings.
Review all buildings and make repairs as needed
Fix any fencing that is broken or doesn't look great
Put tools and equipment away, and wash any vehicles, including tractors.
Repaint any buildings that are looking especially old or worn
Mow any grass areas and level paddocks
Clean out stalls and replace bedding if required
Take a full walkthrough of the property as if you're a buyer and remove, fix, replace or make adjustments so that your property is shown in the best light possible.
3. Take Professional Photos Of Your Horse Property
Every potential buyer will check your property online before visiting or even considering the property, so having professional photos and videos taken to showcase the best of your property is essential to luring potential buyers in.
If you don't have horses on the property currently, then consider borrowing some for the photoshoot so that people get the idea that you have a fully working and ready-to-use horse property for them.
Make sure that your professional photoshoot is done right after you've staged and cleaned up the property for the best possible photos, and ensure that you get photos of everything available on the property; inside and outside shots will help showcase all that your property has.
4. Advertise To The Right Buyers
When selling a horse property, you want to target buyers that are in the market for that type of property, and while your real estate agent should understand where to advertise, you should also recommend any local areas or online options unknown to the real estate agent.
This could include local horse clubs, feed stores, and other related stores, as well as public stables or horse show grounds that bring together all potential local buyers.
5. Price Your Horse Property Correctly
Before almost anything, you need to compare your horse property to other similar properties on the market or that have recently sold to determine a realistic price. Consider the size of your property, what facilities and amenities are available, and the age and upkeep of everything when making comparisons.
Price is one of the key determining factors and search criteria for anybody looking for any type of real estate. A wildly high or low price can scare potential buyers off or even hide your property from them.
A good real estate agent will help you set a realistic price, but you should already have an idea before speaking to them so that you're not shocked. It also allows you to see what areas of your property can be upgraded or fixed to increase the price.
6. Prepare And Have All Required Documentation Ready
Find and sort all of your horse property legal documentation so that it can be provided to any potential buyers. You may need to summarize or simply provide information rather than handing over full copies of everything, but you should be upfront and knowledgeable about the property.
Easements on or being used by your property
Building permits for all buildings
Land surveys
Information on all horses or animals coming with the property
It's helpful to include this information with a marketing book for your property that also includes information on all facilities, amenities, and natural resources on the property.
7. Have A Realistic Idea Of Time To Sell Your Horse Property
In some markets, general property listings are selling extremely quickly, and you may have heard that properties on the market for longer than 60 days can be a concern for potential buyers. However, horse properties have a smaller group of potential buyers and will naturally be on the market for longer than most other properties.
It all comes down to where you're located and if the right buyer is looking when you're selling, but a horse property on the market for five months is reasonable and expected.
As part of your research, make sure you see how quickly other horse properties have sold in your area lately or over the years to get a better understanding of how long you may be waiting.
8. Keep Maintenance Up On Your Horse Property
Keep the maintenance and upkeep on your property current. You may start out with the property staged and cleaned up, but over the months, the property may require additional cleaning and maintenance, so it's important to stay on top of everything as you never know when a buyer may want to visit the property.
Set up an ongoing schedule for cleaning and maintenance tasks so that the horse property is ready for buyers at any time.
9. Consider What Upgrades Improve Sale Prospects
As part of your staging, you can make improvements to your horse property to make it more alluring to potential buyers. However, not all upgrades are a good bang for your buck, as you may spend $10,000 on an upgrade but won't get a $10,000+ increase in price.
Find the cheapest or best value upgrades or repairs to improve the appearance and functionality of your property. Often, this comes down to painting all buildings, leveling all paddocks, and repairing fences.
10. Consider Splitting Your Property If Sales Are Slow
A horse property can be very large, and if there is concern about limited potential buyers, you may need to consider splitting your property up into multiple lots if you have enough titles available to do so.
If you do have multiple titles available, then discuss this option with your real estate agent to see whether split sales could be faster and give you more overall money.