5 Tips For Selling Your Home in Winter
Posted by Matiah Fischer on Thursday, January 13, 2022 at 2:15 PM
By Matiah Fischer / January 13, 2022
Comment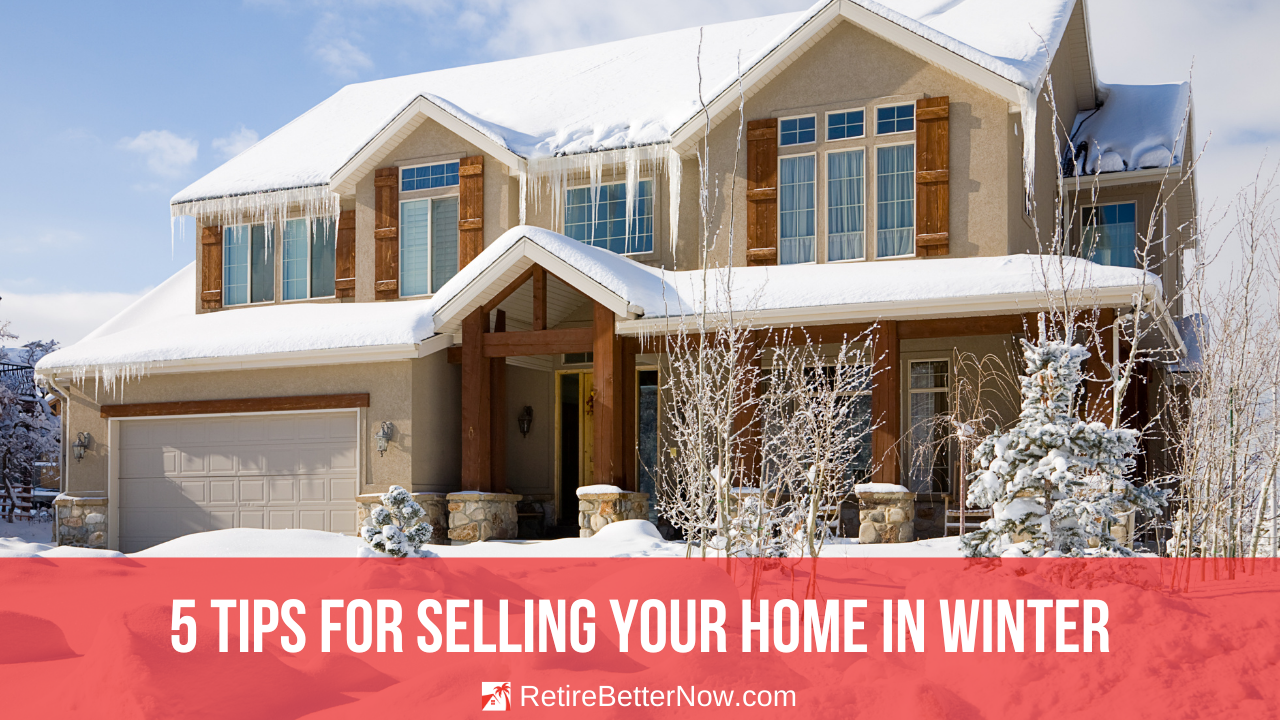 Thinking about selling your home during the winter and want tips to ensure a smooth and successful sale?
The summer months are by far the most common season for selling a house, followed by spring and fall.
Although winter is the least popular season, particularly in areas where it is cold and snowy, it's still possible to sell your house in the winter.
This article shares five tips for selling your home in winter quickly and for maximum price!
Best Winter Home Selling Tips
Take Advantage of Online Marketing
In today's real estate market, the majority of demand from buyers is created online. During winter months when it's cold outside, even more people prefer to look at homes online instead of in-person.
Therefore, you and your real estate agent must market the home aggressively online. Take advantage of the large home portals, social media and email databases to source buyers for your home.
Using excellent photos and a good digital marketing program to sell your house will make the cold snowy days irrelevant when selling your home in winter.
Make Your Home Shine
Due to daylight saving time in the winter, it becomes dark significantly sooner than in the summer. For example, it may already be dark outside when a buyer arrives to view the house after they get off work.
To combat this problem, sellers should make sure the home has bright indoor and outdoor lighting. Use warm lighting to make the home feel cozier and more welcoming to buyers. Turn on all the overhead lights in each room before inviting buyers over for a house tour.
Remember, you want potential buyers to see your home in the best light possible so there's a better chance they will love your home and submit an offer.
All Walkways Should Be Shoveled
In locations where it snows, this is a must. The last thing you want when trying to sell your home in the winter is for someone to trudge through snow or slip on ice when coming to view your property.
Take the time to shovel and salt all surfaces leading to your home's entryways. Be sure to clear snow from any decks or patios as well, so that buyers get a chance to see them.
Just because there's snow on the ground doesn't mean selling your house during winter has to be difficult. Simply shovel and salt all surfaces to make a great impression on buyers.
Appearances Matter
Staging your house is always one of the most critical things you can do to sell your home in winter. From DIY updates to hiring a professional stager, you have options to help your home shine in the buyer's eyes.
But staging doesn't have to be expensive or time consuming. It can be as simple as putting decorative pillows and blankets on your furniture. Or hanging wreaths and lights from visible walls.
The bottom line is that you need to make your home feel like home during the holidays. Add a few tasteful decorations and stage appropriately to attract homebuyers during the winter.
Maintain a Welcoming Atmosphere
If it's cold outside, ensure your house is heated to a warm temperature! When it's freezing out and buyers are coming in from the cold, keeping the house warm is a simple way to be nice and make them feel welcome.
Remember that your potential buyers will be wearing coats and other winter gear, so have a spot in your entryway or mudroom for them to hang their jackets and dry their shoes. Even in a warmer market like Las Vegas, it still gets chilly during the winter so make sure you've prepared accordingly.
Getting your home sold in winter often is a combination of doing all the little things right. Establishing a warm, memorable environment for buyers to tour is a step in the right direction.
How to Sell Your Home During Winter
Use online marketing, photos, video, social media and buyer email databases to attract buyers.
Properly light your home and use warm lighting to highlight features and your home's strong selling points.
Shovel and salt all walkways, patios and driveway surfaces to ensure a safe entry to your home.
Using tasteful staging and décor to make your house look its best.
Keep your home at a warm, comfortable temperature and provide buyers a place to hang their coats during showings.
Conclusion
Despite summer being the most common time to sell your home, there is still plenty of opportunity to sell your home for maximum price and fast during the winter. Utilize these five tips to have a better experience selling your house this winter!
Home Selling Resources