What to Know About Building or Buying a New Construction Home
Posted by Matiah Fischer on Wednesday, October 26, 2022 at 6:00 PM
By Matiah Fischer / October 26, 2022
Comment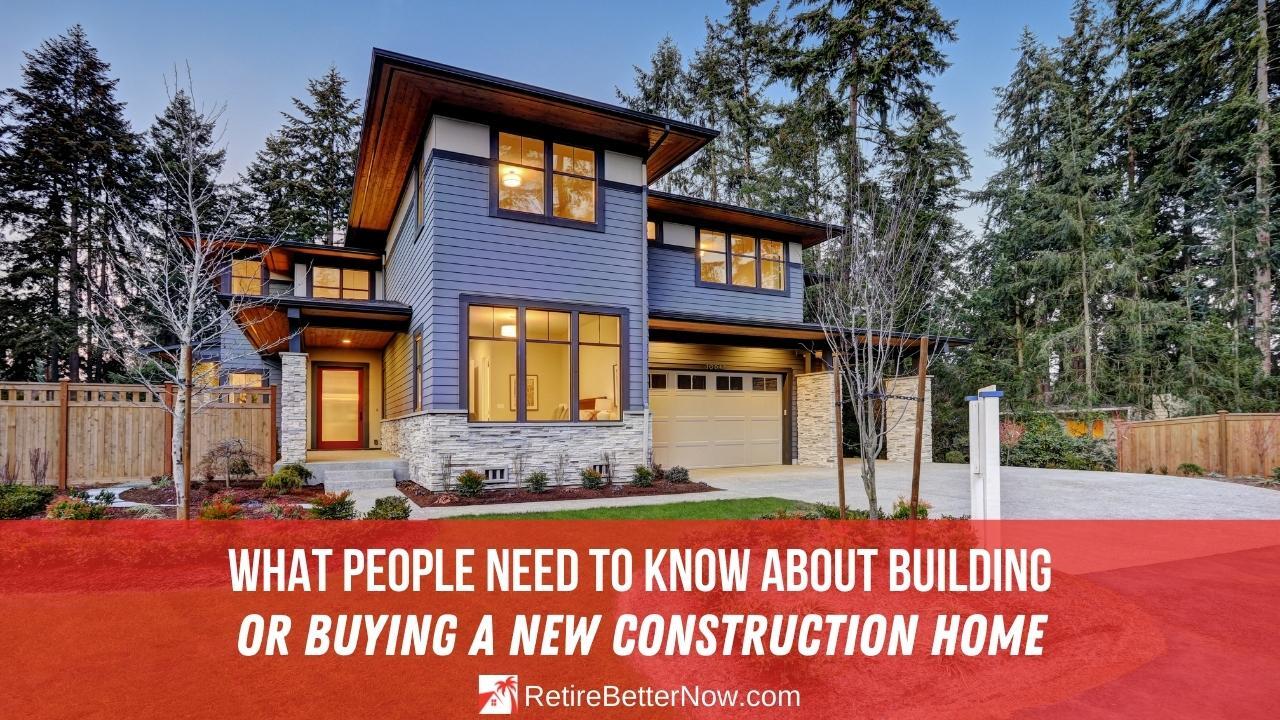 Are you considering building a new home or buying a new construction home but still have questions? In this article, we cover how long it takes to build a new home, pros and cons of buying a new construction home, where people go wrong when building and the pitfalls of building a new house. Keep reading for real estate and industry professionals sharing their knowledge and expertise for what people need to know about building or buying a new construction home.
How Long Does it Take to Build a House From Scratch?
Every build is different and depends on which stage you are starting from. If you plan to start from scratch with no foundation, then plan at least 8-12 months. Also, you must factor in the finishes you plan to do throughout the home. You want to place the order for all tiles, vanities, furniture, appliances as soon as possible as it can take time for these items to come in in-case their back ordered, delaying the project.
- Brett Ringelheim - Compass
On average, building a house requires around 7 months. However, you also need to include the time to make an architect draw up the plans, which can take around 1 to 4 months. Then, you need to tack on another month to get the project authorized. Adding up all these, you get a total of a year-long commitment.
- Sal Dimiceli, Sr. - Owner/Broker of Lake Geneva Area Realty
Pros of Building or Buying a New House
Building a house from scratch has several advantages. The main one is that you can customize the house according to your own preferences and needs. If you want a particular type of flooring or fixtures, for example, you can specify that when you build the house. Building a new house also gives you the opportunity to choose the lot on which the house will be built. You can pick a location that is close to schools, work, or other amenities that are important to you.
- Rinal Patel - Co-Founder & Licensed Realtor for We Buy Philly Home
There are pros and cons to both building and buying a new construction home. Some of the pros of building include that you can design your home exactly how you want it, you have control over the quality of materials used, and it can be more affordable than buying an existing home. Some of the pros of buying a new construction home are that it's usually faster and easier than building one, you can often find pre-construction discounts, and many homes come with warranties.
- Kate Diaz - Co-owner & Writer for Swanky Den
When you build a home, you can make it exactly the way you want it. You can build a primary suite having a walk-in closet, an en-suite bathroom, a working space, and more. You can follow your own design plan that brings you maximum satisfaction. In a new home, almost everything is brand-new. This means that you'll need to bear a minimum repair and maintenance cost, which will save you thousands of dollars and plenty of headaches.
- Theresa Raymod - Principle Broker / Owner of TN Smoky Mtn Realty
Cons of Building or Buying a New House
Buying a brand-new home built on spec can seem like a great way to save time and money, and to move-in more quickly or in time for the holidays. However, usually there is a considerable amount of interior and exterior finishing work, irrigation, and landscaping, and additional custom build-outs and fixes here and there (aka a punch list) that will be required, which can take several months or more pending labor and material supply chains.
- Baron Christopher Hanson - Coldwell Banker Realty
New construction in this current environment can be risky. Many smaller builders are looking to sell their projects that have complete approvals because they can no longer make the homes and turn profits as interest rates increase and building material costs continue to rise. What does this mean to the buyer? There could be costly delays and additional incurred costs. As a realtor, I tell my clients to always prepare for delays (add a couple of months) and add 10% to the purchase price for upgrades. There will be additional costs with furnishing the project but that will come down to the buyer's tastes.
- Peter Cunha - Broker/Owner of Open Doors Realty
A home renovation or new construction requires a significant time commitment and can cause financial stress for those on a tight budget, not to mention the expertise and know-how required to complete this task. The financial aspect of purchasing a new development property can be complicated, which is why the assistance of a buyer's agent is so important. Other fees and closing costs, in addition to the purchase price, are usually significant.
- Samantha Odo - Licenced Real Estate Expert at Precondo
Where Do People Most Often Go Wrong When Building a Home?
They get in a hurry and don't allot enough time or effort for the planning and designing phases. I see a lot of people trying to save time and money by skipping ahead, thinking the builder will handle changes to their drawings, help them with making selections, or facilitate the loan process, which isn't necessarily how it works. It may be slow moving and time consuming at first but putting the work in initially makes the project move along so much more smoothly once construction finally begins.
- Jennifer Killian Smith - Jenn Smith Architect, Inc.
One of the most common mistakes people make when building a house is not budgeting enough for unexpected costs. There are always going to be unforeseen expenses when you're building a house, so it's important to have a cushion in your budget to account for them. Another mistake is not giving yourself enough time. Building a house takes longer than most people expect, so it's important to start early and be patient. Trying to rush the process will only lead to problems and delays.
- Peter Lucas - Owner of Relocate to Andorra
Once you build your fully customized home there is no option to change the location. Most people build their homes without researching enough. You need to check out the location's prospects for the next 10 years at least. Ask your agent to dig into the history of the area before deciding on where to build your new home.
- Nick Good - Real Estate Broker/Investor of The Good Home Team
Most people go wrong during the building process by not hiring their own home inspection. Builders often partner with a third-party inspector who is inspecting hundreds of homes in the neighborhood. It can be easy for these inspectors to miss issues or become complacent because they have a steady flow of business from the builder. Buyers may believe inspections are only good for older homes, but new construction homes are not immune from problems. I have had a few buyers discover some sort of major...or potentially major issue if left unchecked...with the roof or electrical components. Better safe than sorry!
- Julian Schwertz - eXp Realty
What Are The Pitfalls to Building a House?
One of the pitfalls of building a home is that people underestimate how much space you need. Many local municipalities require a certain amount of space between the house and the boundaries of the property and the street, etc. People building homes should determine what house they want first, then buy a lot that may fit it.
- Omer Reiner - FL Cash Home Buyers, LLC
A major pitfall is that you're taking a bit of a gamble on the location. While it's possible to build a new home in an otherwise-established neighborhood, these kinds of homes are much easier to find in new subdivisions where the quality of the neighborhood and local amenities may not be fully established yet.
- Martin Orefice - CEO, Rent To Own Labs
People often go wrong when they get caught up in the excitement of building their own home and don't take the time to truly plan out their project before jumping into it. Of course, this mistake has financial implications. If you don't know how much your project will cost and how long it will take, you might end up spending more than you can afford or going over budget. But there are also emotional and social implications for not planning and you may feel frustrated with your contractor as they try to accommodate your changing plans.
- Shaun Martin - CEO, Cash For Houses
The most critical flaw and pitfall triggered by those building a new home is that a brand new home shouldn't need a home inspection. I completely understand this mind-set. We buy cars and many products without inspection (when new). Why are Homes so different? The answer (unfortunately) is just because. There are nearly endless opportunities for construction activities to be done in a manner conducive to premature failure. Some of these may be cut corners to shave off time, others may be a lack of adequate skill and training in the laborers doing the installations. Regardless, these latent defects may not be uncovered until such time that the warranties that were provided upon construction have expired (leaving the homeowner to foot the bill). My best advice for those building a home, is to be very engaged in the decision making aspects of the project and to be very present during the construction activities.
- Mike Powell, P.E., CPI - Red Flag Home Inspection
Related Articles: