Why is Location Important in Real Estate?
Posted by Matiah Fischer on Friday, January 7, 2022 at 7:30 AM
By Matiah Fischer / January 7, 2022
Comment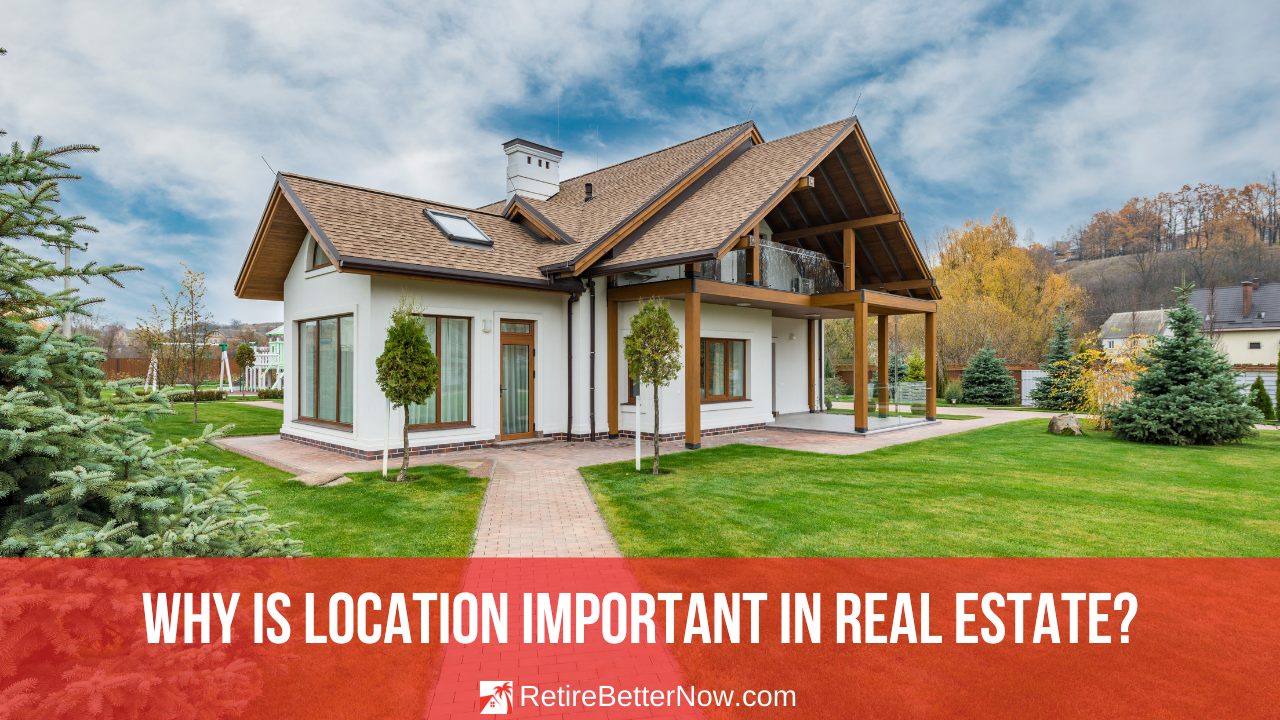 What is the most crucial aspect of real estate? "Location, location, location," as any real estate agent will tell you. Likely the single most important factor to consider when looking for a new home is the location.
You might find a lovely home with all the space and amenities you require, but if it's in a less-than-desirable neighborhood, you may have a difficult time reselling it.
Furthermore, while you can change almost everything else about a house through renovations and upgrades, you can't change the location. This feature is permanent, so it should be considered when purchasing a home.
Why Location Matters in Real Estate
Location matters in real estate because it can directly affect your home and property value. Having a great location can make things easier when it comes time to sell. Beyond that, it's important to choose a good location when buying a home so that you love where you live!
So, what constitutes a "good" location? When evaluating a home's location, there are five important factors to consider.
5 Factors to Consider When Choosing Your Home's Location
You should take into consideration these five factors and how they relate to your home's location, as they can have impact on a home's resale value and overall property value.
Possibility of Future Appreciation
When it comes to a property's value and future appreciation potential, every real estate investor will tell you that location is everything. What is the explanation behind this? In many cases, a real estate market's demand is dictated by its location.
If the property is in a desirable neighborhood in an area where people are relocating, you may anticipate the home's value to hold up – and even increase – over time. As the demand for a place grows, so will the value of that location.
Schools in the Area
Is the house in a good school district? Is it close to any reputable private schools? What is the state of the local school district as a whole? When evaluating a home's location and potential resale value, ask yourself these questions.
This is particularly true if you live in a family-friendly city and have school-aged children. Even if you don't have school-aged children, the quality of the schools is still an essential factor to consider. One of the greatest strategies to keep and improve the value of your property is to live in a strong school district.
The quality of the schools may not be as significant if you reside in a snowbird, retirement-oriented area within a city like Las Vegas and are retired. However, before buying a property, make sure you do your homework on the buyer pool in the area and the local schools.
Amenities and Modes of Transportation
Buyers frequently desire and require convenient access to services and transit alternatives, which is one of the reasons why location is so crucial in real estate. This means restaurants, grocery shops, dry cleaners, shopping, and entertainment are all within walking distance.
It might also refer to a residence that is close to major highways and public transit choices including bus stops, metro stations, and public bike share stations. When looking at a house, be sure to consider how accessible it is to these essential facilities. Unless you're trying to purchase a vacation house on an island without conveniences, a property's worth will usually increase if it's close to amenities.
Rates of Crime
When assessing a home's location, crime and safety should be front of mind. After all, no one wants to live in a community where there is a high level of crime and risk. Thankfully, local criminal records and rates are very simple to locate on the internet.
Homebuyers may visit their local Nextdoor.com public forum for local reports on burglaries, thefts, and other unpleasant crimes that occur in their region, in addition to different crime report websites such as Family WatchDog, Neighborhood Scout, and the National Sex Offender Public Website.
The Next-Door Neighbors
You can't alter your neighbors, for better or worse. If you have unfavorable neighbors, such as a fraternity house or neighbors with noisy pets, your home's resale value may suffer as a result.
You should spend a lot of time around the area before purchasing a house. Take a trip down the street and, if possible, introduce yourself to your neighbors. Spending time in the neighborhood should give you a fair idea of who lives there. Aside from resale value, it's also a good idea to have a peek at your neighbors for your good.
Do you prefer to live in an area where there are a lot of young families or a community where there are a lot of retirees? Are you seeking a close-knit neighborhood or one that is less neighborly? These are personal preferences that should be taken into account while purchasing a property.
Helpful Real Estate Resources