Las Vegas Mansion Real Estate Listings
September 22, 2023
$3,750,000
Med. List Price
Are you planning on buying or selling a mansion in Las Vegas, NV? Text (702) 718-3878 to speak with a local Las Vegas real estate agent or contact us today.
Las Vegas Mansions
The city of Las Vegas is known for its palatial mansions, estates, luxury homes and penthouses; and the celebrities, business tycoons and historic figures who live in them. Not only are the biggest homes in Las Vegas revered for their grandeur; mansions hold a certain status among homebuyers who are looking for the finest real estate available.
If you're searching for one of these properties, understand that there's a lot to know about mansions in Las Vegas before you go and buy one. On this page, we tell you everything you need to know about buying a mansion in Las Vegas, Nevada!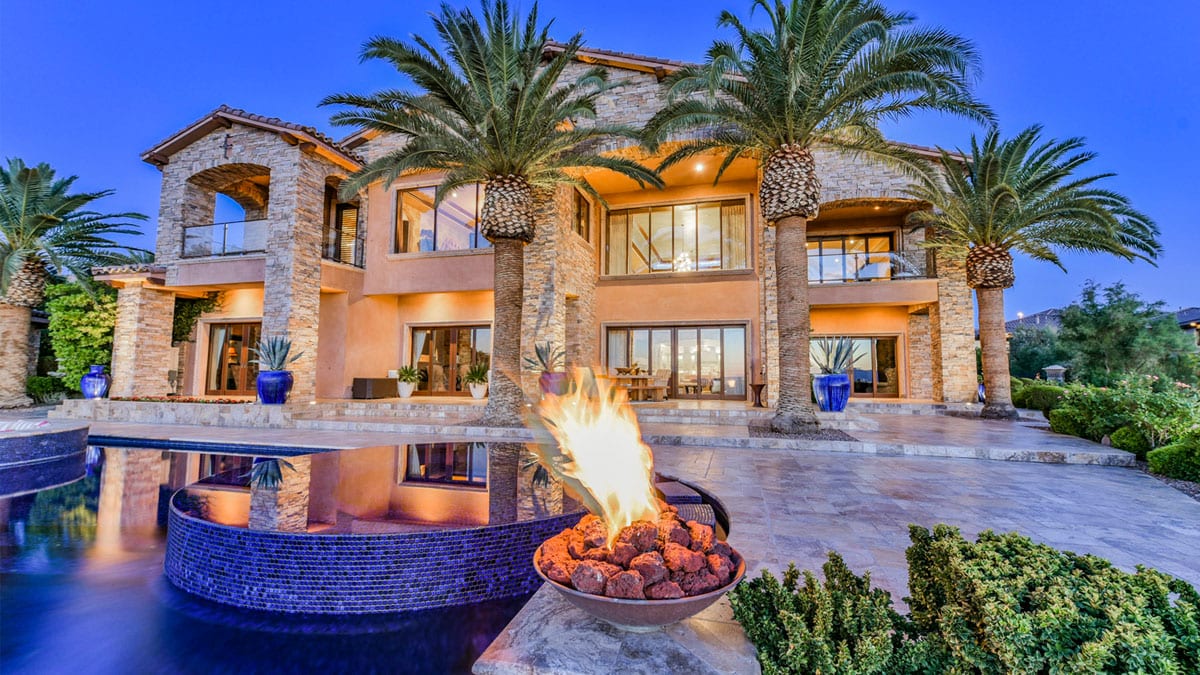 What's Considered a Mansion in Las Vegas?
Everyone seems to have a different definition of what truly is a mansion in Las Vegas. Some people think it's any Las Vegas million dollar house 5,000 square feet or larger. Others consider the size of a mansion in Vegas to be minimum 7,500 or even 10,000 square feet.
While size of the house is subjective, typically buyers hold a general image of what a mansion is in their minds. It's usually a combination of the home's overall look, its luxury features and the exclusive community it's located within. Luckily for even the most discerning buyers, Las Vegas mansions are loaded with everything the affluent homeowner could want.
Characteristics of Mansions in Las Vegas
Features and luxury amenities of mansions in Las Vegas usually include:
5+ Beds & Baths
5,000+ Square Feet
Pools & Spas
Gated Community
Views of the Strip & City
High-End Finishes & Flooring
Office & Media Room
Home Gym & Recreation Space
5+ Car Garage
Golf Course & Country Club
Other features of luxury mansions may include fireplaces, wine cellars, elevators, tennis courts, staff quarters, marble floors, grand entryways with impressive staircases, and seamless transitions between indoor and outdoor living spaces.
How Much Does a Mansion Cost in Las Vegas?
A mansion in Las Vegas usually costs between $2 – 10 million. However, there are mansions here that cost upwards of $15 million and even all the way up to nearly $30 million!
Where are the Biggest Houses in Las Vegas?
It's helpful to know where the biggest homes are in Las Vegas when you start your search for a mansion. After all, there are many affluent areas in the city where the most wealthy and famous reside, including Las Vegas' Summerlin and neighboring Henderson, NV. We'll cover where to find mansions in Henderson and Summerlin below.
To start you search for Las Vegas' biggest houses, you may try looking in some of the prestigious gated communities in Las Vegas. Here's a look at some of the best places to find mansions for sale in Las Vegas:
View Luxury Homes for Sale in Las Vegas
Mansions in Summerlin
Summerlin is a large master-planned community in Las Vegas that's home to many gated neighborhoods and luxury homes. Take a look at some of the communities with mansions for sale in Summerlin:
View Mansions for Sale in Summerlin
Mansions in Henderson, NV
Located next to Las Vegas is the city of Henderson, the second largest city in Nevada. Mansions in Henderson are often perched in the hills that often overlook Las Vegas, which give many of these homes stunning views of the Strip. Some of the top luxury neighborhoods where you can find mansions for sale in Henderson, NV:
View Mansions for Sale in Henderson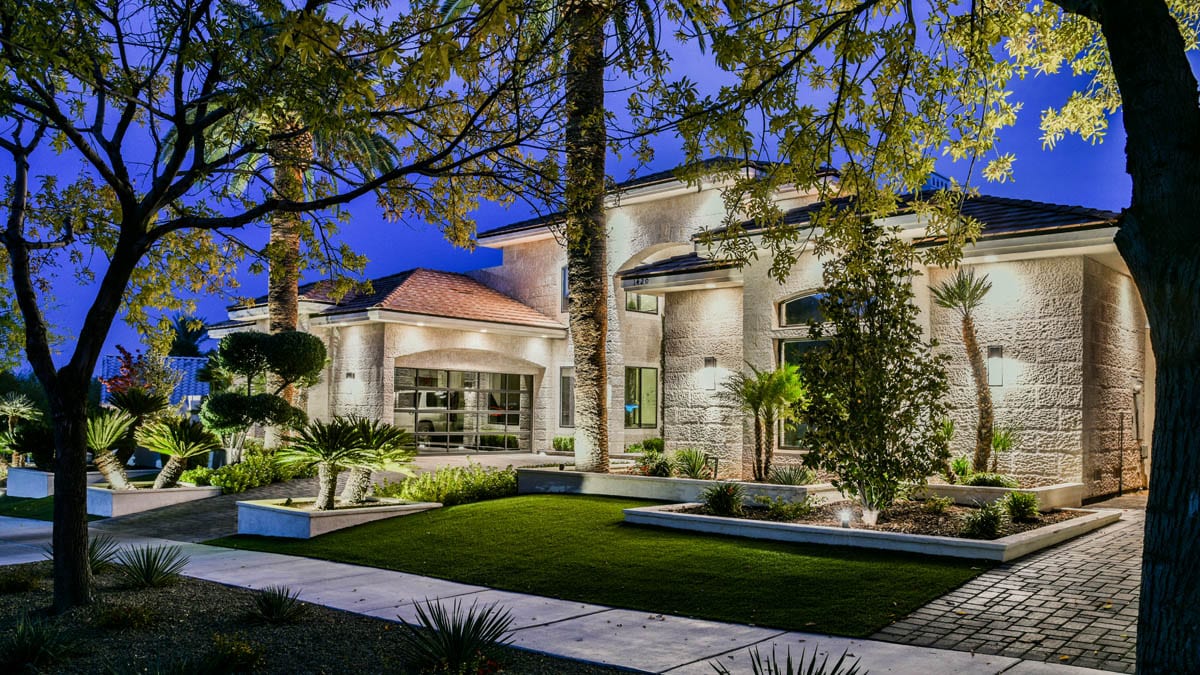 Types of Las Vegas Mansions
Above we discussed common specs, features and amenities found in Las Vegas mansions. But there are more details to discuss when you're searching for Las Vegas mansions for sale. Here's an overview of the various mansion types in Las Vegas
Modern Mansions in Las Vegas
You've probably seen these on TV or in magazines. Las Vegas modern mansions are usually perched high on hillside somewhere overlooking the city. These properties may use lots of glass and feature a modern design that incorporates whites, grays and chic minimalism. Trying searching for modern mansions in MacDonald Highlands, Ascaya & The Ridges.
Las Vegas Mansion Estates
Mansion estates in Las Vegas are typically large 5,000+ square foot homes sitting on 1/2 acre – 1+ acre of land with large fenced yards and massive pools, lush landscaping with palm trees, gardens and desert landscapes. View Estates for Sale.
Las Vegas Mega Mansions
Sometimes called super mega mansions in Las Vegas, homes larger than 10,000 square feet may be referred to as a mega mansion. Try finding these in areas like Tournament Hills, Spanish Hills and MacDonald Highlands.
Cheap Mansions in Las Vegas
While cheap isn't the first word you usually think of when talking about mansions; for people coming from places like Los Angeles, New York, San Francisco, Seattle, Toronto, London and China, mansions in Las Vegas may be relatively cheap compared to the cost of comparable homes in their city. In this case, these large luxury mansions in Las Vegas may be a great deal. Look for affordable large homes in places like Seven Hills and Midtown Modern.
Historic Las Vegas Old Mansions
Las Vegas has historic mansions and big old homes that are famous for housing celebrities and mobsters from an era long-gone. You may find historic estates and old mansions in Las Vegas neighborhoods Rancho Bel Air, Rancho Circle and Rancho Nevada Estates.
High-Rise Mansions in Las Vegas
Some of the most popular ultra-luxury, big homes in Las Vegas come in the form of high-rise condos and massive penthouses. These mansion homes exude the finest Las Vegas lifestyles and tower high above the city, offering commanding views of the entire Las Vegas valley. See Penthouse Mansions for Sale.
Buying a Mansion in Las Vegas
When it comes time to buy your dream home in Las Vegas, mansions are certainly a type of home to consider. They offer homebuyers tons of space, numerous amenities and allow you to truly live a luxury lifestyle. And depending on where you live now, mansions in Las Vegas may be relatively affordable and allow you to take advantage of the tax benefits in Nevada.
Contact a Real Estate Agent About Las Vegas Mansions for Sale
Las Vegas Mansions - Related Searches