Las Vegas, NV Single Story Homes For Sale & Real Estate
Searching for a single story home in Las Vegas? Living in a one story home can make for easier access to all parts of the house and be an asset to those wishing to age in place. With everything found on the same level and no stairs, single story houses in Las Vegas are convenient for everyone, no matter their age. Not only that, but Las Vegas single story homes come in a variety of styles, price points and areas. Take a look below to see Las Vegas single story homes for sale, popular communities with one story houses for sale in Las Vegas and learn about the pros and cons of 1-story homes.
For additional information regarding Las Vegas properties for sale or to schedule a home showing, contact your Las Vegas real estate professionals today. If you haven't already, be sure to register for a free account so that you can receive email alerts whenever new Las Vegas single story real estate listings come on the market.
Browse All Las Vegas, NV Single Story Home Listings for Sale
September 22, 2021
SEE ALL HOMES FOR SALE IN

Las Vegas
See today's new listings by beds/baths, property size, listing status, days on market & more!
Are you planning on buying or selling a single story home in Las Vegas, NV? Call or text (702) 718-3878 to speak with a local Las Vegas real estate agent or contact us today.
One Story Homes in Las Vegas, Nevada
Las Vegas single story homes are popular among homebuyers of all ages. From retirees to first time home buyers, single story homes for sale in Las Vegas are in-demand thanks to their convenient floor plans and stylish designs. Below you will find more information on one story houses in Las Vegas and popular communities throughout the city where you can find them.
Sometimes referred to as one-story or ranch-style homes, these properties have something for everyone. With prices to fit any budget, Las Vegas one story homes often come designed with large indoor and outdoor spaces, high ceilings, and modern appliances.
Of course, one of the major advantages to buying a single story house in Las Vegas is the fact there's no stairs. Not only can this be helpful for older homeowners, but also for those with bad knees/backs/hips or those who need handicap accessibility.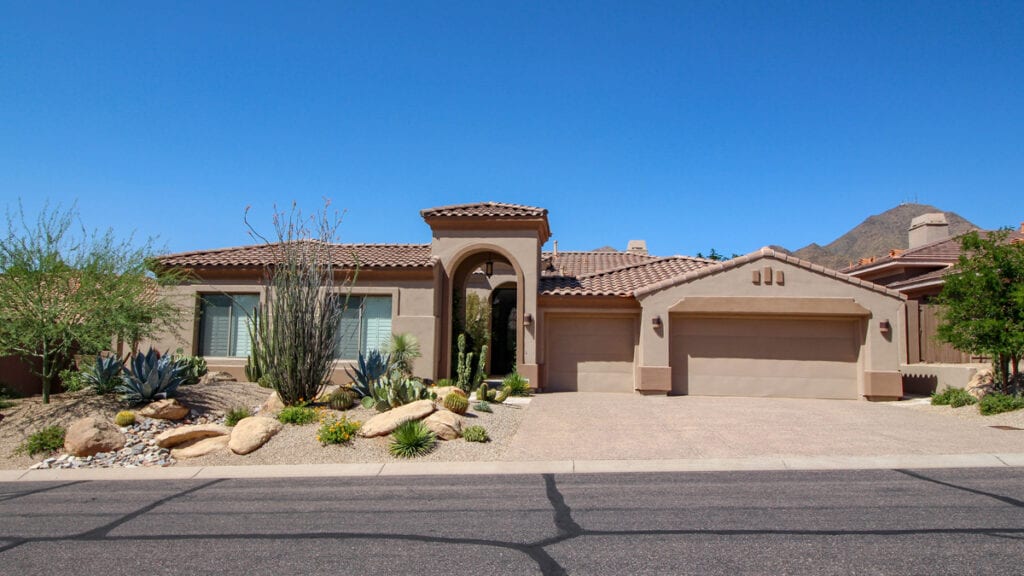 Popular Communities with Single Story Homes for Sale in Las Vegas
When it comes to choosing a one story home in Las Vegas, you have so many choices. First, you may need to decide whether it's better to live in Las Vegas' Summerlin or Henderson. Both have lots of single story houses for sale at all prices. When starting your 1-story home search, it's also a good idea to look at master-planned communities.
Just searching for "single story homes for sale in Las Vegas" will turn out hundreds of results at any given time, with homes ranging in price from the low $200s to the millions. One story houses are located all over Las Vegas – including neighboring Henderson – so you have plenty of options to choose from when purchasing a 1 story home in Vegas.
Las Vegas One Story Houses for Sale - By Area
One Story Homes in Las Vegas - By Community
Popular 55+ Communities with Single Story Homes for Sale in Las Vegas
Las Vegas Single Story Homes - Pros & Cons
Some people are still on the fence about whether they should buy a 1-story or 2-story home. It's a decision that can have a major impact and shouldn't be taken lightly. After all, the entire layout, feel and function of your home can be altered when you live in a 2-story home vs 1-story home in Las Vegas.
Here's a list of pros and cons to consider when you're thinking about the potential benefits and drawbacks to living in a one story house in Las Vegas.
Benefits of a Single Story House in Las Vegas
Here are a few of the benefits and reasons to consider buying a Las Vegas single story home:
Open Floor Plans
Many people are looking for "open concept" or open floor plans when buying a home. They dream of flowing seamlessly from one room to the next and easily socializing with loved ones in an open setting. Single story homes are great because they often have thoughtful open floor plans that encourage easy transitions from one room to the next.
More Design Options
Las Vegas single story homes are known for their unique and sometimes modern design aesthetic with tons of curb appeal. Builders can often do more with a single story home, such as roof sloping, multiple exterior design materials and textures.
No Stairs
This one's obvious but for some it's the greatest benefit of living in a 1-story house in Las Vegas… No stairs! No more hauling things up and down the stairs. No more slips and falls down the stairs. And no more stairs to take up all the living space you could be enjoying!
More Usable Space
One story homes often have more usable living space, which is a huge benefit with the rising cost-per-square foot in the Las Vegas real estate market. A wider foundation that uses more of the lot often means there's more room for furniture, appliances and space to just exist. Another plus of Las Vegas one story properties is that hallways and corridors are often wider, making for easier movement throughout the home.
Energy Efficiency
Those looking to save money on utilities such as air conditioning and heat will be pleased to know that Las Vegas single story homes can be more energy efficient, since you don't have to cool and heat two stories. For retirees and families alike, this can be a major cost savings and benefit to living in a 1 story Las Vegas home.
Central Communal Areas
Why be separated and unable to enjoy one another's company? Single story homes are great for entertaining and socializing because there are central points throughout the floor plan the encourage people to engage. Additionally, let's say you have children or grandchildren to watch after. A single story home makes it easier to stay on top of what they're doing and spend more quality time with loved ones.
Easier to Age in Place
One of the biggest benefits of single story homes in Las Vegas for retirees is the ability to age in place more easily. No stairs, open floor plans and wider navigation make it possible for those in their later years to remain independent and easily navigate their own homes.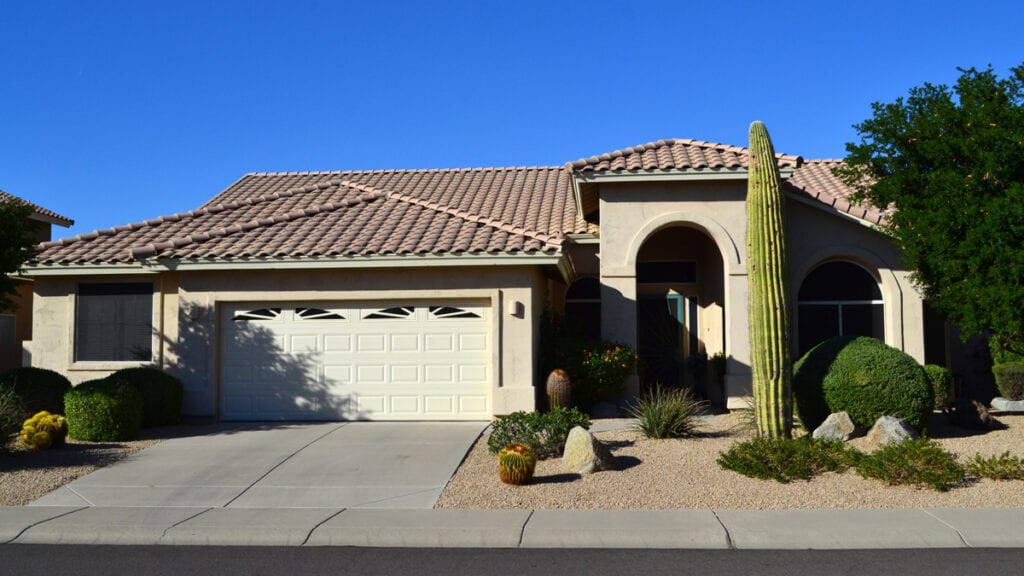 Drawbacks of a Las Vegas 1-Story Homes
As with anything, there are a few potential disadvantages to buying a single story house in Las Vegas:
Take Up More Lot Space
Single story homes are built utilizing more of the lot in order to maximize square footage. If you want a bigger yard or space to build a pool, you may want to consider two story models as it can be hard to find one story homes with a lot of yard space.
Less Bedrooms and Bathrooms
This isn't always true, especially with large one story houses. However, two-story homes often have extra bedrooms and bathrooms, since they need to be built across an extra story. On the flip side, in a single story home you're likely to be closer to a bathroom or bedroom.
May Cost More to Construct
One interesting disadvantage is that single story new construction homes often cost more to build, since the foundation is larger and that's one of the most expensive parts of building a house. The other side of the coin here is that single story homes may be valued higher, which is good for the owner.
Living in a Las Vegas Single Story Home
Las Vegas has an excellent climate, low cost of living, tax advantages and an endless amount of activities, all of which have contributed to its growth in recent years. Home builders have been struggling to keep up and at the time of writing, there's a shortage of inventory as a whole. Nonetheless, there are still single story homes available in Las Vegas and those who end up buying one get to take advantage of the awesome Las Vegas lifestyle.
When we think of retiring in Las Vegas, we tend to focus on the glitz, glamour, and pulsating neon lights of The Strip. While it's true that this is one of the most exciting, entertaining places to visit in the world, there is so much more to Las Vegas than that. In fact, in recent decades, Las Vegas has evolved into a mecca of fun for retirees from all over the country.
Living in a Las Vegas single story home, you get to enjoy the unique nature of your house and the surrounding landscape. Many single story homes in Las Vegas have southwestern architecture or infuse modern design with ranch-style floor plans to create one story homes that rival those found in Palm Springs.
Las Vegas Real Estate Agents
Looking to purchase or sell a single story home in Las Vegas? Work with a local Las Vegas real estate agent who has up-to-date information and knowledge of the single story real estate market. Contact us today or call/text us at (702) 718-3878 to get started.
Interested in Las Vegas real estate? Fill out the form below to get started!